The Online Medical Device Exhibition

orthodontic pliers
T3-Jaw
• Precision tips for accurate wire and clasp adjusting and contouring • Also excellent for bending of orthopedic appliances • Box joint
See the other products
Rocky Mountain Orthodontics (RMO®)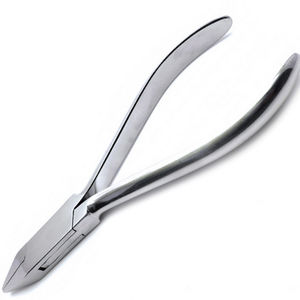 orthodontic pliers
SC-11-7-0621-01
Length: 12.5 cm
DESCRIPTIONAdams Wire Bending Orthodontie Plier,12.5 cmAdam Plier have an Excellent précisé right angle bends and appliance adaptation
See the other products
Smith Care

orthodontic pliers
ODG110
General utility plier with a long, well-tapered shape that is balanced for control 3/32" diameter tips Center line coincides with the axis of rotation of the plier Matched tips are serrated in a direction that holds the wire at a convenient ...

Length: 14 cm
CROWN REMOVING PLIER 14 CM Our all instruments are made of fine Quality Material. Our Company is CE Marked and ISO 9001:2008 Registered.
See the other products
FASA GROUP

orthodontic pliers
15-2013-00
Weingart Pilers For. 76 mm Wires
See the other products
Three Stars Trade Sp Z.oo

orthodontic pliers
62-3801
Mosquito Straight High quality Stainless steel hemostat with thin serrated tip. Excellent for ligating ligatures or placing elastics.
See the other products
Adenta GmbH

orthodontic pliers
555-124

orthodontic pliers
FC01.01/FC01.02
Light wire plier ltem No: FC01.01 Package: n suitable for ail différent sizes of delicate loops and springs. cutting edge. in the middle part of the bird beak, is stiff and sharp. it can be used to eut surplus wire, for round wires not ...
See the other products
Hangzhou Yahong Medical Apparatus Co., Ltd.

orthodontic pliers
HI17-01
Torque pliers Hardness of tip :HV713-856(HRC60-65) Cutting edge made by new technology . Used in pair to make torque on rectangle wires , thickness of tips:0.050"(1.27mm)
See the other products
Hangzhou Xingchen 3B Dental Instrument & Material Co., Ltd.

orthodontic pliers
Q101-01
Hardness on tip HRC 52-55 For applying torque to edge-wise wires
See the other products
ORJ USA

orthodontic pliers
CRE2708
Length: 14.5 cm
Crown Removing Pliers #2708, Concave Heavy Serrated Jaws, 14.5cm Crown Removers Our Crown Removers adhere to the strictest specifications for a long-lasting and durable product. Handcrafted using superior engineering and the finest quality ...
See the other products
Karl Schumacher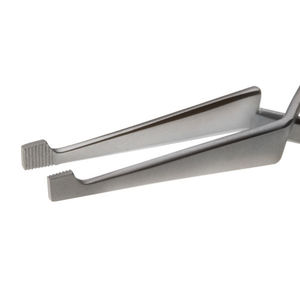 Direct Bond Holder ix630 Spring loaded reverse action holds brackets until release is desired. Blade at the end of the tip helps with final bracket slot position.
See the other products
Ixion Instruments

orthodontic pliers
ATLAS™ series
Features and Benefits: - Surgical, stainless Steel instruments with smooth finish. - Easy to handle grips. - Dry heat sterilization recommended for optimal performance.

orthodontic pliers
Evrclear™
Evrclear™ Bracket Removal Tool SKU: 60.90.360.00001 Posted in Debonding Pliers, Evrclear™ Low-Profile Mono-Crystalline, Evrclear™ Mono-Crystalline. Tagged as bracket removing, debonding, debonding pliers, direct bond removing, instruments, ...
See the other products
Ortho Classic

orthodontic pliers
203-412
This standard hard wire cutter features a diamond-honed edge that is capable of withstanding constant cutting of hard wires. It maintains a harp alignment. The maximum cutting capacity of this instrument is as follows: Rectangular ...
See the other products
US Orthodontic Products

orthodontic pliers
69-150
Description: Used for the close cutting of pins and ligatures. This item has Tungsten-Carbide inserted tips.
See the other products
J&J Instruments

orthodontic pliers
12 1609 13 1
Goslee, no. 136, 130 mm
See the other products
Daniel Kürten GmbH & Co.KG

With a 25°-cutting angle at the tip, cutting ligature wires and elastics is easier, and the specially manufactured alloy gives maximum cutting capacity to our pin cutter.
See the other products
IV-Tech (Invisible Technology)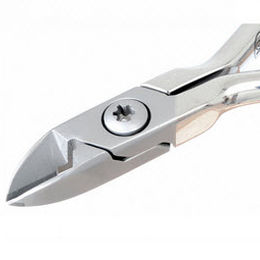 orthodontic pliers
SD 1004
- Max. capacity: .014" SOFT - Fine, thin tungsten-carbide tip - Only for ligatures
See the other products
SAVARIA-DENT Kft.

orthodontic pliers
IWBP series
Pliers - Orthodontic These orthodontic pliers from G Hartzell & Son are dental instruments that are commonly used in orthodontic procedures.
See the other products
G. Hartzell & Son, Inc.

orthodontic pliers
SDC-227
Name: Orthodontic Pliers Art No: SDC- 227 Description: Flat nose pliers with smooth for bendig wires up to 0,7mm.(.028")
See the other products
Shufa Dental Co.,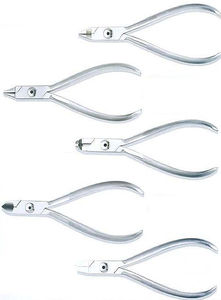 orthodontic pliers
TK-D3641