The Online Medical Device Exhibition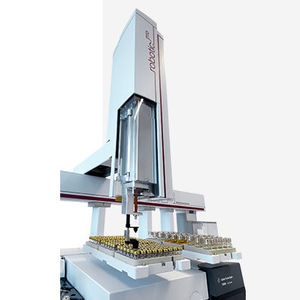 As a new member of the MPS family, the MPS robotic is a highly efficient GC/MS autosampler with extended robotic functionality. The MPS robotic provides reliable processing of complex tasks. Syringe holders and syringes are integrated ...
See the other products
Gerstel GmbH & Co. KG

HPLC syringe
160021R, 160225R
Syringes for Valco, Cheminert, and Rheodyne HPLC Injectors Syringes used to fill a loop on a sample injection valve have blunt, smooth ends. The end of the needle must contact the bottom of the valve's fitting detail uniformly and seal ...
See the other products
VICI AG International

laboratory automatic sampler
AutoSam 200 series
AutoSam™ 200 is the smallest device in the AutoSam™ model range. Its construction is very compact and it is particularly suited for application within biotechnology. The sample tray can accommodate up to 32 standard 1.5 ml or 2.0 ml sample ...
See the other products
HiTec Zang GmbH

field-flow fractionation autosampler
PN5300
The PN5300 automatic sample injector includes the latest state-of-the-art auto injector technology, such as a double needle with positive headspace pressure, extensive wash routines for minimal carry over and three injection modes including ...
See the other products
Postnova Analytics GmbH

laboratory autosampler
Ampha
With the new autosampler it is possible to automatically analyze up to 192 samples based on standard microtiter plates with variable sample volumes. All the steps from preparation and loading of the samples to the measuring procedure, ...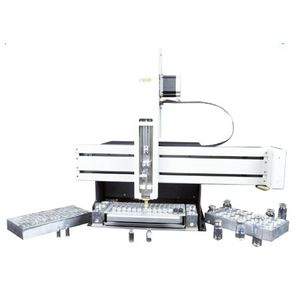 HPLC autosampler
KONIK ROBOKROM
HPLC AUTOSAMPLERS, PERIPHERALS AND ACCESORIES KONIK ROBOKROM HPLC, LOW COST AUTOSAMPLER AND FRACTION COLLECTOR The KONIK ROBOKROM HPLC is the optimised Multimode-Multifunction Auto Sampler for HPLC applications. The X-Y-Z version offers ...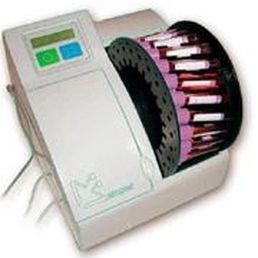 hematology analyzer automatic sampler
M-Sampler
Used with analysers of the MS9 range, the M-Sampler pierces the cap of the sample tube, reads the patient ID barcodes and transfers the sample to the analyzer for analysis.

The right syringe for every application Supports 57mm or 85mm syringe needle lengths Syringes available: 1.2µL / 5µL / 10µL /100µL / 250µL / 500µL / 1'000µL / 10'000µL Constistent headspace sampling Three different syringe volumes: ...

laboratory autosampler
ATS 4
CAMAG AUTOMATIC TLC SAMPLER 4 (ATS 4) Automatic sample application is a key factor for productivity of the HPTLC laboratory. The ATS 4 offers fully automatic sample application for qualitative and quantitative analyses as well as for ...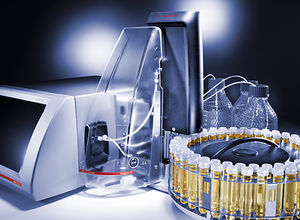 viscometer autosampler
Xsample 530
The Xsample 530 sample changer for all DMA Generation M instruments, Lovis M/ME viscosimeters and SVM™ 3001 Stabinger Viscometer™ handles a wide range of liquid viscosities. The system's adaptive filling power is controlled so that all ...

laboratory autosampler
FLEX series
The FLEX Series Robotic Sampling Platform provides SPME, Headspace, and Liquid Injection for the vast majority of your GC MS autosampler needs. Whether your laboratory is responsible for determining compounds in food, beverages or analyzing ...
See the other products
EST Analytical

laboratory autosampler
Samplify P
Automatic cleaning and rinsing cycles Customized sample handling Easy coupling to Schmidt+Haensch devices Wireless communication to laptops/tablet Handling of sensitive samples

supercritical fluid chromatography fraction collector
Analytical SFC
The MicroCyclone SFC fraction collection system is a new innovation in fraction collection systems and has been designed to meet all of your fraction collecting needs, up to 30mL/min. It has been designed to work with the A-2080 analytical ...
See the other products
Jasco

gas chromatography autosampler
Regardless of sample type or throughput, SCION GC's can provide an automated solution to meet your requirements. Two SCION sampler options are available, the 8400 and 8410. Each can be tailored to meet specific sampling needs and workloads. ...

spectrometer autosampler
SmartSampler
The SmartSampler™ is the perfect solution for customers who run large numbers of samples. The SmartSampler allows forage labs, seed breeders, agri labs, and any customer who runs hundreds of samples per day to load a batch of samples ...

liquid chromatography degassing module
AG-32-01
Solvent Degassing System Gastorr AG Series CPU control achieves stable baseline automatic cleaning function prevents vacuum pump deterioration error detection alerts user to faulty degassing operation Space saving compact ...
See the other products
JM Science

Fast, accurate & reproducible Unique needle concept Sample pick-up down to 1µL Cooled sample tray Well plates or vialsThe AS 110 is a new generation autosampler. It is a fast, robust and easy to use autosampler without ...
See the other products
ANTEC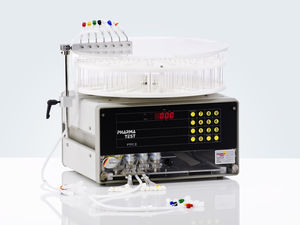 dissolution tester fraction collector
PTFC-2/8
The PTFC-2/8 fraction collector can be attached to any Pharma Test dissolution bath. Using either a peristaltic-, syringe- or a valve-less piston pump, the dissolution media is directly sampled into covered glass vials inside the sampling ...

gas chromatography autosampler
ABCA2
ABCA2 Gas Autosampler The gas autosampler has been chosen to be the most robust and reliable gas sampler in the marketplace. With over 17 000 similar units installed, you can be confident in its efficacy. Incorporating a bespoke multiple ...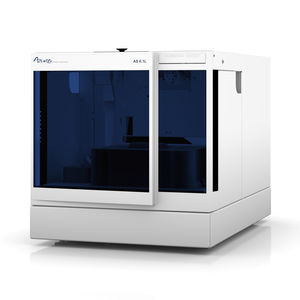 HPLC autosampler
AZURA AS 6.1L
standard version, 1240 bar The Autosampler AS 6.1L can inject from up to 768 positions when equipped with microtiter plates (either high or low formats) or from up to 108 standard 2 ml sample vials. Sample carryover is significantly ...
See the other products
KNAUER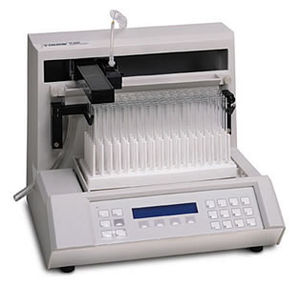 liquid chromatography fraction collector
FC 203B
The FC 203B is the perfect compact fraction collector, capable of handling a wide variety of collection vessels, including microplates, vials, and tubes. The built in key-pad makes setup and operation simple and capable of interfacing ...
See the other products
Gilson

spectrometer autosampler
SDS-720
SDS-720 Sample Delivery System and PS-720 DILUTER The SDS-720 is an XYZ autosampler system for flame AAS, ICP or ICP MS. It can be used for flame analysis, hydride generation, mercury cold vapour analysis and with the MC 3000 mercury ...
See the other products
GBC Scientific Equipment

viscometer autosampler
AVS® Pro III
The autosampler AVS®Pro III is a fully automatic measuring station for determining the viscosity of Newtonian liquids using capillary viscometers. Despite its high sample throughput, the AVS®Pro III is characterized by its high accuracy ...

dissolution tester autosampler
Evolution 4300
Automated Dissolution Sampler The Evolution 4300 is equipped with state-of-the-art electronics and utilizes highly reliable and accurate syringe pumps for sample collection. Accommodating up to two independent syringe pumps, both dual ...

biochemistry analyzer autosampler
SA1100, SA1150
The SA1100 and SA1150 samplers accommodate up to 2 x 50 sample positions, with built in rinse pump. Optionally, 10 dedicated standard positions are available for working standards. Furthermore, they can be equipped with a second needle ...
See the other products
Skalar