The Online Medical Device Exhibition

laboratory autosampler
Samplify P
Automatic cleaning and rinsing cycles Customized sample handling Easy coupling to Schmidt+Haensch devices Wireless communication to laptops/tablet Handling of sensitive samples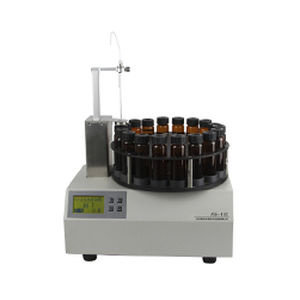 total organic carbon analyzer autosampler
ASE-18C
ASE-18C Auto Sampler is an auxiliary device for TOC analyzer. It realizes real-time auto sampling and is easy to use.It consists of three parts:1. Carrousel2. Lifting System3. Software System1. The carrousel is turning automatically ...
See the other products
Hangzhou Tailin Bioengineering Equipments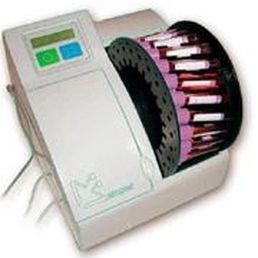 hematology analyzer automatic sampler
M-Sampler
Used with analysers of the MS9 range, the M-Sampler pierces the cap of the sample tube, reads the patient ID barcodes and transfers the sample to the analyzer for analysis.

gas chromatography autosampler
HT3000A
HT3000A autosampler is designed for gas-chromatographic techniques; it takes advantage of today's latest technology to deliver reliability, performance and flexibility.
See the other products
HTA

GC/MS autosampler
ULTRA-xr™
100-tube autosampler for unattended high-throughput thermal desorption analysis ULTRA-xr™ is a high-throughput autosampler that adds to the UNITY-xr thermal desorption unit, for the rapid and unattended analysis of VOCs and SVOCs from ...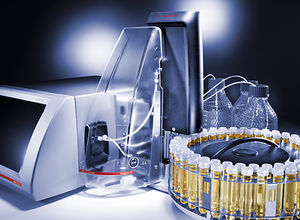 viscometer autosampler
Xsample 530
The Xsample 530 sample changer for all DMA Generation M instruments, Lovis M/ME viscosimeters and SVM™ 3001 Stabinger Viscometer™ handles a wide range of liquid viscosities. The system's adaptive filling power is controlled so that all ...

laboratory autosampler
FLEX series
The FLEX Series Robotic Sampling Platform provides SPME, Headspace, and Liquid Injection for the vast majority of your GC MS autosampler needs. Whether your laboratory is responsible for determining compounds in food, beverages or analyzing ...
See the other products
EST Analytical

supercritical fluid chromatography fraction collector
Analytical SFC
The MicroCyclone SFC fraction collection system is a new innovation in fraction collection systems and has been designed to meet all of your fraction collecting needs, up to 30mL/min. It has been designed to work with the A-2080 analytical ...
See the other products
Jasco

gas chromatography autosampler
Regardless of sample type or throughput, SCION GC's can provide an automated solution to meet your requirements. Two SCION sampler options are available, the 8400 and 8410. Each can be tailored to meet specific sampling needs and workloads. ...

spectrometer autosampler
SmartSampler
The SmartSampler™ is the perfect solution for customers who run large numbers of samples. The SmartSampler allows forage labs, seed breeders, agri labs, and any customer who runs hundreds of samples per day to load a batch of samples ...

liquid chromatography degassing module
AG-32-01
Solvent Degassing System Gastorr AG Series CPU control achieves stable baseline automatic cleaning function prevents vacuum pump deterioration error detection alerts user to faulty degassing operation Space saving compact ...
See the other products
JM Science

Fast, accurate & reproducible Unique needle concept Sample pick-up down to 1µL Cooled sample tray Well plates or vialsThe AS 110 is a new generation autosampler. It is a fast, robust and easy to use autosampler without ...
See the other products
ANTEC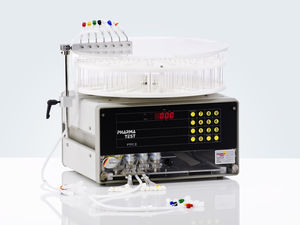 dissolution tester fraction collector
PTFC-2/8
The PTFC-2/8 fraction collector can be attached to any Pharma Test dissolution bath. Using either a peristaltic-, syringe- or a valve-less piston pump, the dissolution media is directly sampled into covered glass vials inside the sampling ...

gas chromatography autosampler
ABCA2
ABCA2 Gas Autosampler The gas autosampler has been chosen to be the most robust and reliable gas sampler in the marketplace. With over 17 000 similar units installed, you can be confident in its efficacy. Incorporating a bespoke multiple ...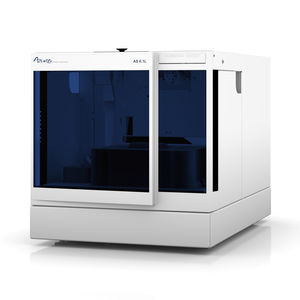 HPLC autosampler
AZURA AS 6.1L
standard version, 1240 bar The Autosampler AS 6.1L can inject from up to 768 positions when equipped with microtiter plates (either high or low formats) or from up to 108 standard 2 ml sample vials. Sample carryover is significantly ...
See the other products
KNAUER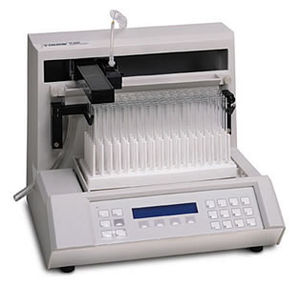 liquid chromatography fraction collector
FC 203B
The FC 203B is the perfect compact fraction collector, capable of handling a wide variety of collection vessels, including microplates, vials, and tubes. The built in key-pad makes setup and operation simple and capable of interfacing ...
See the other products
Gilson

spectrometer autosampler
SDS-720
SDS-720 Sample Delivery System and PS-720 DILUTER The SDS-720 is an XYZ autosampler system for flame AAS, ICP or ICP MS. It can be used for flame analysis, hydride generation, mercury cold vapour analysis and with the MC 3000 mercury ...
See the other products
GBC Scientific Equipment

viscometer autosampler
AVS® Pro III
The autosampler AVS®Pro III is a fully automatic measuring station for determining the viscosity of Newtonian liquids using capillary viscometers. Despite its high sample throughput, the AVS®Pro III is characterized by its high accuracy ...

dissolution tester autosampler
Evolution 4300
Automated Dissolution Sampler The Evolution 4300 is equipped with state-of-the-art electronics and utilizes highly reliable and accurate syringe pumps for sample collection. Accommodating up to two independent syringe pumps, both dual ...

biochemistry analyzer autosampler
SA1100, SA1150
The SA1100 and SA1150 samplers accommodate up to 2 x 50 sample positions, with built in rinse pump. Optionally, 10 dedicated standard positions are available for working standards. Furthermore, they can be equipped with a second needle ...
See the other products
Skalar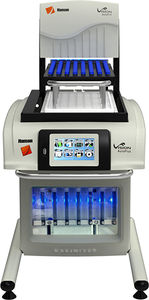 dissolution tester autosampler
Vision® AutoPlus™
The Vision AutoPlus autosampler is a modern upgrade of the popular Hanson legacy AutoPlus autosampler. The Vision AutoPlus comes with a choice of 6 or 8 sampling channels, and DissoScan™ (1-bath) or Maximizer™ (up to 3 baths) configurations. ...

titrator autosampler
AS23
Standard autosampler AS23 -16 position autosampler (15 working positions and 1 fixed washing position). -The instrument has been designed to optimize the sample auto-level analysis procedure so as to speed up the whole preparation. Its ...

gas chromatography autosampler
EL3100
EL3000A Autosampler EL3000A is an automatic liquid autosampler designed for gas-chromatographic techniques, that takes advantage of today's latest technology to deliver reliability, performance and flexibility. The EL3000A is the one ...
See the other products
Ellutia

laboratory autosampler
S5300
HPLC Autosampler S5300 – sample injection for highest demands The automated sample injection of the S5300 allows for using your HPLC system 24/7. Thereby you can greatly enhance the efficiency of your laboratory workflow. Whether it ...

liquid chromatography autosampler
LABOMAT AS-3000
LABOMAT AS-3000 autosampler module from the liquid handling system seriesApplicationThe AS-3000 module enables the LH-3000 to be used as a preparative autosampler. The instrument size is determined by the customer's application, whereby ...
See the other products
LABOMATIC Instruments AG