The Online Medical Device Exhibition

bubble point tester
HTY-201
It is developed by our company independently to test the micro-filtration membrane,for instance, 0.22μm、0.45μm.0.8μm hydrophilic and oily microporous membrane filter . It is widely applied by organizations producing and ...

The Ambient Air Temperature Sensor is designed for the constant monitoring of air temperature in cleanrooms, laboratories, computer rooms and on the outside of buildings for frost protection for example. The enclosures can be made from ...
See the other products
Thermal Detection

automatic melting point instrument
ARS-2
Measurement of melting point is one of the important methods of measurement of purity To be used in production of medicines, dye-stuffs, perfumes and other organic crystal substances. LCD display, entry by digital keyboard and direct ...
See the other products
Aiken Corporation

hematocrit fluorometer
ProtoFluor Z
The ProtoFluor Z instrument for measuring zinc protoporphyrin is easy to use. The operator simply inserts the sample holder containing the sample into the instrument, then presses the measure button. The ZPP value is displayed on the ...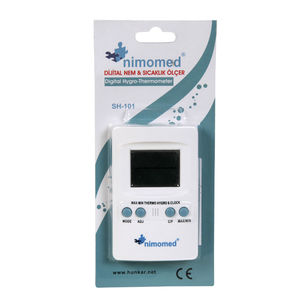 laboratory hygrothermometer
SH-101
DIGITAL THERMO&HYGRO METER MAX&MIN MEMORY ALARM MAX&MIN SHOW BUTTON DATE and TIME C and F SHOW LONG LIFE USE
See the other products
Hünkar Ecza ve Medikal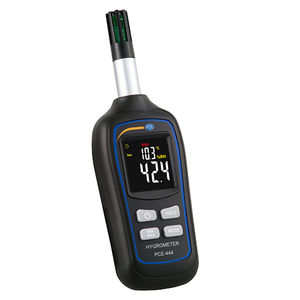 laboratory hygrothermometer
PCE-444
PCE-444 is a combination digital hygrometer and digital thermometer used to measure air temperature, relative humidity, dew point temperature and wet bulb temperature. This portable handheld pocket-sized mini thermo-hygrometer allows ...
See the other products
PCE Ibérica S.L.

dissolved oxygen sensor
SentrOxy PAT
PAT ApplicationsMonitoring in BioreactorsMeasurement in Food and BeverageDetermine metabolic processesConcentration measurements, e.g. in slurries, oils ...Monitoring of processes of oxidationFermentation monitoringMonitoring of filling ...
See the other products
Sentronic GmbH

temperature sensor
Thermocouples
Ludwig Schneider offers an extensive range of digital thermocouples Typ T, J, E, K, N, S, R and B. These electrical temperature sensors are produced following the designs of DIN 43772 and are used in machines, systems and apparatus engineering. Other ...
See the other products
Ludwig Schneider

laboratory fluorometer
681
Digital Fluorometer 681 Features 3 Digit LED display Covers entire visible range Determines the concentration of Flurophors & Quinine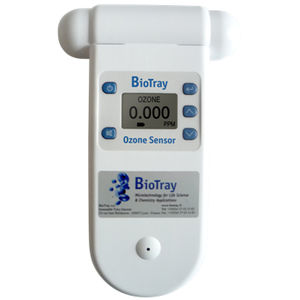 This handheld ozone monitor is the perfect tool for fast and high accuracy ozone monitoring in laboratory and outdoor environments. This portable ozone sensor is very appropriate for ozone monitoring in microarray applications. Actually ...

Covering the widest variety of applications, Tutela offers a sensing solution to satisfy every scientific and medical inventory monitoring need, from ambient temperature with RH to cryogenic. Feeding the WARP unit with a constant stream ...

cell density meter
MicroSpek ™ DSM
Laxco introduces a revolutionizing new concept in Cell Density Meters. The DSM series brings you, for the first time, the ability to measure a cell's density in micro-volumes and/or cuvettes and tubes. The DSM is a low-cost portable ...
See the other products
Laxco Inc

oxygen sensor
Max-250 Series
Replacement For Fluke [VT Mobile] Maxtec [OM-25A] Mercury Medical [10-103-11]

ion selective electrode
ISE20B, ISE52B
Polymer electrodes consist of various ion-exchange materials in an inert matrix such as PVC, polythene or silicone rubber. Solid state electrodes utilise relatively insoluble inorganic salts in a membrane. Glass membrane electrodes are ...
See the other products
Consort

DNA quantification fluorometer
Quantus™
Simple, Sensitive DNA and RNA Quantitation Easy, intuitive controls Ready to use with QuantiFluor® Dyes Recommended for Next-Generation Sequencing Highly sensitive, affordable, single-tube fluorometer The Quantus™ Fluorometer is a compact, ...

temperature sensor
BIO-BIT-14
Rectal or implantable extra-thin temperature probe for rats or mice Features The extra-thin BIO-BIT-14 probe has a flexible teflon-covered tip, and may be used as a rectal or an implantable probe, for rats and mice, with a very short response time.

Bubble Point Tester BPT has been conceived as a specific instrument for the automatic performance of the Bubble Point Test, fully compliant to the GMP normative. The remarkable high reliability and safety of BPT helps our customers knock ...

laboratory hygrothermometer
TT-563
Key Features More realistic than Heat Index used by National Weather Service Evaluate safe levels of physical exertion when outdoors Measures temperature, humidity and solar radiation Built-in alarm function to alert of threatening ...

CapONE is innovative and absolutely unique in CO2 monitoring on non-intubated patients. A CO2 sensor for intubated and non-intubated patients. Measures and monitors CO2 concentration in expiration air from patients using the semi-quantitative ...

dissolved oxygen sensor
951-0003
See the other products
Boekel Scientific

PCR end-point detection ALA-1/4 is the first multi channel rotor type fluorescence detector that allows detection of the fluorophores lights emission in the reaction mixes with a closed-tube method immediately after PCR. ALA-1/4 ...

The CAPNOSTAT 5 Sensor is the ideal capnography solution for your patient monitoring system.It provides technologically advanced measurement of End-Tidal Carbon Dioxide (ETCO2), respiration rate, and a clear, accurate capnogram at all ...

bubble point analyzer
ASTM D-1120
PD1120CC from Pilodist GmbH on Vimeo.The system is designed for fully-automatic operation conforming to ASTM-D1120 to determine very precise and reproduceable the boiling point of engine coolants and brake fluids.A complete test can be ...
See the other products
Pilodist


Used for monitor oxygen in intensive care respirators and incubators, ENVITEC oxygen sensors have a double membrane leading to reliability and an extended lifetime.