The Online Medical Device Exhibition

ultrasound diathermy unit
EL12055 - SONIC BASIC - Basic Line
Table-top ultrasound therapy equipment, with 1 output, complete with 1/3 MHz multi-frequency handpiece. Display 240x64, treatment time up to 30 minutes, 10 storable protocols.
See the other products
Chinesport

ultrasound diathermy unit
HF54
The HF54 is the first and only Ultrasound cleared by the FDA for Hands Free Stationary Use. A true product of brilliance and innovation. The HF54 is a must have in every medical facility. The HF54 eliminates the two most common application ...

vacuum therapy unit
Dermotonus Slim
The equipment Destined to professionals in the areas of rehabilitation medicine, trauma and orthopedics, dermato-functional and aesthetics, Dermotonus Slim allows vacuum techniques such as endermotherapy and endermologie. ...
See the other products
Ibramed

electro-stimulator
PHYSIOMED-Jubilee
A userfriendly stimulation current unit with extensive equipment Description Stimulation current: I/T-curve (automatic) Automatic current switch-off Therapy timer Medum-frequency currents: AMF (bipolar medium-frequency ...
See the other products
PHYSIOMED ELEKTROMEDIZIN

cryotherapy unit
HC CRYO T-SHOCK
... COLD TO WARM AND VICEVERSA FOR KEEPING IN TOUCH WITH THE DEEPEST TISSUES WHEN VASODILATATION UNCOSTRICTION ARE EFFECTIVE. PHYSIOTHERAPY, SPORT, VASCULAR MEDICINE INTO THE FIELD OF MEDCINE, NATURAL COLD AND WARM MAY ASSUME ...
See the other products
Elettronica Pagani

electro-stimulation pad
601
5 Modes massager: 1 Automatic Therapy, 1 Body Slimming Programmes, 3 Single Manual Modes 8 intensity levels selection Timer setting 5-30 minutes LCD Display timer, massage modes, graphic intensity ...

electro-stimulator
Micro II
Micro 2: Micro current TENS Micro 2 The Micro 2 produces a very slight, "Micro", stimulation. This micro stimulation has been shown to be effective in treating a wide range of problems. The Micro 2 is primarily used for pain management, ...
See the other products
Current Solutions

pelvic electro-stimulator
ALVA™
INTRODUCTION High performance exercise device for training pelvic floor muscles. With ALVA, 5 minutes workout a day is enough! Sunmedix with VibraSense has developed ALVA (A product dedicated to strengehen pelvic floor muscles in treating ...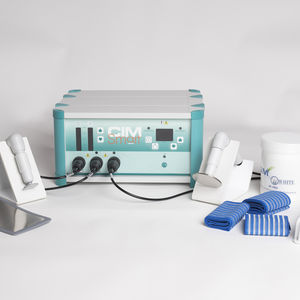 tecar therapy unit
CIM Smart
... also be carried out in the presence of metal implants. CIM 200 is particularly suitable for the care and treatment in physiotherapy, sports medicine, trauma, rehabilitation, pre and post orthopedic surgery.
See the other products
White Medical & Beauty

iontophoresis unit
ST-2001
... the size of the oral cavity together, fluoride application can be performed sanitarily and easily for a short period of time (1 minute). Lidocame Infiltration Local infiltration of 10% Udocaine can be used to perform ...

pelvic electro-stimulator
Pathway® STM-10
Transition from Clinical to Home Treatment. Product Description Microprocessor Controlled Auto Step-Through Program Four Duty Cycles Four Frequencies Six Treatment Times Time Used Display for Patient Compliance ...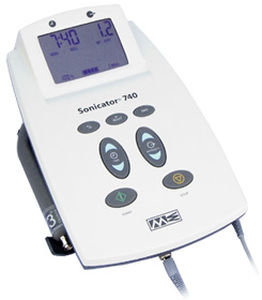 ultrasound diathermy unit
Sonicator 740
The Sonicator 740 is 1 and 3 MHz therapeutic ultrasound unit that comes standard with a 5cm2 dual frequency applicator. It is light-weight and portable and features a universal applicator cable to make changing applicators ...
See the other products
Mettler Electronics

electro-stimulator
Medio DYN
The MEDIO DYN is an innovative computer controlled compact device producing standard diadynamic currents (MF, DF, CP, LP), Russian stimulation, 2-pole interference and iontophoresis. The device is installed with pre-set programs enabling ...
See the other products
Iskra Medical

tecar therapy unit
HCR 1002
HCR 1002HCR 1002 is a fundamental tool within the Human TecarMO: by acting on microcirculation, it maximizes the body's capacity for recovery,preserves and restores balance, and enhances performance.What is it?Human Tecar HCR 1002 is ...

Transcutaneous electrical nerve stimulation (TENS) medical device for chronic pain management PATIENT FRIENDLY Sublimed transforms the treatment of chronic pains by TENS to a new and more patient friendly era. Miniaturized, thin and ...

ultrasound diathermy unit
US10
US10 is a portable ultrasound generator for therapy use with 1 MHz emission continuos and pulsed frequency (pulsed of 20, 30, 40, 50, 60, 70, 80, 90 and 100 %).Main features:• Continuous output with maximum power of 2W/cm2.• ...

electro-stimulator
UHF-60R
UHF-therapy is an electrotherapy method, which implies a human exposure to the electric field of high frequency (27,12 MHz) and ultra-high frequency (40,68 MHz), supplied to body tissues via capacitor plates.. UHF-therapy has analgesic, ...
See the other products
Radmir

pelvic electro-stimulator
INNOVO®
Innovotherapy is a non-invasive way to restore your pelvic floor, treating the primary cause of urinary leaks rather than just masking the symptoms. Using a hand held controller that is attached to a two part garment, Innovotherapy sends ...

electro-stimulation pad
geko™ T
Applications: Hospital DVT prevention and Oedema reduction A neuromuscular electrostimulation device, the geko™ gently stimulates the common peroneal nerve activating the calf and foot muscle pumps, increasing lower limb venous, arterial ...
See the other products
Firstkind Medical

pelvic electro-stimulator
Perfect PFE
Perfect PFE Pelvic Floor Exerciser Exercises and tones the pelvic floor muscle with additional settings to provide relief from pelvic pain Pelvic Floor Exerciser with 4 programmes to strengthen the pelvic floor and additional programme ...
See the other products
TensCare

magnetic therapy unit
MEDISEND® super C
MEDISEND®super C Scope of delivery: control unit MEDISEND®super C applicator MAGNETO-loop battery charger detailed manual and information material connecting cables for the laptop connecting cable for the METRONOM ...
See the other products
AMS - Advanced Medical Systems

magnetic therapy armchair
BioCon™-2000W
Operation Principle If time-varying magnetic field is induced to electric conductor like metal, eddy current is formed within the electric conductor by Faraday's law. Electric conductibility of human body is far lower than highly-conductible ...
See the other products
MCube Technology

electro-stimulator
YW-6000 4PAD
... (15, 30, 60 minutes), autoselect eight power levels, eightmode -Product Configuration : Body 1EA, Battery 3EA, Pad 4EA, A Portable Pouch 1EA -Belonging : 1 Wire 4Pads
See the other products
Young Won Medical

electro-stimulator
DERMOSTAR
... Its versatility makes it particularly suitable in the following fields of application : -Sport Medicine -Physiotherapy and Pain Therapy -Phlebology -Beauty treatments (cellulite and anti-wrikle ...
See the other products
Tecnolaser

electro-stimulator
EM-3000
The EM-3000 PERONEAL STIMULATOR is a battery operated pulse generator that sends electrical impulses through electrodes to reach the underlying nerves or muscle group. It is intended for peroneal nerve stimulation in order to activate ...
See the other products
Everyway Medical Instruments Co., Ltd.