The Online Medical Device Exhibition

ankle sleeve
7910 Malleocare Comfort
Knitted ankle support with silicon pads Indication Chronic instability of ankle, ligament injuries, joint effusion/swelling, malleolar sensitivity. Mode of Action The pad have a massage effect which ...
See the other products
Arden Medikal

... bagging when flexed, Easy slip on design with soft finished edges for greater patient comfort, is Latex Free, 8 1/2 sleeve, Measure ankle at largest point, and is Also available in Retail Packaging.
See the other products
Bird & Cronin

ACHILLES PROTECTOR SLEEVEREF. F-00076A soft, cushioning therapeutic 3 mm thick gel pad moulded in a toeless sock, cushions andprotects the Achilles tendon by absorbing pressure and friction. Indicated to alleviate painrelated Achilles ...
See the other products
Fresco Podologia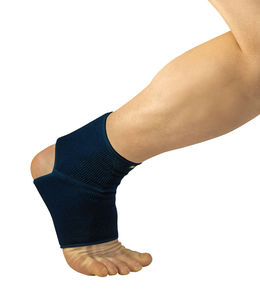 art. 10 COMPRESSION ANKLE BRACE This product has been developed as a protective support for people suffering from articular. muscular or tendon injuries arising from either overuse or traumata. Being completely open. ...

ankle sleeve
ELAST 9605-03
ELAST 9605-03 Elastic medical multipurpose tubular bandage, ankle band intended for elastic fixation during treatment and prevention of sprain and dislocation. The bandage is recommended for fixing dressing materials ...
See the other products
Tonus Elast

If you dream about soft, thin and almost invisible brace with excellent compression during daily activities – choose the device made of PowerFit fabric. This is 3-layered textile that fits to body precisely making 'the second skin' and ...
See the other products
Reh4Mat

ankle strap
Golden Line 250TB, 251TB
This ankle brace with silicone support is available in four sizes. It's ideal for a variety of ankle related injuries, such as tendinitis and post traumatic problems. It also offers support for ligament ...
See the other products
Teyder

ADELBRAND Besser Leben , AB - 4241 Elastic Ankle Brace made of neoprene. Inbuilt 8-shaped elastic Velcro increasing stabilization and compress effectiveness. It is ideal for primary level sprains and bone fractures ...
See the other products
SANTEMOL Group Medikal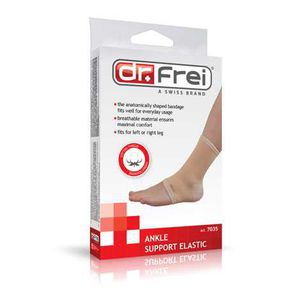 Indication for use: Trauma of the ankle joint. Ligamentous laxity of the ankle joint. Chronic arthritis and initial stages of arthrosis. Late rehabilitation after a plaster cast is removed. Prevention ...

Indications: Ankle Sprain Ankle swelling/oedema

3902 Elastic Ankle Support Size: S/M/L Colors:black/gray with bamboo charcoal
See the other products
Jiangsu Reak

ALPS Ankle Brace The ALPS Ankle Brace is constructed of neoprene and comes with two attached support straps. Integrated plastic stays on each side of the ankle ensures stability. Features: ...

USE Effectively supports treatment and rehabilitation of injuries, ankle joint dysfunctions, provides additional help to the lateral ankle ligaments, as well as medial orientation of the foot. PRODUCT ...
See the other products
Qmed

... construction. ■ Heavy-duty extension in 4 ways. ■ Easy pull on application. Indications ■ Provide ankle compression ■ increase ankle stability ■ improve ankle sprains
See the other products
Conwell Medical

ankle sleeve
Select TaloStabil®
Compression support for ankle with a three-dimensional, dual-tension support for the ultimate comfort and support. With an antimicrobial finish and extra-soft material on the edge of the calf and sole of the foot prevent ...
See the other products
BORT Medical

ORIONE Ankle Support reinforced heel Ref. 400 The heel has a reinforced but thin fabric so to avoid bulging inside the shoe. The ORIONE® ankle supports provide a firm action and protection. Recommended ...
See the other products
SAFTE Italia

ankle sleeve
000-800x series
Product Features Unbalanced ankle can cause pains around the knees, hip joints and back as well. This product shall improve the balance of your body and ankle, and reduce strains on foot ...

ELEMENTS Ankle Walk safe - A comfortable sock that provides warm compression and side-to-side stability. Recommended application: Mild and temporary discomfort such as pain, sprains and dislocations. Contraindications: Severe ...

ANKLE PAD WITH LATERAL SUPPORT CODE:9000 It is used for ankle traumas to relieve pain. There is an elastic bandage which is enveloping to ankle like eight shape. It is made of antiallergic ...
See the other products
Novamed Medical Products

These garments are particularly suitable in mild cases of joint trauma. The softness and elasticity of this fabric makes it suitable for normal everyday exertion, while the high percentage of cotton allows the skin to breathe naturally.

Your Push care Ankle Brace provides compression around the ankle, thus improving the sense of stability of the joint. This compression can be adjusted as needed. The ankle brace has a ...

ITEM 34 ANKLE BANDAGE The Ankle Bandage provides an easily-applied, mild protection for the ankle. Helps ease painful, tired feet and swollen ankles during everyday ...
See the other products
Uriel - Meditex

ankle sleeve
PREMIUM KNIT
The Premium Knit Ankle Support uses the latest techniques in three-dimensional knitting for a compression-fit orthopedic soft support

See the other products
Huntex Corporation

ankle sleeve
Dynamics Plus
... highly elastic special knitted fabric adapts to sensitive flexion areas of joints like a second skin. Also the Plus Pad of the knee support has been well thought through to the last detail. Its special form improves the ...
See the other products
Ofa Bamberg