The Online Medical Device Exhibition

irrigation cannula
Zoellner 21.870.10
This stainless steel tool uses a CE marked body, is reusable, autoclaveable and covered by a lifetime guarantee. It works with the 93/42/EEC standard.

Developed in 1907 by Dr. Charles Yankauer, Yankauer Single Use Suction Instruments have become the most common suction instruments in the world. Large lumens provide rapid aspiration and resist clogging – removing fluid and debris from ...
See the other products
ConMed

Frazier Suction Instrument's are used in open surgical procedures where fine, delicate suctioning is necessary to evacuate debris from the surgical site, every Frazier single use suction instrument is supplied with flake-resistant shafts ...
See the other products
ConMed

Clear the way for oral airwaysOur wide array of single-use oral (oropharyngeal) airways accommodate ages from infant to adult, with styles including Berman and Guedel. Guedel airways are colour-coded by size for easy identification. Individually ...

biopsy cannula
Core Biopsy Puncture Sheath V
Puncture cannula Somacore Verify and Somacore Verify S biopsy instruments.

biopsy cannula
Coaxial MR Puncture
... instrument can also be used as a guide needle for catheters and guide wires, as well as serving as an injection and drainage cannula. The combination of the needle's special alloy material and is sharp trocar tip ...

injection cannula
Extra-Spike® Plus
Withdrawal cannula for multiple withdrawal from stock bottles and for supplementary injections, safe and handy Slim, short spike for easy piercing of stronger stoppers Easy opening and closing with one hand ...

suction cannula
92603, 92603-33
Product Description 3.5mm x 33cm Reusable Suction Irrigator.All instruments feature full 360° rotation, monopolar post and flush port for cleaning.Light-weight, non-conductive handles are made from durable composite material.

The nasal airwar tube is made soft and flexible to prevent trauma or bleeding upon insertion. It has a smooth surface for an easier tube insertion. It is equipped with a pressure port to monitor pressure. It comes with suction ports on ...

Fenestrated Cuffed Tube Smooth fenestration with no sharp edges located just 1mm from the cuff to prevent fenestration contact with the tracheal mucosa. Available in sizes: 4,6,8, and 10 Fenestrated Uncuffed Tube Allows for assessment ...
See the other products
Pulmodyne

The inner cannula has a suction catheter attached to the outside. This allows it to removes secretions (accumulated above the cuff) through the fenestration of the Blom Fenestrated Cuffed Tracheostomy ...
See the other products
Pulmodyne

Autoclavable • Sturdy and flexible • Choice of sizes for a variety of aspirator and valve diameters Sizes: 1.0mm 1.5mm 3.0mm
See the other products
Vista Dental Products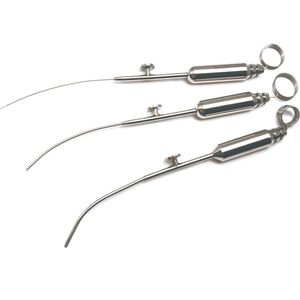 dental suction cannula
8040xx series
Stainless Steel Construction Micro suctioning aspirators - ideal for root canal aspiration. • Finger rest button for exact control of aspirator • Includes 1 cleaning stylet and fits HVE cutoff valve
See the other products
Vista Dental Products

suction cannula
SVY-126-50

suction cannula
SVY-125-50

ear suction cannula
50-2224
6" Eicken Wash Cannula Curved, 3mm, with Finger Cutoff Surname Eicken Length 6" Material Stainless Steel Disposable or Reusable Reusable Sterile or Non-Sterile Non-Sterile Latex or Latex-Free Latex-Free Grade Premium OR-Grade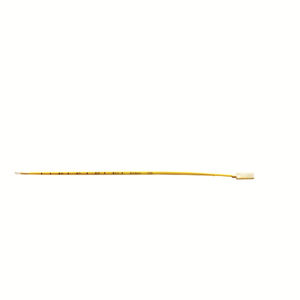 endometrial biopsy cannula
GYNEBIOPS CH9
GYNEBIOPS® STANDARD MODEL CH 9 used for micro-aspiration of endometrial cells.
See the other products
Gyneas

endometrial biopsy cannula
02.127
This is used for endometrial microaspiration and is used for stenosis cases in the cervix.
See the other products
Gyneas

aspirating cannula
35-1030-06

suction cannula
Scopis® EM
Navigated Suction Tube, EM Suction tube 2,7 mm for navigation and suction at the same time. Bendable design for sinus surgery.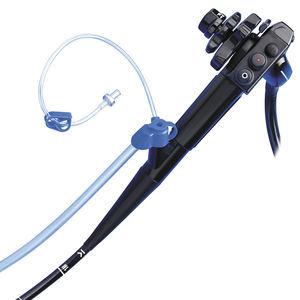 irrigation cannula
BioVac® BX0071151x series
Known as 'super suction for your endoscope', the BioVac® device offers superior suction power and volume during the evacuation of gelatinous materials from the GI tract. Designed to suction hard-to-remove, viscous materials* which may ...

tracheostomy cannula
Optiflow™
Optimally humidified gas is delivered directly into the tracheostomy, minimising discomfort around the tracheostomy site Lightweight and extremely flexible interface tube Lanyard designed to take the weight of the circuit ...

aspirating cannula
708810
Throat Aspirator Ref.: 708810 High quality chrome-plated brass instrument with hexagonal mount and removable tip for cleaning.

... cost-effective RF Cannula for use with thermocouple (TC) electrodes. Each RF cannula's insulation is tapered at the tip for easy insertion and maneuvering. Siliconized insulation (white) offers enhanced ...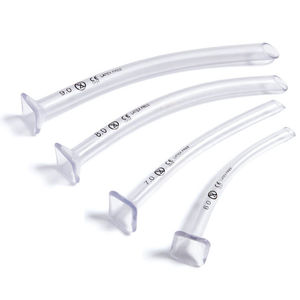 nasopharyngeal cannula
MAN®
Stays in situ without the need for ribbons or safety pins. The Marshall Airway Nasopharyngeal (MAN®) has a unique rectangular flange that sits comfortably for the patient and ensures the device cannot be inhaled. Key Features Nasopharyngeal ...

aspirating cannula
Biofill
Our Biofill system has been designed particularly for harvesting small volumes of autologous fat. Biofilling is the procedure of harvesting small adipose tissue volumes for lipofi lling using water-jet assisted liposuction and autologous ...