The Online Medical Device Exhibition

aspirating cannula
MS-YKXX Series
The MedSource Yankauer Suction Tips are made of blue-tinted, transparent, shatterproof plastic. They can be ordered with or without vent. The tubing is memory-free and made of opaque plastic, which permits monitoring of fluid, The ...
See the other products
Medsource

oropharyngeal cannula
AW-61902
Available in 8 sizes 40mm, 50mm, 60mm, 70mm, 80mm, 90mm,100mm,110mm with compact case. Available in color coded airways. Smooth surface & rounded tip for improved patient comfort. Single use only.
See the other products
Besmed Health Business

Res-Q-Vac Manuel Suction Device Hand operated aspirator designed especially to fit in emergency cases. Easy mounting and cleaning.

Berman airway set. Include airways length 40, 60, 80, 90, 100 & 110mm Fitting:White Material:PE, PP, PET
See the other products
Hsiner

endometrial biopsy cannula
Cannula Ø 18 G
... marked with a galvanically applied not removable depth gauge, at intervals of 1 cm In addition to surface polishing the cannulas/interventional micro probes (IMS) are dry siliconized so as to be able to reach deep ...
See the other products
Micromed Medizintechnik

aspirating cannula
Scintillant®
The Scintillant® Suction is a handheld surgical light assembled to a tonsil-style suction tip designed to combine fluid aspiration with bright LED illumination. The Suction is ready for use directly from the package, enabling users to ...

See the other products
Vadi Medical Technology

Berman cannula
FA-P30004 series
See the other products
For Care Enterprise

It features an aspiration cannula (stainless steel) complete with suction management capabilities. It's perfect for neurosurgeries and ENT purposes.

Suction devices with fine lumen are an indispensable part of today's surgical routine. This especially holds true for the fields of neuro and ent surgery. Multi-use suction devices that are widely used in today's operating rooms are ...

oropharyngeal cannula
R-MEI-VM-01
An oropharyngeal airway, also known as an oral airway, is a medical device used to maintain a patent open airway by preventing the tongue from covering the epiglottis, which could prevent the person from breathing. Features Medical ...

1. Satin smooth finish, soft rounded edges. (special near-seam-less moulding design) 2. Reinforced bite block provides access for suction catheter. 3. Color coded for easy size identification conforms to ISO requirements. 4. Size from ...
See the other products
WINNOMED COMPANY LTD.

oropharyngeal cannula
S3™
... persons. The ABC's (Airway, Breathing, and Circulation) are the critical steps to save the life of a patient. A suction catheter is routinely used by first responders to clear the airway of fluids and chunks in order ...
See the other products
SSCOR

irrigation cannula
VESI05, VESI10
Laparoscopic Suction And Irrigation Cannula Victor Single Use FEATURES & BENEFITS Intuitive operation button aspiration and irrigation. Ergonomic handle design for better control of instrument.

Modular Suction Irrigation System with Laser Guide - small
See the other products
MDD - Medical Device Development

... triangular trocar shape an sample notch optimal guidance due to excellent 3-point fixation of inserted cannula smooth guidance by special polishing – even when cannula is bended with protective tube for ...
See the other products
UROMED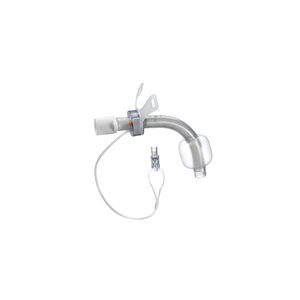 TRACOE vario Tracheostomy Tube, Spiral-Reinforced, with Adjustable Neck Flange and Low Pressure Cuff Cannula with 15 mm connector, spiral-reinforced, with cuff and scale Obturator and wide neck strap
See the other products
Tracoe

PVC drains Our PVC drains are available in several sizes and in the length of 50 or 80cm. They can be either 7 or 15cm perforated and include an ORX line along their whole length. They are provided sterile and can be purchased with our ...
See the other products
Chimed

... or none female connector. The cannula can be attached to any Yankauer connecting tube. All the cannulas can be curved or straight. They can also be fitted with suction control or not. There are three ...
See the other products
Grena

aspirating cannula
2 mm | FSH2006
Frazier Suction Handles Strong construction suitable for bending to shape during procedure Single-use avoids the need to restraighten or risk breakage Tip options include non-fenestrated, fenestrated with two holes and cross ...
See the other products
DTR Medical

intravitreous injection cannula
... Fluid Cannula Reorder No: TR9849-51 Sterile, Single-Use 3 Cannulas per Box 4 mm beveled tip infusion cannula treated for high-pressure, ideal for injection of silcone oil and other viscous ...
See the other products
Sonomed Escalon

Lagis suction irrigation system offers a choice of 2 handles and 10 shafts, so you can select the handle and shaft that best meets your needs. Features include: Interchangeable shafts and handles (any shaft fits any handle). ...

oropharyngeal cannula
RAC-031
See the other products
Acare

Guedel cannula
200 103, 200 108
Anatomic design Atraumatic soft rounded edges Color coded Airway 0/50 mm - Blue 200 103 Airway 1/60 mm - Purple 200 104 Airway 2/70 mm - White 200 105 Airway 3/80 mm - Green 200 106 Airway 4/90 mm - Yellow 200 107 Airway 5/100 mm - Red 200 108

nasopharyngeal cannula
41-2500
made of thermosensitive PVC safeguard to avoid tuck into the epipharynx siliconised latex free DOP free sterile, single use
See the other products
SUMI