The Online Medical Device Exhibition

catheter guidewire
Prelude®
The Prelude® guide wires are offered as standalone products, packaged in a flush hoop for your convenience.
See the other products
Merit Medical Systems

The Next Generation Hybrid Wire - TRITON™ Core The SOLO™ PLUS Hybrid Guidewire has a proprietary kink-resistent TRITON™ core that has an increased stiffness compared to Nitinol. It has a hydrophilic tip and a PTFE ...
See the other products
Bard Medical

catheter guidewire
ASAHI SION black
... vessel trackability. ■ Durable tip for shape retention SON TECC is designed to maintain tip shape for vessel selectivity and catheter positioning. ■ Precise torque response SON TECC provides precise torque response ...
See the other products
Asahi Intecc

catheter guidewire
Metis™
This product comes with a Nitinol distal core with a stainless steel shaft. It has been designed to remove the risk of abrupt transitions and makes sure that torque is passed into the central axis. The Hp design gives the user options ...
See the other products
Comed

catheter guidewire
Neviguide™ PTCA
Steerable PTCA guidewires offering the right balance of pushability, trackability and crossability ensuring optimal performances. Product Advantages Designed for high performance Optimized steerablity PTFE and Hydrophilic ...
See the other products
ALVIMEDICA

It has a Nitinol + LubriSkin® coating with a 4 cm and gold-plated tip. It has an angled shape and a 9.5 cm distal hydrophilic coating. Moreover, it is similar to the 0.018" steel wire. 80270 has a length of 220 cm and is angled. 80271 ...

... Diagnostic Guidewires have improved trackability and guidewire visualization. They're available in moveable or fixed cores. Diameters are 0.021", 0.025", 0.035", 0.038" while lengths are 150, 180, and ...

for exchange of compatible wire-guided accessories in biliary and pancreatic ducts

Device used during surgical, diagnostic and interventional procedures with the purpose of vessels selection and the introduction and guide of a medical device. It can be used for the creation of a vascular access as for example in the ...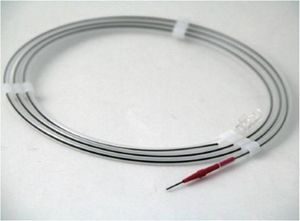 catheter guidewire
Rocawire Nitinol
Rocawire Nitinol 100% Nitinol Core Guidewire, Hydrophilic coated, Radio-opaque.
See the other products
ROCAMED

... that torque is transmitted along a central axis • Improved torqueability allowing to achieve canalization and advance the guidewire without excessive torqueing until the lesion has been traversed • Hydrophilic coil ...
See the other products
SIS Medical

catheter guidewire
Hauler™ series
... whit Tungsten ; allow great Radiopaque feature, minimizing Platelet adhesion contribute in a better pass trought in and out Catheter. -There are Straight, Angled and J Angled taper soft tip shapes availables. Nitinol ...
See the other products
MEDAS INC

catheter guidewire
217 35450
Nitinol Guide Wire "Hi-Flex" • straight tip • 5 cm hydrophilic tip
See the other products
Endo-Flex

Single Use Guidewire (ECRP) Production Feature: High-performance head of guidewire design – Felt-tipped design of hydrophilicity and flexibility, easier intubation that can minimize strain. Head ...

Gastrointestinal Disposable Guidewire Different choices of tip: To satisfied different needs, choice of soft or stiffness, angled or straight ends. Super Nitinol Core Wire: Allows maximum deflection without kinking. Hydrophilic ...
See the other products
Mednova Medical Technology

Guide wires PTFE coated. Guide wires hydrophilic coated. Nitinol guide wires. Zebra guide wire. Lunderquist guide wire.
See the other products
Amecath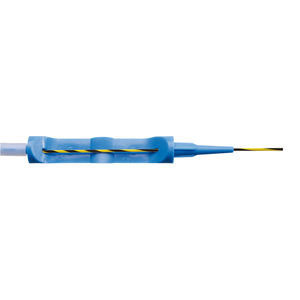 Through our variety of guidewires, biopsy needles, biopsy cannulas and various accessories for use in urology, we offer a complete coverage of the needs of our customers.

catheter guidewire
Visiomulti
A variety of guide wires, prostate biopsy cannulas and diverse accessories for urology complete the product range.

catheter guidewire
Charter™
... the core wire material for decisive control and predictable, consistent tip response and shapeholding memory. The Charter Guidewire is leading to resist deformation and provide decisive torque control to facilitate placement ...

catheter guidewire
Chaperon®
Unmatched by any other catheter in diameter design, this unit consists of two catheters. Coated with a hydrophilic substance, the inner catheter functions as ready-to-use device. A ...
See the other products
MicroVention

catheter guidewire
2711 / 2715
UROMED Lunderquist Guidewire »ASP« Flexible Guidance Instrument for urological catheters with J-tip or straight tip good gliding ability strong shaft one-handed insertion guide internal ...
See the other products
UROMED

catheter guidewire
Balancium™ series
Balancium™ PTCA Guidewire CCosss Guide to wherever you want to be Two types of core materials • 304V stainless steel core—high performance stainless steel core, provide good support and flexibility. • 304V+Nitinol—provide ...

catheter guidewire
GGW-xx series
See the other products
Asept Inmed

catheter guidewire
Accura
Accura PTCA Guidewires Featuring: PTFE coated, optional hydrophilic coated 190cm standard length Diameter 0.014" Unitary core construction Straight tip Other lengths and diameters available on request

Terumo Radio focus Guidewire • Available in 0.18,0.25,0.32 Straight / Angle