How to choose this product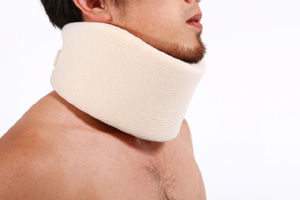 A cervical collar, also called a neck brace, is used to immobilize the cervical vertebrae.
Applications
These devices are primarily used when transporting accident victims to the hospital when there is possible neck trauma. They also are worn at home after a fall or other accident resulting in head injury, in order to take strain off neck vertebrae. Certain models are used to immobilize the neck during tracheotomies or other surgery.
Technologies
Braces and collars can be rigid or are made of flexible materials such as foam. Some are designed to immobilize only the first vertebra (C1), while others keep the entire neck from moving, through C4. Certain versions even include a chin rest.
How to choose
Choice will depend on the number of vertebrae to be immobilized. Collar size and rigidity should ensure patient comfort.