The Online Medical Device Exhibition

Capacity: 4 l
Small size but practical and reliable.Low power consumption as it is equipped with a cartridge resistor of 100 W with two contact relays.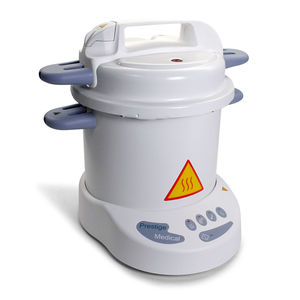 Capacity: 9 l
The Prestige Medical Classic Portable Dental Autoclave is compact and easy to use, with an 18 minute sterilization cycle.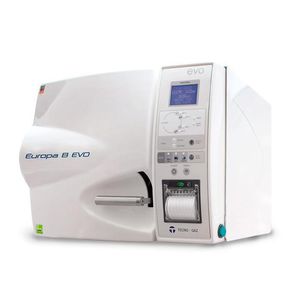 dental autoclave
Europa B Evo
Temperature range: 138 °C
Capacity: 4.5 l
... research office designed the biological incubator that ran the autoclave independently even when the autoclave is turned off. The biological tests are the foundation of the autoclave ...
See the other products
TECNO-GAZ

dental autoclave
KALOSTERY
Temperature range: 121 °C - 134 °C
Capacity: 18 l - 23 l
Full range of Autoclaves available 18 and 23 lt. models, supplied with or without USB memory keys

medical autoclave
LMA-A10
Temperature range: 121, 134 °C
Capacity: 14 l
... which consistently improve products according to the needs of our customers. Our product ranges includes Benchtop autoclave sterilizers which is economic for choice. Features Composed of high quality ...
See the other products
Labtron Equipment

dental autoclave
MISTRAL S
Capacity: 18 l - 23 l
Motorized door closure.With triple protection, guarantees greater safety, easier handling and automatic regulation of the door.Instant vaporization.Outside the chamber, for faster sterilization and reduced water consumption.
See the other products
Fedesa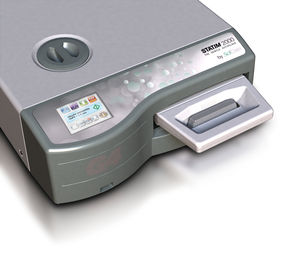 dental autoclave
STATIM G4
... displacement technology – using saturated steam to remove air and effectively sterilize instruments between patients – the STATIM Autoclave ensures dentists always have an ample supply of instruments ready for use.
See the other products
SciCan GmbH

dental autoclave
Bioclave
Temperature range: 123 °C - 133 °C
Capacity: 12 l
Plucky and innovative design Tank%u2019s capacity: 12 liters Pressure tank: In Aluminum Quick tank heating and cooling. Safety and resistance to constant heating processes. Trays: In Aluminum Excellent mechanical strength and resistance ...
See the other products
Gnatus

medical autoclave
LITTLE SISTER SHS 800
Capacity: 3 l
The new Little Sister SHS 800 handpiece autoclave is dedicated to the task for which it has been designed, without risk of compromise. Sterilises up to eight handpieces in an average of just 8 minutes. Ideally ...

dental autoclave
Optima B
Capacity: 16 l - 22 l
Vacuum autoclave with Flash Steam® Technology for faster cycles • Capable of sterilizing a full 6kg load in as little as 22 minutes – including drying. • Sterilizes 12 hand pieces in only 15 minutes! • Simple to use ...
See the other products
Prestige Medical Limited

dental autoclave
E9 Recorder
Temperature range: 122.5 °C - 135.5 °C
Capacity: 24, 18 l
... in the EU, the new E9 recorder features state-of-the-art sterilization technology which meets EN13060 standards. The autoclave can be fitted on any surface as long with a flush-fitted installation or that is completely ...
See the other products
EURONDA

Capacity: 18, 24 l
E9 Med – "B" Type Vacuum Autoclave Suitable for Solid, Porous and Hollow instruments Integrated Thermal Printer LCD Display One Touch Operation 3 / 4 Tray system Easy Access water chamber E9 ...
See the other products
Medisafe International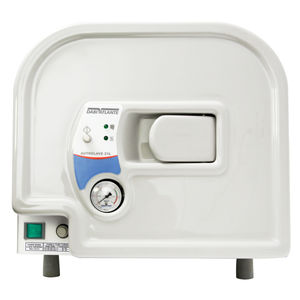 dental autoclave
AUTOCLAVE 21L
Temperature range: 134 °C
Capacity: 21 l
· Horizontal autoclave for sterilization with wet saturated steam. Sterilizes in an efficient, fast and safe manner all critical or semi-critical materials of medical and dentistry use. Its efficiency is based ...
See the other products
DABI ATLANTE

dental autoclave
AD7 Mini
Temperature range: 121, 132, 134 °C
Capacity: 2.8 l
The best choice for handpiece sterilizer and the second sterilizer AD7 Mini – the most compact and convenient autoclave for surgical instruments, high-speed and scaler handpiece. ...
See the other products
APOZA Enterprise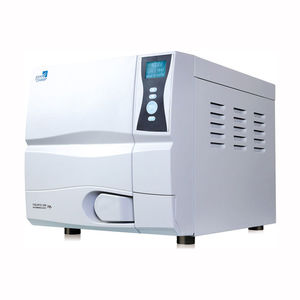 dental autoclave
Tiger(2)
Category:Sterilzer Model:Tiger(2)Description:Tiger(2)
See the other products
Foshan Joinchamp Medical Device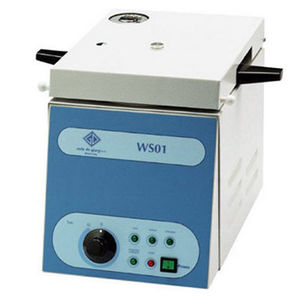 Temperature range: 125 °C
Capacity: 9 l
Very simple to use, sure for the operator is a machine to sterilize hand-pieces, turbines, rotating instrumetns and each instruments sterilizable at 125°C.WS-01 can do all this very easly, simply by closing the cover ance select the cycle ...
See the other products
CARLO DE GIORGI SRL

dental autoclave
STERIDENT®
Temperature range: 105 °C - 134 °C
Capacity: 15 l
STERIDENT, a steam sterilizer with a chamber volume of 15 liters, represents a completely new generation of small steam sterilizers that comply, without exception, with the requirements of standards (EN ...
See the other products
BMT Medical Technology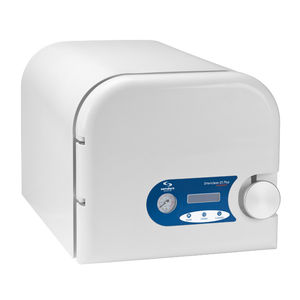 dental sterilizer
Stericlean 21 Plus
Temperature range: 127, 134 °C
Capacity: 21 l
Autoclave for steam sterilization and drying of materials, modern design, suitable for dental offices (General Practice, Endodontics, Pediatric Dentistry, Orthodontics, Prosthodontics, ...
See the other products
SANDERS DO BRASIL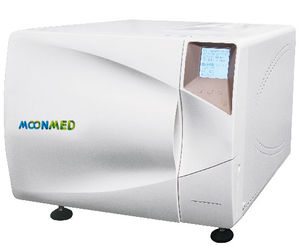 medical autoclave
MO-MOST-T-Series
Temperature range: 105 °C - 138 °C
Capacity: 18 l - 80 l
... in the market. This type of high Pressure sterilizer uses steam as the sterilization medium which is fast, safe and economic. This type of B Class unit is reliable and robust commonly used in Medical, Dental, ...
See the other products
Moonmed Group

dental autoclave
BEST N18
Temperature range: 122 °C - 134 °C
Capacity: 18 l
Chamber Capacity:250XD350mm Inside Capacity:18Liter Outside Size:60x39x36(cm) Packing Size:64x46x41(cm) N.W:28Kgs G.W.:29Kgs Sterilize Temperature:122C&132C Sterilize Pressure(Mpa):0.12Mpa&0.23Mpa Sterilize Time:25min&6min Heater:900W Electric ...
See the other products
Best Dent Equipment Co.,Limited

medical autoclave
PD-400AD7
Capacity: 9 l
1.One-click-ease to enable 4 pre-programmed sterilization cycles from the user-friendly control panel 2.Speedy 3.5 minutes sterilization cycle available for urgent usage 3.Automatic door opening mechanism 4.Hassle-free auto water drainage ...

Temperature range: 121 °C - 134 °C
... quality control labotorories of industries such as food. • Prismatic Type Steam Sterilizer Device could be used for the sterilization packed or unpacked surgical and dental instruments, operation ...
See the other products
Sumer

dental autoclave
B Standard
Capacity: 8 l
Feature for B Standard Autoclave B Standard win 3 time pre vaccuum preceding vacuum drying 105 C Rubber and Plastic disinfection prgoram Sterlization temperature : 121 C or 134 C Unique solution for cotton ...
See the other products
SUZ-DENT INDIA PVT LTD

dental unit sterilizer
DPS
Dentozone Plasma system is a patented brand-new automatic system specially designed to supply dental clinic water to the chair of dental office.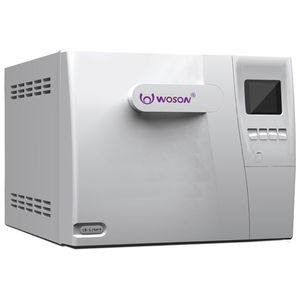 dental autoclave
TANVO D18
Temperature range: 121 °C - 134 °C
Capacity: 3.5, 4 l
Brand-new look, graceful simplicity The main control system intelligently improved according to EN13060 standard, adjusting sterilizing time and vacuuming time. More accurate control will deliver stable and downright sterilization effect. ...
See the other products
Woson Medical