The Online Medical Device Exhibition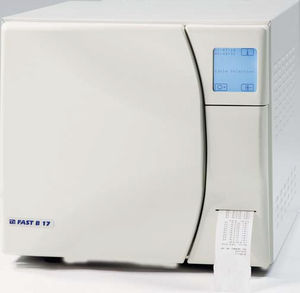 dental autoclave
FAST B17
Capacity: 18 l
FAST B is the new water steam sterilizer manufactured by TAU STERIL, a Class B medical device that delivers safety, performance and flexibility of use. FAST B meets any sterilization need: hollow, solid or porous loads, ...
See the other products
TAU STERIL

medical autoclave
STE-18-D
Temperature range: 121 °C - 134 °C
Capacity: 23 l
1.Overview: 18 Liter benchtop autoclaves with class B pre-post vacuum type, complies with the European standard EN13060. With electronic door locking system. This 18 Liter autoclave are ideal for busy ...
See the other products
ningbo ican machines co.,ltd

dental autoclave
ZA11 series
Capacity: 22, 18, 12 l
LCD display / Built-in printer / USB First-dass Quality Control System We have established a fïrst-class quality control system to supply the world most excellent autoclaves. Dual Core Control System This system can gatherand process ...

dental autoclave
STERIL MAXIMUM
Temperature range: 121 °C - 140 °C
Capacity: 18, 23 l
... periods, a better energy spare, very small water use. In other words, it allows to save money. Stainless-steel chamber. The autoclave is easy to be used with the aid of a large graphic display and the complete management ...
See the other products
BMS DENTAL


dental autoclave
DAC UNIVERSAL
Capacity: 1.8 l
Switch off hygiene risks: Switch on DAC UniversalComply with hygiene standards at the touch of a button and avoid cross contamination: Completely safe with DAC Universal. Your patients and employees can rely on this all-round protection ...

medical autoclave
DAC PROFESSIONAL
Capacity: 17.6 l
An investment in quality No matter which chamber size you decide upon, with the DAC Professional class autoclaves, you will be making a safe investment. Production in Germany, certified manufacturing standards and a chamber made from ...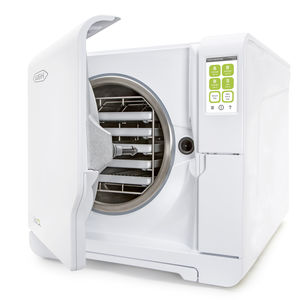 dental autoclave
Lisa series
Temperature range: 134 °C
Capacity: 17 l - 22 l
Easy to use, performance, full traceability The new Lisa sterilizer with the easy to use colour touch screen and user-friendly menu structure fits perfectly into your dental practice. The faster performance ...

Capacity: 17 l - 22 l
Exclusively type B cycles Lina autoclaves offer exclusively type B cycles that are suitable for the sterilization of all types of dental products. With its ease-of-use and practical keypad it is ...

dental autoclave
PG STERIL
Capacity: 300 l
PG Steril is a fast and efficient line of bench-top autoclaves suitable for many medical and dental instruments sterilization. Practical and versatile, PG Steril line is equipped with large graphic display ...

Capacity: 18 l - 23 l
Perform both class "S" and "B" cycles ■ Fast cycles thanks to the innovative QUIKSTEAM system to dramatically reduce sterilisation time. ■ Easy, intuitive 4-button control panel. ■ Integrated safety system to monitor every stage of the ...

medical sterilizer
H Series
Temperature range: 180 °C
Capacity: 30 l - 2,400 l
Overview Hot air sterilizers Steridium's new generation of hot air sterilizers have been designed to the highest European standards and manufactured to ensure performance, reliability and repeatability ...

medical autoclave
Flight CLAVE16
Capacity: 16 l
The Clave16 Chamber Autoclave is a Class N Steam Sterilizer that uses state-of-the-art technology in steam sterilization using a pressure displacement technology that allows a more complete removal air ...
See the other products
Flight Dental Systems

medical sterilizer
IIC12, IIC18, IIC23
IIC12 IIC18 IIC23 The new design model with opening water tank on the top, strictly meets the standard of EN 13060, which makes wash and cleaning much more convenient It adopts European B standard with 3 times pre-vacuum preceding vacuum ...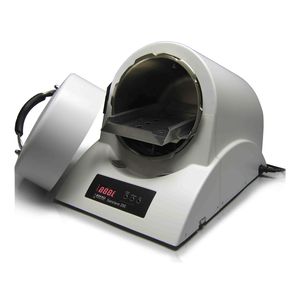 medical autoclave
Saniclave 200
Temperature range: 121 °C
Capacity: 10.5 l
FEATURES Great for cleaning our generator probes FDA Approved 10.5 liter capacity, top loading Easy and simple one button operation Fast, 30 minute, ST79 approved sterilizing cycle Digital Display with ...