The Online Medical Device Exhibition

dental stool
120 kg | M1/M2
The stool M1 or M2 has a versatile utilization thanks to its optional equipment. It can be adjusted vertically, provides arm support (dentists) and allows legs to rest while sitting. Despite of its mobility the chair ...

... padded case. Even with sturdy construction and high weight capacity, the ADC-10 is lightweight and carrying it into any mobile dental scenario is simple. Easy set-up and storage Includes padded case Hydraulic ...
See the other products
ASEPTICO

doctor's office stool
S4608
Type Stool Frame Metallic with aluminium base Backrest Without backrest SEAT TYPE Integral Armrests Without Armrests Height Short cylinder

- Seat height and tilt adjustment by gas cylinder. - Smooth and light seat height and tilt adjustment by hand lever. - Seat and backrest tilt forward together for relaxed lumbar support and comfort. - 5 leg, cast aluminum base provides ...
See the other products
Takara Belmont Corporation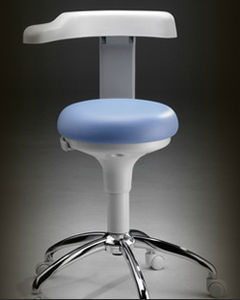 Made in two versions, with and without stainless steel footrest, with a five-wheel radial base in both models. Surround backrest. Height adjustable by gas lift. Maximum height 590 mm, minimum height 470 mm. FEDESA offers a wide range ...
See the other products
Fedesa

dental stool
DentalEZ® Generation™
Choosing the right operator and assistant dental stools can help put you in the correct positions for maximum efficiency and comfort, and reduce physical strain. DentalEZ® Generation™ stools ...
See the other products
DentalEZ Group

The anatomical seat features synchronized movement of the backrest, allowing the dentist to sit comfortably. The seat height is adjustable. Moreover, the height of the backret and lumbar support can be adjusted. Backrest can also be tilted. ...
See the other products
Dentalmatic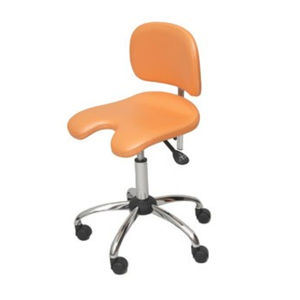 dental stool
FD-215, FD-235
... three styles of contoured, shallow seat stool. All have synchronized tilting of the seat and backrest and are specially designed to allow knee space when working face to face with an assistant. The saddle stools ...
See the other products
FINNDENT OY

dental stool
Coburg Dentalift 1401
dental stool 1401 (in accordance with DIN EN ISO 7493) safety base with 5 twin rollers and a wide foot ring rounded seat Ø 35 cm, comfortable upholstery seat height adjustment completely ...
See the other products
Jörg & Sohn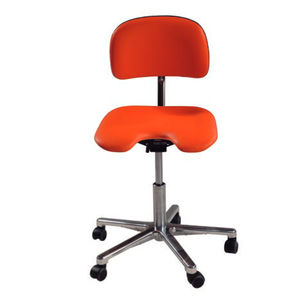 The NEO stools can be delivered in the same upholstery colors as the NEO patient chair.
See the other products
FIMET

Classic model stool with circular shaped swivel seat. Height can be regulated (from 50 to max 65 cm) . Manual -operated raising control. W.55 D.55 H.90
See the other products
ZIL FOR

... support during treatment of the patient for whole day. The dental assistant stools and dental stools provided by Pelton & Crane assist all the dental ...

dental stool
00-DUMA -104
FEATURES Special design and develop for dentists Fully support body and spine in a sedentary position Adjustable seat and back title Adjustable seat and back height Changeable seat and back pads to allow quick color ...
See the other products
Winbex Industrial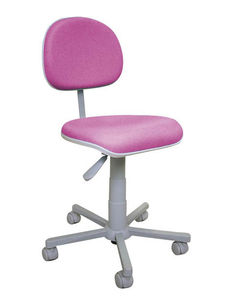 Seat elevation system moved by gas, with smooth movements and regulation through the lateral lever. Anatomical backrest approach adjustment providing larger comfort to the professional. Base with 5 alternative movements, resistant, ...
See the other products
Gnatus

doctor's office stool
Score Jumper, Score Amazone, Centurion
The Centurion Saddle Seat with a Backrest is a combination of polished aluminium, chrome and a firm cushioned double stitched upholstery. The perfect addition to any office or treatment room. Experience the unparalleled comfort of a ...

... an elegant design. While most operator/hygiene stools come with a flat seat cushion and a flat backrest, the 400-D incorporates a fully contoured design. We tend to want to sit at the edge of our stools. ...
See the other products
RGP Dental

veterinary facility stool
Midmark 270
Overview The economical, smart design of the Midmark 270 Adjustable Stool offers unsurpassed reliability and style. With key features such as: Black, composite 5-leg caster base with hood Manually adjusts from 18" to ...
See the other products
Midmark Animal Health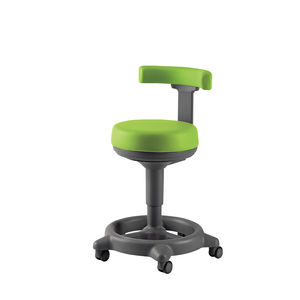 ... while he is working on a patient. The Coral operator's stool aims to provide superior level of stability and support to the dentist enabling him to give proper care and performing better at dental procedures. ...
See the other products
EURONDA

XO SEAT - SITTING WELL STARTS WITH THE SEAT When we were designing XO Seat, your upright and balanced position was on the forefront of our minds. Your sitting comfort is further enhanced by XO Scuba upholstery which allows your skin to ...

dental stool
Mobilorest 150, Mobilorest 156
... surgery with large facette of colors: Choice of 15 decorative colors for small surcharge. Dental operator's stools, xx Code for upholstery. Dental Operator's Stools, ...
See the other products
Ritter Concept GmbH

VELA Samba 150 was developed in cooperation with the Danish dentist Herluf Skovsgaard. The chair is ergonomic and comfortable and has a unique, short seat with a rounded and heavily padded front. Special short seat with seat tilt makes ...
See the other products
VELA

Item C450 Technician Stool Article Number MP09001 Certification ISO9001:2000 Approved Purpose The technician stool be use for dental technician in dental laboratory ...

DENTAL SEATS: OK - 1 OK - 2 OK - 3 Height adjustment performed by foot. Seat diameter ø 380 mm. 1 height adjustment range: from 500 mm. to 640 mm.
See the other products
MEDICA

... DCI's Doctor's Stool features four adjustment points that allow you to optimally position your stool.
See the other products
DCI Edge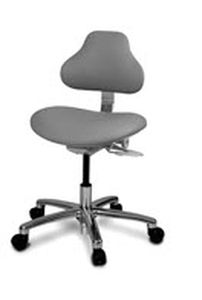 dental stool
Deluxe 6126C
This Doctors Deluxe 6126C is upholstered in Ultraleather™ and comes with a 5 leg, wheeled base for manouverability and stability. With pneumatic height adjustment and backrest adjustment the seat can be easily adapted to the user. Comes ...
See the other products
Forest Dental