The Online Medical Device Exhibition

passive wheelchair
90113101
GENERAL SPECIFICATIONS ■ With foldable property, wheelchair is able to be placed in narrow area. ■ Moving foot place. ■ Epoxy painted steel construction is resistant to corrosion. ■ With an effective ...

Complete aluminum construction, four casters,folding, only 7kg,portable wheelchair for eldly.
See the other products
Jiangsu Yuyue Medical Equipment & Supply

passive wheelchair
HM.2055
Foldable structure of round steel tube. Seat and back rest of leatherette. Removable armrests. 609 mm diameter rear wheels with rubber tires and brakes. 200 mm diameter rotary front wheels. Adjustable footrest. Available ...

passive wheelchair
N21R24
... is a folding wheelchair constructed from steel. Designed by KSP Italia, the folding wheelchair benefits from having desk folding armrests and removable ...
See the other products
KSP ITALIA

electric wheelchair
DX Compact Comfort
... and robust, these are the main features of the DX Compact Comfort power wheelchair. With this chair, the user can easily be mobile both indoors and outdoors. The ergonomic wheelchair ensures maximum support ...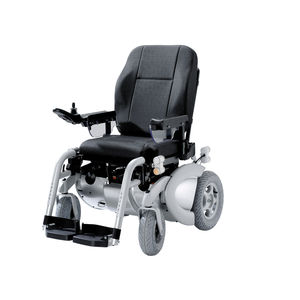 ... standard fittings. The anti-tilting rolls ensure stability when going up hills, down gradi- ents or up curbs. The powered wheelchair made by B+B makes an active and independent life possible again even without outside ...
See the other products
Bischoff & Bischoff

electric wheelchair
Ultralite 765
... compact and lightweight powerchair that gives you the lifestyle you desire. Featuring easy to use controls, a simple 2-step folding process for storage and transportation and Rear-Wheel Drive giving superb manoeuvrability. The ...
See the other products
Electric Mobility Euro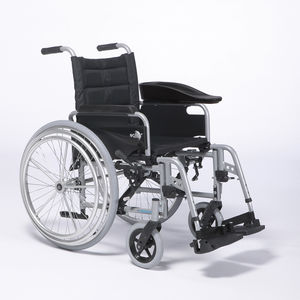 passive wheelchair
ECLIPS+
Eclips+ S is a wheelchair with a lowered seating height and specifically made for smaller individuals. It is also perfect for hemiplegic patients. The wheelchair has a drum brake that allows slowing down ...
See the other products
VERMEIREN

passive wheelchair
Service 3.600
Fields of Application Can be used for different people without individual adjustments Pushing and transport wheelchair In-and outpatient Geriatric provision Rheumatism Adjustment Adaptation ...
See the other products
Meyra

passive wheelchair
Minimaxx
FEATURES Powder coated chromium molybdenum steel frame Rigid folding mechanism Low seat height to assist access Viscoelastic foam cushion with two way stretch vapour permeable incontinence cover and non-slip base Padded ...
See the other products
Bristol Maid Hospital Metalcraft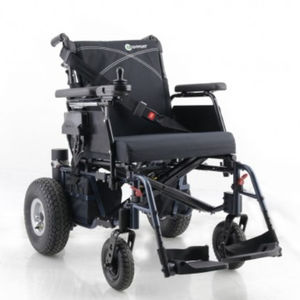 electric wheelchair
Traveller LY-EB103-W
Foldable electric wheelchair Steel powder coating framework Mounting brackets for left or right controller Controller : dynamic DLX-PM50-A Made-in-Taiwan motor & gear boxes Front castor : 200*50 PU tyre ...
See the other products
Comfort orthopedic

passive wheelchair
Etac Cross 5
... tunings can be done with the Cross 5 wheelchair user positioned in the chair. The chassis' unique stability means that the Cross 5 wheelchair responds rapidly while propelling and turning. Attendant ...
See the other products
Etac

passive wheelchair
503-0658-0200
Our wheelchairs were designed with both economy and quality in mind. Features fixed armrests, perfect for use with a wheelchair tray Chip-resistant, chrome-plated, carbon-steel frame construction ...

passive wheelchair
ALTO NV
See the other products
Drive DeVilbiss France

Exelle, one of the first wheelchairs born from PROGEO, still current for its harmonious shapes and proved resistance and reliability. Thanks to new technical solutions, this model is renewed once again through a more ...
See the other products
PROGEO

... pounds, the Convaid Vivo Wheelchair is one of the lightest children's wheelchairs available for purchase. It has an adjustable back seat and is economical. Useful for both teens and children, this ...
See the other products
Convaid

passive wheelchair
MARINA ANFI
Amphibian wheelchair indicated for facilitating beach and sea access for individuals with reduced mobility. MAIN FEATURES : 2 Floating armrests y wide wheels which facilitate movement on any type of land (beach, ...

active wheelchair
EasyHopper
The contemporary, light wheelchair The EasyHopper wheelchair has a stable frame construction with optimised weight. This modern wheelchair provides a pleasant and light ride, which makes ...
See the other products
O4 Wheelchairs

electric wheelchair
PR 30 Evo II
... 30 Evo II can be perfectly adapted to your individual medical condition. Another highlight of our new PR 30 Evo II power wheelchair is the PARAVAN contoured seat system: Nine different configurations consisting of back ...
See the other products
PARAVAN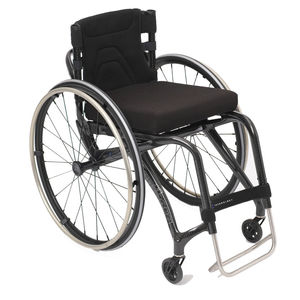 ... rest frame made of carbon fibre The carbon fibres fantastic lightness and strength makes Panthera X by far the lightest wheelchair in the world, with a transport weight of incredible 2,1 kg. With new state of the art ...
See the other products
Panthera

passive wheelchair
MINIMAXX
... push. The castor wheels are further in the front than a standard foldable wheelchair. The seat is in a low position which makes it both easy to access and easy to propel. This wheelchair ...
See the other products
XXL-Rehab

passive wheelchair
VarioXX
The lightweight aluminum wheelchair with adjustable seat width from 39 - 50 cm. The adaptable model for almost all patient needs No need to stock different seat widths For wheelchair services ...

passive wheelchair
Sentra EC HD
Sentra EC HD Wheelchairs Available in 22″-24″ sizes. With Elevating or Swing Away Leg Rests. Models up to 450lb weight capacity.
See the other products
Primus Medical

... fully adjustable and dismantles for easy transportation and storage. Our range of Folding Wheelchairs consists of a variety of transit and self-propelled wheelchairs which are available ...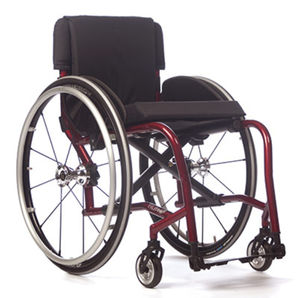 Extraordinary. Nobody does with a folding chair what TiLite has done with the TX. The TiFit, titanium, dual-tube frame with fixed side frame construction means fewer parts, lighter weight, and stunning performance.
See the other products
TiLite