The Online Medical Device Exhibition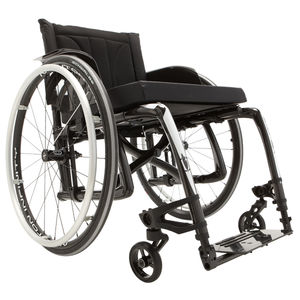 ... most technologically advanced wheelchair for active users. It redefines what a wheelchair should be by offering unrivaled lightness, rigidity and responsiveness while retaining the all-important benefits ...
See the other products
Motion Composites

electric wheelchair
HS-1500
Light weighted chair is durable with maximum speed of 6.3 kmph (4 mph). Can load 115 kg (250 lbs). Its wireless design simplifies hassle free dismantling. Controller can be exchanged on left/ right side. Length of controller assembly adjustable.
See the other products
Chien Ti Enterprise

manual wheelchair
Koroba-Nice
DescriptionThe Safety Wheelchair "Koroba-Nice" is equipped with a Safety brake system and Safety foot supports.Persons with dementia often forget to apply the brakes. This might cause them to fall as they transfer in ...

passive wheelchair
BA1000
• Durable double embossed vinyl upholstery • Swingaway footrests or elevating legrests and padded armrests • High strength steel frame
See the other products
Axis Medical and Rehabilitation

passive wheelchair
TK-AW1662-40HB
Fold Down Back for easily storage Light Weight Aluminum Frame Construction Padded Armrest 16" rear wheel and 6" front caster Equipped with both Hubs Break and hand pull break Composite Footplates

passive wheelchair
SM 8001
See the other products
Shima Prima Utama

... backrest tubes that allow full seat depth use and makes that the backrest upholstery provides added lumbar support. LINE wheelchair logo - Available with rear wheels of 300 or 600 mm. - Foldable. - Available ...
See the other products
Forta - Fabricaciones Ortopédicas Albacete

electric wheelchair
PCBL 1600/1800 - MODERN
PRODUCT CHARACTERISTICS: seat width: 16'' and 18'', modern, aluminium construction foldable backrest, adjustable seat depth, reclining backrest, removable upholstery, soft cushion, positioning belt, swing-away, ...
See the other products
Vitea Care

... wheels and 8 inch solid front castors. Also included are padded removable arm rests and detachable swing away leg rests. This wheelchair can be folded for travel and storage. (Optional) Polyurethane solid rear tyres. Features Chrome-plated, ...
See the other products
K Care Healthcare Equipment

electric wheelchair
ERGO 07
See the other products
ErgoConcept

... magnetism will not affect the results Minimal physical strain from moving and lifting patient • No metal • No magnetism • Foldable • Complete plastic • Water resistant • Moisture resistant
See the other products
Kenmak Hospital Furnitures

passive wheelchair
700110
This standard low-budget chairs has the following characteristics: - Foldable wheelchair with a single cross mechanism - Back wheels spoken and pneumatic - Quick-release backwheels - PU front wheels ...
See the other products
HERDEGEN

passive wheelchair
YCH-09W01P01
Features Aluminum Foldable Commode Wheelchair- Wheelchairs 1. 100% rust-resistant 2. Lightweight 3. Foldable 4. Flip-up armest 5. Quick Release 24" rear wheel Description A ...
See the other products
YCH

active wheelchair
DaVinci Xtreme
... built One of the lightest rigid-frame wheelchairs on the market, the frame is made from either titanium or aluminium tubing which gives it strength yet keeps the lightness required by active everyday wheelchair ...
See the other products
DaVinci Mobility

passive wheelchair
Kanga Series
Introducing the new, completely re-designed Kanga Adult Tilt-in-Space Wheelchair! The new Kanga Adult is ideal for anyone who requires adjustability in the tilt-in-space wheelchair, especially within ...
See the other products
Inspired

passive wheelchair
27134X Series
Aluminium wheelchair, SW. 40 cm, SD. 42-48 cm, silver metal with standard wheels Aluminium wheelchair, SB. 44 cm, SD. 42-48 cm, silver metal with standard wheels Aluminium wheelchair, ...
See the other products
Mobilex A/S

manual wheelchair
RUA 1400SR R315, 1401SR R600
RUA 1400SR R315 – 1401SR R600 STEEL FOLDING WHEELCHAIR FEATURES + Steel folding wheelchair. + Nylon seat and back up holsteries. + Detachable armrests. + Detachable footrests. + ...
See the other products
Teyder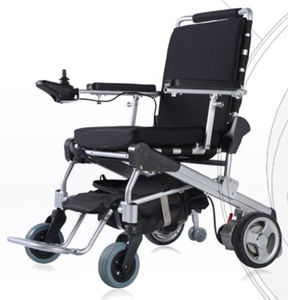 electric wheelchair
ET-08F22
Special Features: 1 Light weight - <30 Kg 2. Quickest Foldable - easy folding/unfolding in a second 3. Longer travel mileage: over 28 Km (18 miles) 4. Back rest tilting - 5 inclinable angles 5. Well ...
See the other products
Changzhou Golden Motor technology Co,.ltd

passive wheelchair
TMA-WCS03RS
Features : 18" Removable desk-length arms, swing-away detachable footrests Carbon steel frame with chip-resistant chrome plating
See the other products
Trolli Master Sdn. Bhd.

passive wheelchair
WH-A005
Features ˙This is a light weight wheelchair. ˙Flip-up armrest and swing away footrests. ˙Handles fold down for easy storage and transport. ˙Quick release rear wheel. ˙24" and 12" real wheel with the same feam.
See the other products
Well Home Health Products

electric wheelchair
P101(MP-1)
Folding Power Wheelchair Easily foldable battery bracket allows for improved portability Lightweight and foldable for easy handling, storage and transportation ...
See the other products
Merits Health Products

passive wheelchair
Netti I
... with three fixed backrest angles 83,97,103. Netti I Allround has a strong frame construction and can take high loads. The wheelchair allows a very low seat height. This makes it particularly suitable for users who want ...
See the other products
ALU REHAB APS

passive wheelchair
RS0209AE-61
Bariatric folding wheelchair. Steel structure with silver veined finish. Detachable armrest. Footrest removable and adjustable in length. Foldable backrest facilitating storage and transport. Rear ...
See the other products
Revolution Sante

passive wheelchair
04-008B-3/38
... Durable construction transit chair made of painted steel. It is used to forward patient with a help of attendant. Chair is foldable thus requires little space for storage if not in use. Height of backrest 51 cm, seat ...
See the other products
Kasko Group

electric wheelchair
CH-A1
Introducing the CH-A1 Powered Wheelchair, from Medcare Manufacturing Inc. It features a foldable High-Quality SPCC steel pipe frame and backrest, adjustable height flip-up armrests, detachable swing-away ...
See the other products
Medcare Manufacturing