The Online Medical Device Exhibition

orthopedic surgical forceps
EG090018/EG090007

Length: 13 cm
Allis-Baby Intestinal and Tissue Grasping Forcep 4 x 5 Teeth
See the other products
SURTEX INSTRUMENTS LTD

orthodontic tweezers
FD04-01
Brackets tweezer multi-functional Item No.: FD04-01 used for both anterior and posterior teeth with adhesive removing head. It is suitable to remove extra adhesives.
See the other products
Hangzhou Yahong Medical Apparatus Co., Ltd.

laparoscopic forceps
NovaGrasp™
NovaGrasp™ A Less Invasive Way to Retract. Grasp. Retract. Secure. Used intra-abdominally, the patent-pending NovaGrasp™ secures tissue and organs to retract for improved visualization. Introduced via an existing port or percutaneously, ...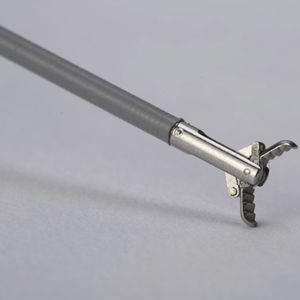 endoscopy forceps
MD-x-GF24xx series
Length: 600, 2,300, 1,800 mm
Indication: The single-use grasping forceps is indicated for use in the gastrointestinal tract via endoscope to grasp tissue,stone or other foreign objects. Features: The head is bigger than 90°, ...

orthodontic pliers
HI25-01
How utility pliers Hardness of tip :HRC52-55 To hold arch wires and guide it into buccal tubes, to hold ligature wires. or to form anterior band

See the other products
FAULHABER Pinzetten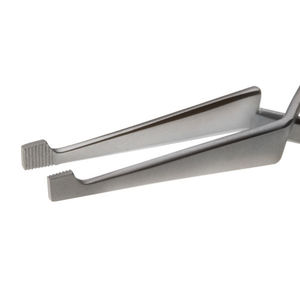 Direct Bond Holder ix630 Spring loaded reverse action holds brackets until release is desired. Blade at the end of the tip helps with final bracket slot position.
See the other products
Ixion Instruments


coagulation forceps
MD5 330
Length: 330 mm
The Vectec disposable graspers equipped with or without ratchet includes a lightweight handle with standard HF connector for monopolar coagulation that can be utilized with all cable models. It has an adjustment knob that allows 360° ...

laparoscopic forceps
C-GRASP
Length: 330 mm
CIMPAX supply a complete range of single use monopolar hand instruments which includes scissors, graspers and forceps Single use Laparoscopic Hand Instruments The CIMPAX Monopolar Laparoscopic Hand Instruments offer ...

coagulation forceps
PLA406
With functions of grab, separation, coagulation, pulling and resection. Apply to endoscope and laparotomy surgery. Related clinical applications: The latest technology to treat diseases of BPH, urethrostenosis, bladder tumor, etc

orthodontic pliers
203-303
This standard size Weingart comes with precision-engineered serrated tips to firmly hold wires. The tapered beaks fit easily between brackets and allow easy navigation around hard-to-reach areas.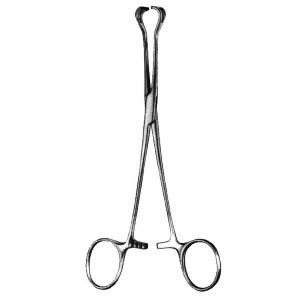 tissue forceps
IN-1604-16
Length: 16 cm
... towel forceps, diagnostic instruments, anesthesia instruments, thumb and tissue forceps, microsurgical forceps, hemostatic forceps, retractor, probes, directors and spatulas, ...
See the other products
AIIM

surgical forceps
155-23-120
Length: 120, 180, 160, 230 cm
Grasping Forceps, 2:1 teeth, for catheter and stents
See the other products
Ewald Bacher Medizintechnik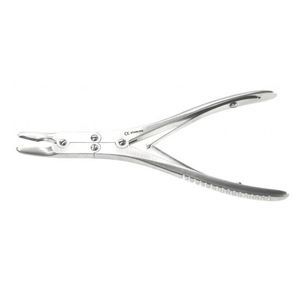 Length: 18 cm
Rongeur Beyer 7 inch (18 cm) 7 inch (18 cm) long Function part 13 mm curved hollow type Double joints

orthodontic pliers
04 1440 16 1
Gutowski, 160 mm, for the safe seizing of provisional crowns and nerve instruments
See the other products
Daniel Kürten GmbH & Co.KG

... Operating becomes a real art. What is JAiMYTM? A hand held motorized articulated instrument designed for the purpose of grasping, retracting, mobilizing, dissecting, and suturing of tissues and vessels under endoscopic ...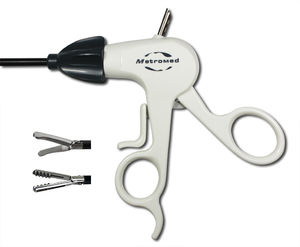 laparoscopic forceps
302.xxx
Length: 335, 435 mm
Convenient,rigid shaft and jaw construction utilizes re-usable instrument technology. Ergonomic handle for surgeon comfort and control. 360° finger wheel rotation for simple, precise jaw alignment. Wide jaw opening. Fully insulated shaft ...
See the other products
MetroMed Healthcare

laparoscopic forceps
NPGF006
Length: 33, 45 cm
... computer-controlled machine technology. Offered in 3 mm, 5 mm and 10 mm sizes, this line offers a variety of handle and inserts styles for grasping, dissecting, suturing and cutting capabilities. The latest additions ...
See the other products
NovaProbe

coagulation forceps
ST-98-002
Length: 33 cm
bipolar cutting/grasping and coagulation in one single instrument 360 ° rotable can be disassembled in three parts inserts available separatly
See the other products
Seemann Technologies

Frankenman anvil grasping forceps were designed with two procedures in mind. APPEAR and SMART represent major procedural breakthroughs in ultra-low rectal anastomosis and the prevention of parastomal ...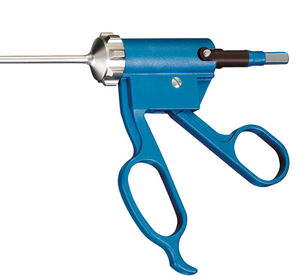 laparoscopic forceps
POWERGRIP
... instrument used for grasping, cutting and bipolar coagulation in Minimally Invasive Surgery. It is characterized by a newly developed mechanism enabling well adjustable opening and closing of the jaws with very high pressure ...

NHS Code: FGR286 Product Information: These Forceps combine the grip of Pozzy Forceps and have serrated ends. Dimensions: Standard Size 230mm in Length from Hinge. Quantities: Sold in boxes ...

Art No: TS-820 Size: Description :. kevorkian Tischler
See the other products
Quick Silver Instruments