The Online Medical Device Exhibition

... only. PRODUCT CHARACTERISTICS: made of aluminium, reflective elements ensure safe movement in dark areas, height adjustable every 2.5 cm, available in black and blue colour.
See the other products
Vitea Care

axillary crutch
KA342Wx series
... Specifications Junior Size (KA342WJ) Height Adjustable: 1140mm to 1345mm Maximum User Weight: 80 Kg Specifications Adult Size (KA342WA) Height Adjustable: 1240mm ...
See the other products
K Care Healthcare Equipment

Aluminum Underarm Crutch High strength satin finish aluminum tubing with non-slip rubber tip 3 in 1 constructed tubing design provides extra strong support for mainly central tube Unbreakable silencing ...
See the other products
Fairminded Industries

... conform to the ground providing shock absorption with each step Antimicrobial arm pad The M+D Crutches are adjustable in both arm length and height from 4'11" to 6'8".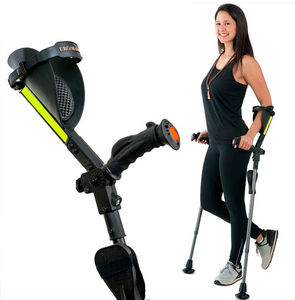 ... Retractable leg-rest platforms LED lights for enhanced Nightvision Panic buttons ("Horn Button") Fully Adjustable Grip positioning & height levels. Anatomic Ergonomic Grip Handle
See the other products
Ergoactives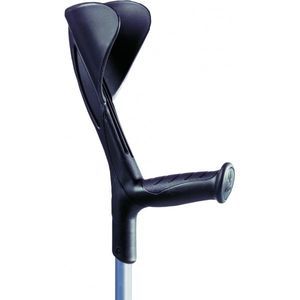 forearm crutch
Evolution Series
... leader in the production of elbow crutches. The Evolution crutch has a modern design and ergonomic handle. All our crutches are made of a sturdy aluminium pipe of high quality and height adjustable ...
See the other products
HERDEGEN

axillary crutch
НТ-02-003
... with diseases of the musculoskeletal system. In addition, you can use a crutch to facilitate of movements. Made of steel, adjustable in height.Description:SN: ОР.1.5 – 1 – 1Height, ...
See the other products
Ltd. Norma-Trade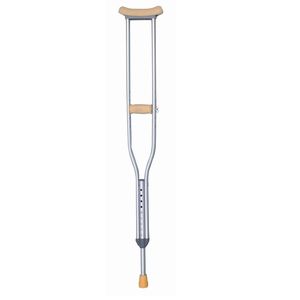 ... -Button Crutches- Canes 1. Size: L 2. Length: 52"-61" 3. Push-Button Crutches 4. Hand grip has 5 level height adjustment. 5. Foot has 9 level height adjustment 6. 7/8" Aluminum anodized tube. 7. With ...
See the other products
YCH

Our Forearm Crutches provide all the necessary support needed to facilitate standing or walking for your child. We offer three vibrant color selections for your child to choose from: Wizard Purple, Knight Blue and Castle Red.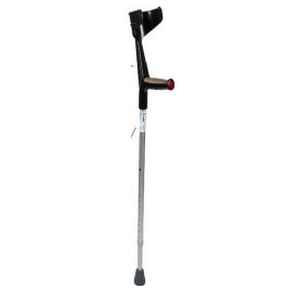 Forearm crutch, silver with black plastic cuff, soft grey dual layer handle, heightadj. from 78 - 103 cm

... , for Tall Adult users, Height Adjustment from 52" - 60". HMP-1011A, for Adult users, Height Adjustment from 44" - 52". HMP-1011Y, for Youth users, Height Adjustment from 37" ...
See the other products
Home Medical Products Inc.

axillary crutch
W511-10, W512-10, W513-10
... than wood, the standard aluminum-crutch provides stability and durability Double extruded center tube provides additional strength to weight-bearing area Push-pin adjustment makes it easy to adjust crutch ...
See the other products
Merits Health Products

ADJUSTABLES These crutches are easily adjusted in height quickly and with pushbuttons very easy to use, adjustable 5 levels. Mainly made of aluminum, they are very lightweight. Very comfortable ...

Features: 1. Internal cuff size is 9cm 2. Lightweight anodised aluminium 3. Non-slip, non-marking rubber tips 4. Adjustable from handle to ground 5. Moulded handle 6. Hinged armband cuff
See the other products
Roma Medical Aids


axillary crutch
Aelite Walker
... fatigue testing for loads on the crutches exceeding 1 million repetitions. Aeltie Underarm Crutch can safely support a weight of 120kg and Aeltie Forearm crutch can support 100kg. The crutches also come ...

Height adjustable, these crutches can be used with patients of any height. Constructed of aluminum, they are hardy, strong and robust. For added comfort, the handgrip is crafted of plastic ...
See the other products
Guangdong Shunde Jaeyong Hardware

SL570202 Po subaxillary Small aluminum 910~1140 2641bs/120KG
See the other products
Span Link International

Height adjustment 75-98cm Height adjustment with a locking clip A tightening system that prevents the height adjustment hole from becoming worn and the walking stick from 'jingling'. ...
See the other products
Tukimet Oy

forearm crutch
MW7-01, MW7-01A
Features: New offset design aligns tip of crutched with patient's hand and shoulder for improving balance, reduces hand and wrist fatigue One-piece moulded plastic cuff and handgrip assembly Pushbutton adjustment. Circular ...
See the other products
Minwa (Aust) Pty Ltd.

Ergonomic armrest helps to intensify grasp and optimize position of the forearm.
See the other products
B.Well Swiss AG

Aluminum Quad Crutch. Height adjustable. Max. Weight: 100 Kg
See the other products
Manuel García 1880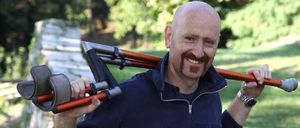 Tompoma crutches were subjected to a meticulous certification process relating to safety, reliability and functional innovation. CATAS s.p.a. has determined that Tompoma crutches withstand loads up to 150 kg, greatly increasing the standards ...

... what type of clothing is worn Ergonomic grip with a safety reflector, extremely comfortable to use Adjustable length via clip or push button Crutch does not make a single sound when used, as the tubes ...
See the other products
Kowsky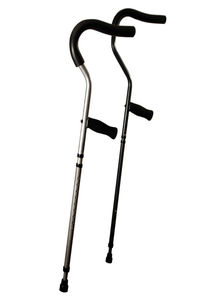 Standers Millennial Crutch helps users maintain proper posture and relieves damaging stress associated with the use of a standard crutch. It has a large comfortable underarm cradle for enhanced stability ...
See the other products
Stander