How to choose this product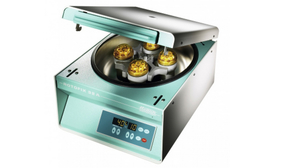 A laboratory centrifuge can separate a solution into its various components because of their varying densities.
Applications
These devices are indispensable tools for basic laboratory operations in biochemistry, bacteriology, hematology and serology.
Technologies
When separating a mixture containing solid and liquid components, the centrifuge includes a container whose apertures are large enough to allow the liquid to pass through but small enough to keep the solid from escaping. Rotational force is created by a motor driving a rotor or by a hand crank and a gearing system. The higher the rotational speed, the more efficient the separation.
How to choose
Choice will depend on the machine's rotational speed and the mixtures and solutions to be treated, including urine, stool and blood, and the types of analyses to be performed. Sample type will influence tube selection.

Centrifuge capacity in terms of samples treated per hour is another factor to consider. The system required for fastening the unit to the lab table and operating noise level also should be taken into account. Rotor configuration must be suitable for the types of tubes to be centrifuged.
Advantages
- Efficient separation
- Simple maintenance
Disadvantages
- Requires trained personnel
- Requires a heavy table or floor mount