The Online Medical Device Exhibition

orthodontic pliers
Q102-01
Ligature cutter Hardness on tip HRC 60-65 Cutting slot ligature wires up to 0.3mm and elastics, inserted hard metal alloy
See the other products
ORJ USA

orthodontic pliers
CUT0104AC
Length: 12.5 cm
Hard Wire Cutter #104AC, TC, Angled 15°, .022" X .028" Max, 12.5cm
See the other products
Karl Schumacher

orthodontic forceps
ix910
Pin Ligature Cutter 7 degree angle ix910 Standard cutter with 7 degree angled tips to allow easy access and better visibility in difficult to reach areas. Inserted tips ensure precision cutting of ligature ...
See the other products
Ixion Instruments

orthodontic pliers
60.92.100.01004
... size instrument with specially designed cutting edges to take the abuse of cutting hard wires and the capability of cutting ligatures at the tip.
See the other products
Ortho Classic

orthodontic forceps
203-246
... effective in cutting all soft wires, pins, and elastics. The maximum cutting capacity for this instrument is as follows: Ligature Wires Up To: .016"
See the other products
US Orthodontic Products

orthodontic pliers
69-150
Description: Used for the close cutting of pins and ligatures. This item has Tungsten-Carbide inserted tips.

With a 25°-cutting angle at the tip, cutting ligature wires and elastics is easier, and the specially manufactured alloy gives maximum cutting capacity to our pin cutter.
See the other products
IV-Tech (Invisible Technology)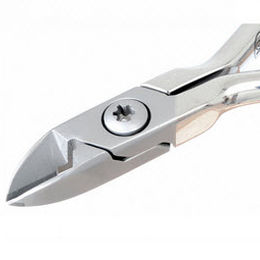 orthodontic pliers
SD 1004
- Max. capacity: .014" SOFT - Fine, thin tungsten-carbide tip - Only for ligatures
See the other products
SAVARIA-DENT Kft.

veterinary forceps
F25004-14
Introduction Baby-ADSON Ligature Forceps-60?Cvd, 1.0mm Tips, 14cm
See the other products
RWD Life Science