How to choose this product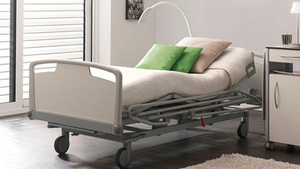 A hospital bed is one that improves the level of comfort and safety of bedridden persons.
Applications
This furniture offers advantages to ill, handicapped and elderly persons, as well as those with reduced mobility. They are common in hospitals, in other care facilities and in homes. They facilitate both patient and caregiver activities in the areas of grooming, medical procedures and transfers.
Technologies
Most such beds are multi-position and/or height-adjustable via a mechanical, electric or hydraulic system. Adjustable head and foot sections, and diverse built-in features are common. Certain models are designed for a specific category of user, including pediatric or bariatric patients, Alzheimer sufferers and those requiring orthopedic traction. Overhead brackets, trapezes, safety bars, security straps, positioning devices and other accessories are available.
How to choose
Choice will depend on the amount of comfort the bed offers the patient, the type of mattress support and the range of available functions and options. Verify the presence of a convenient electrical outlet in the room where the bed will be placed.