The Online Medical Device Exhibition

absorbance microplate reader
StatFax 2100
... with no need of complementary calculations.Mono or bichromatic reading mode.Used for qualitative and quantitative tests in microplate ELISA techniques.In qualitative techniques, it allows cutoff calculation and grey zone ...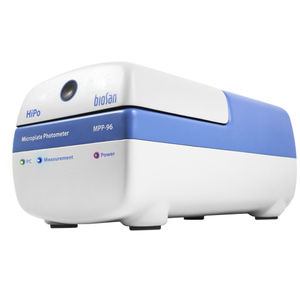 ELISA microplate reader
HiPo MPP-96
Microplate Photometer HiPo is a compact tabletop device for measuring the results of ELISA and microbiological studies in 96-well microplates. Photometer is controlled and outputs data via computer. ...

absorbance microplate reader
ELx800
Automated microtiter plate ELISA reader.Extensive on-board analysis: Data reduction included. Control and validation criteria. Qualitative, cut off: and quantitative methods.Storage capacity: Up to 55 ...

absorbance microplate reader
AESKU.READER®
... multi-channel reader with on-board diagnostic delivers the maximum specifications in the microplate readers that are repeatable, accurate and precise. The calibration test and self-test ...

absorbance microplate reader
800 TS
The 800™ TS Absorbance Reader is an affordable, high quality microplate reader for assays in 6- to 384-well formats. The color touchscreen provides a visual user interface, making programming ...
See the other products
BioTek Instruments

absorbance microplate reader
BMR-100
Our BMR-100 Microplate Reader is a reliable and robust instrument for a wide variety of research and clinical applications. It reads various kinds of 96-wells plates and is equipped with shaking function. ...

mass spectrometry microplate reader
Plate Express™
Plate Express™ is a device that provides a simple, automated means of obtaining mass spectra directly from TLC plates, combined with Advion's expression® compact mass spectrometer (CMS) creating a technique known as TLC/CMS. Using this ...

luminescence microplate reader
LUmo
Autobio LUMO is a state of the art microplate luminometer, designed to meet the demanding requirements of today's microplate based, glow luminescence applications. Combining the expertise of our team ...
See the other products
Autobio Diagnostics

absorbance microplate reader
EZ Read 400
... robust microplate reader that is an ideal choice for laboratories which require a workhorse instrument for their routine absorbance assays. The EZ Read 400 is available in two applictions-focussed models: ...
See the other products
Biochrom

absorbance microplate reader
LW R96
• 8-channel optical measuring system • Optional single/double wavelength analysis • Extensive onboard data analysis • Variable speed linear shaking • Cut off and call criteria • Touch screen , large LCD display • Advanced ...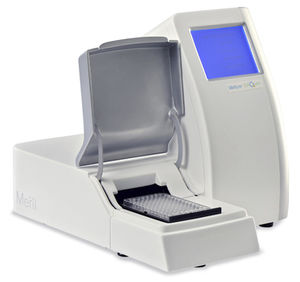 absorbance microplate reader
EIAQuant
EIAQuant Microplate Reader EIAQuant adopts sophisticated embedded computer control technology with 8 optical channels, designed to measure the absorbance of the contents in microwell provided with the ...
See the other products
Meril Life Sciences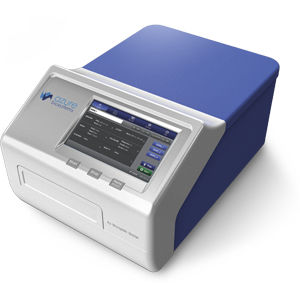 absorbance microplate reader
Ao
... using your equipment shouldn't be. A microplate reader is an essential part of a productive lab, with its application flexibility, sensitivity, and high-throughput capabilities. The Ao Absorbance Microplate ...

absorbance microplate reader
WR-5000
Fully automated for absorbance reading (Optical Density - DO) 8 simultaneous channels in microplate up to 96 positions. It allows reading in four possible wavelengths, user-selectable: 405/450 /492 / 630nm. It could ...

colorimetric microplate reader
ArrayMate
Designed to meet the needs for routine testing in professional diagnostic labs, ARRAYMATE enables the rapid and automated recording and analysis of array images generated in the ArrayStrip platform. In combination with our robust colorimetric ...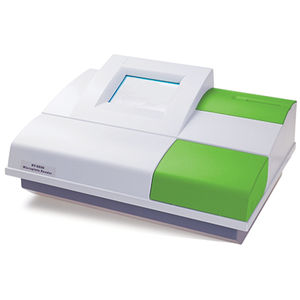 absorbance microplate reader
Immunochem-2100
Microplate Reader Immunochem-2100 is a microprocessor –controlled, general purpose photometer system designed to read and calculate the result of assays, including contagion, tumor markers, homeopathy, ...

fluorescence microplate reader
ichroma™
... ichroma ™ reader is a first-generation portable fluorescent scanner that analyzes blood, urine, and other samples and displays measurement results on the screen. More than 30 immunoassay test cartridges can be measured ...
See the other products
Boditech Med Inc.

absorbance microplate reader
Stat Fax 4200
Stat Fax 4200 (Microplate Reader) Features: Microplate reader, reads 96 wells Long-life IAD hard coated interference filter 6-filters: 405, 450, 492, 545, 600, and 630nm. ...
See the other products
CPC Diagnostics Pvt.Ltd.

absorbance microplate reader
MR-960
Plate type: 96 or 48 well plate or strips Reading Speed: 5 second for 96 well plate Light Source: Cold light source Wavelength Range:340-750nm Filters:405nm, 450nm, 492nm, 630nm, 4 open positions Linearity range;+/- 1% (0.000~2.000Abs) Measure ...

absorbance microplate reader
UNIPLATE
Measurements: 42x34x15 cm Cuvettes:96 well plate or 8x12 or 12x8 well strips Optical filters: 2 (450. 630 nm), 2 more on request (max. 4 filter) Detectors: 8 sicon photodiodes

absorbance microplate reader
ChroMate®
... Economical, User-programmable, Rapid reading - Amazing power in a little black box! ChroMate® is a compact, 8-channel microplate reader. Its streamlined design and minimal footprint offers superb optics ...
See the other products
Awareness Technology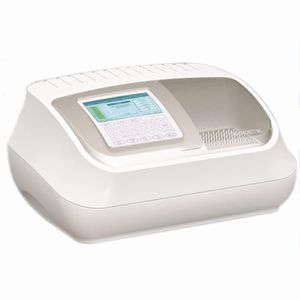 absorbance microplate reader
SPR-960
Characteristics Advanced optical system, ensure accurate result and good repeatability. 8 channel optical fiber system enables 5 secs' reading for 96 well plate. Bichromatic measurement, multi-calculation methods include ...

immuno-hematology microplate reader
Cyclops 96
Stand-alone reader for Immuno-hematology and general agglutinations test in microtiter plate High resolution microplate image capturing and storage in archive repository Automatic ...

absorbance microplate reader
Sirio S
The microplate reader, with 8 reading positions, is an extremely flexible and very speed automatic pliotometer and it takes 3 seconds for each monocromatic reading at ail the wavelenghts for 96 fiat bottomed ...

absorbance microplate reader
ST-360
Features: 1. Large LCD display. 2. Test result displayed in full screen. 3. Enlarged memory. 4. Improved self-checking system and calibration function. 5. Reliable, fast and accurate. 6.CE-marking

absorbance microplate reader
M965+
Product Description Using high quality optical components the M965 series Microplate reader can perform ELISA measurements between the wavelength of 340~900nm with end point, two point, and kinetic measurement ...
See the other products
Metertech Inc.