How to choose this product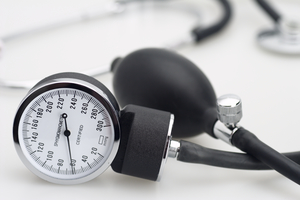 The sphygmomanometer is a manual instrument. It measures arterial blood pressure via an inflatable cuff connected to a manometer and attached to a bulb to pump air into the cuff. Blood pressure monitors are electronic devices with the same functions.
Applications
These devices are used to diagnose hypertension and similar problems. They are useful for monitoring patients with cardiovascular disorders. They also are commonly employed during routine examinations in conjunction with auscultation by stethoscope.
Technologies
There are two main types of sphygmomanometer. Aneroid versions are the classic type. The pressure gauge forms a unit with the bulb in palm style devices. In others, the gauge is mounted on the cuff. Mercury instruments, the other type, are being abandoned because of that element's toxicity.
How to choose
Choice will depend primarily on precision, type of patient and whether it will be used professionally or in the home. Cuff quality should be considered, as well as dimensions, especially if the patient is obese or a child.