The Online Medical Device Exhibition

Lakeside Case Carts are built to Sterile Guard specifications. This cart features fully welded construction; exterior push handles for better control and more interior space; sealed doors for sterility; ...
See the other products
Lakeside Manufacturing, Inc.

lifting trolley
HERCULES 50
HERCULES 50 is a small elevator usable for the lifting and the transportation of sterilizing containers used in medical/ hospital field. Manual traction and electric elevation. Weight capacity 50 Kg, 1.7 meters elevation. Aluminium upright. Equipped ...

• Stainless steel production for operation theatres, intensive care units and for all clinics that keep sterile equipment • Ideal for organizing sterile and non-sterile equipment and keep them in order with two lockable doors • Nine removable ...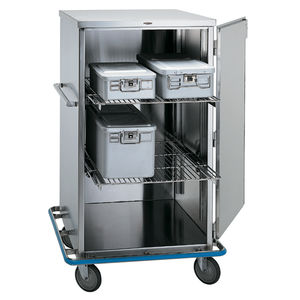 transport trolley
CDS-235
... dirt or any fluid. The surgical case carts are used to store and transport sterile packages from the hospital's Central Supply to surgery or operation room. These carts can be manufactured based on the ...
See the other products
Pedigo

Aluminium box trolley for transporting sensitive, lightweight materials. Sturdy edge and base profile. Smooth inside walls. Side-panel connection straight-bead-riveted. Running gear: 2 swivel and ...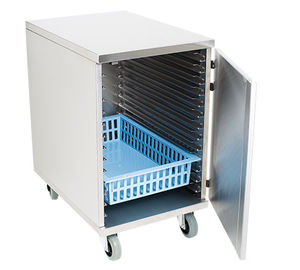 transport trolley
50.105.496
The trolleys are completely made of stainless steel 304 instead of aluminum which can be done due to an unique structure which the Famos transport trolleys have. The trolley will be very ...
See the other products
Famos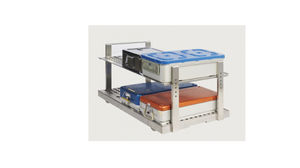 Charge trolleys for charging the sterilising chamber and for transporting sterile goods in the ECC sterile goods transport trolley. -Trolley structure and casters made from CrNi steel. -Two ...
See the other products
MMM Group

Sterile racking, transporter and trolleys. • AISI 304 stainless steel • Fully welded base frame designs • Anodised aluminium profiles • 100mm anti-static castors • Choice of Din or ISO norms • Wide range of accessories Basket ...
See the other products
Medstor

Perfect unit for theatre environments and sterile services unit provide a safe and hygienic transportation of din baskets along with surgical equipment to storage and packing areas. Additional features include Bespoke versions are available ...
See the other products
CRAVEN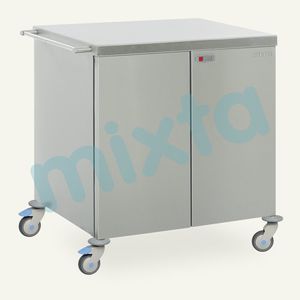 transport trolley
MSU 2140
For entire sterilization required centers Grade 304 Stainless Steel 4 wheels with 2 breaks Lockable doors and pushing handle Flexible production in different designs and dimensions MSU 2140 600x800x850 mm. MSU 2150 ...
See the other products
MIXTA

Medical transport trolley TP-SK1 is intended for sterilization boxes (containers) within medical facilities. The trolley is made of stainless steel and consists of a frame and two shelves ...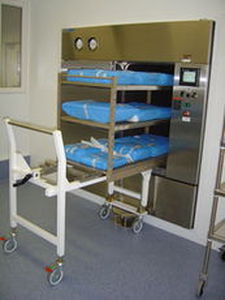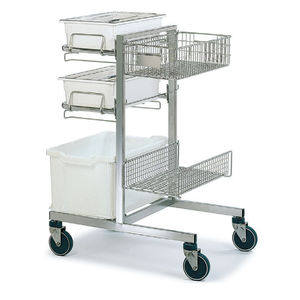 The baskets or containers used to transport the instruments is returned on the same trolley to the central sterilisation unit.

transport trolley
WAE SW Series
... conductive, 2 blockable Capacity: Inner usable space: total 6 or 9 STU (sterilization units) on 3 levels; outer top surface: 3 STU Description: all sides closed transportation trolley for all kinds of ...
See the other products
WAGNER

transport trolley
TE 1000
Stainless steel tabletop CNS 18/10 W.1.4301, tabletop surface 240 grain polished, Production according to customer specification. Base frame made of 40 x 40 mm square type tube, 4 castors, 2 of them with brakes Capacity: 300 kg

Stainless steel trolley for decontamination basins, with "H" shaped base, 80 mm ø wheels, two with brakes, "U" shaped support with "L" adapters that can be dismantled and adapted to any basin. (Specify the internal width ...
See the other products
FE.MA

6-module cabinet 600x300x300
See the other products
MEDLANE

Movable trolley, for storing of 3 different sizes of sterilizing wrapping paper sheets at the packing stations. The trolley is made of stainless steel tubes and is equipped with 4 pivoting ball bearing ...
See the other products
Finearts Medical Devices

Sterile-products transport trolleys are among the most important components in the sterile products circulation system. BLANCO Professional has optimised its trolleys and provided them with an interchangeable ...

Transfer carts can be made to suit customer requirements and configured to accept a range of goods including; Discard Boxes, sterile and none sterile products, instruments and other medical goods. Transfer Cart ...
See the other products
Goldsworth

See the other products
LANCO LTDA.

transport trolley
CS980-012
Sterile good transport trolley, open 1165 x 700 mm (l x w) total height 1310 mm - 4 shelves - wheels with fixing brake

transport trolley
CS980-013
Sterile good transport trolley, closed 1190 x 720 mm (l x w) total height 1465 mm - 2 shelves - wheels with fixing brake

Transfer Cart/Trolley Designed to Safely Transport Sterilizing Cylinders. Stainless steel transfer carts/trolleys with lockable casters and table clamps to secure sterilizing cylinders in place and prevent ...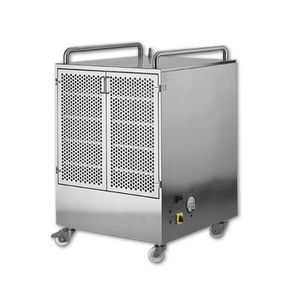 LAF Transfer Carts with off-grid battery operation provide product protection and enable sterile transportation through inferior cleanrooms (e.g. manual dry freezer loading). Product protection is ensured by means of ...