The Online Medical Device Exhibition

Straight suture scissor measuring 13 cm in length. Made in Germany from 100% stainless steel.
See the other products
A. Titan Instruments

ligature scissors
STR110330
Ligature scissors Made in stainless steel Dimensions: 13 cm CND code L01040201 – RdM code 333936/R

umbilical cord scissors
Busch 12.230.50
Timesco Umbilical Cord scissors, like all Timesco scissors feature super sharp cutting edges, which allow ease in cutting and minimal finger fatigue.
See the other products
Timesco

laparoscopic scissors
DetachaTip® III
... the optimal blend of performance and cost efficiency. This System includes: Multi-use reposable handle Multi-use reposable scissors Multi-use reposable graspers Mutli-use reposable dissectors Instrument Tray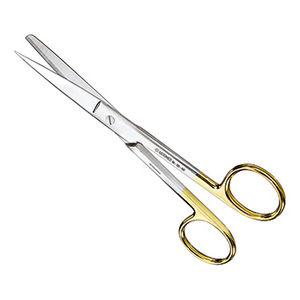 dissection scissors
04-xxx-145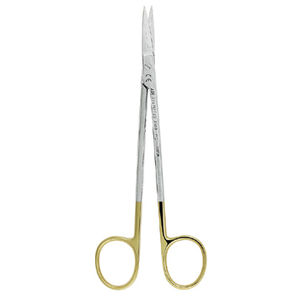 See the other products
ASA DENTAL S.p.A.

surgical scissors
SuperCut
... the highest quality standards by German craftsmen, CooperSurgical SuperCut Hysterectomy Scissors provide exceptional balance and accuracy. The stainless steel scissor blades feature one ultra-sharp edge ...
See the other products
CooperSurgical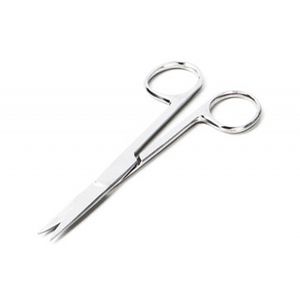 Mayo Dissecting Scissor, Str-5 1/2" features: Forged from corrosion resistant 410 surgical stainless steel Floor grade Traditional Mayo scissors design with rounded tips Autoclavable 5 ...

Dean Scissors are designed for trimming tissue or cutting sutures. 16.5cm Serrated Tungsten Carbide Tips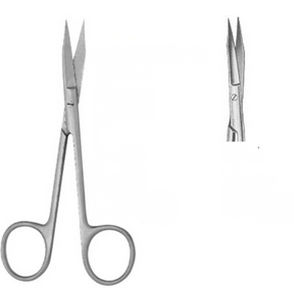 surgical scissors
2x0 series
See the other products
Otto Leibinger GmbH

gum scissors
46.050.11, 46.050.11SC
SCISSORS, SURGICAL TISSUE, DENTAL IRIS SCISSORS,(GUM SCISSORS) STRAIGHT, 11,5 CM SCISSORS, SURGICAL TISSUE, DENTAL IRIS SCISSORS ...
See the other products
Helmut Zepf Medizintechnik GmbH


bandage scissors
7079000000
The metal dressing scissors are suitable for use in surgical applications. Benefits Easy handling Excellent cutting performance Outstanding safety Individually sterile packed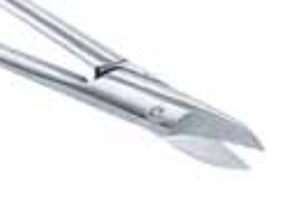 dental scissors
007-024-00, 008-025-00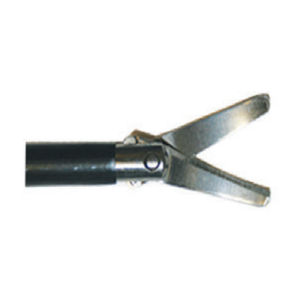 laparoscopic scissors
BiSurge™ 633-105-910
Our complete range of Single-Use Bipolar instrumentation cover all necessary functions performed during laparoscopic surgery. Available with both a non-locking handle and a switchable ratcheting handle, our bipolar instruments ...

ligature scissors
04-05-506
See the other products
Accesia

dissection scissors
91467-D-CF-45
Product Description Deluxe Curved Metzenbaum Scissors, Flat Dissecting Blades, Double Action, Modular, CF
See the other products
Mediflex Surgical Products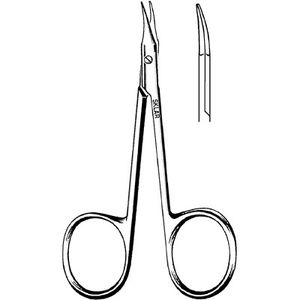 surgical scissors
64-3280
3 3/4" Gradle Scissors Sharp Slighly Curved Sklar® Gradle Scissors, similar to iris scissors, were originally designed for use in ophthalmologic surgeries. They have ...
See the other products
Sklar Instruments

laparoscopic scissors
PS35x1ULT series
Description: The Purple Surgical Ultimate Metzenbaum Monopolar Scissors have been ergonomically designed to provide tactile feedback for high precision surgery. Features and benefits ...
See the other products
Purple Surgical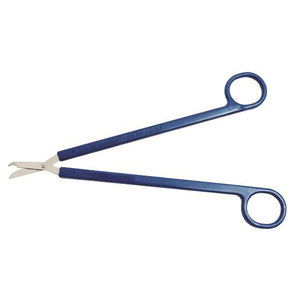 wire-cutting scissors
01.268
Disposable long suture scissors with 25 cm Littauer blades are sterile and designed to cut IUD threads after IUD insertion. Ships in boxes of 25 units with each individually wrapped.
See the other products
Gyneas

surgical scissors
11-100x-xx series
See the other products
Ermis MedTech GmbH

... number of applications in open surgery. A patented construction principle, which was developed by Dr. J. Manushakian*, ensures that the scissors are both easy to use and to repair. The electrical contacts ...
See the other products
Günter Bissinger Medizintechnik

KRUUSE surgical instruments are European made high quality products of stainless steel.
See the other products
Kruuse

laparoscopic scissors
83-300-68
See the other products
Eschmann Equipment

laparoscopic scissors
96-K22
Working length [mm] 75 External diameter [mm] 5 Trocar diameter [mm] 6 Weight [g] 251 Frequency [kHz] 55
See the other products
Söring