The Online Medical Device Exhibition
roller laboratory mixer
KJMR-II
Rotational speed: 0 rpm - 80 rpm
Product name:Blood mixer Model:KJMR-II Motion type:Swing/roll Swing:0-80 times / min roll:0-80 times / min Swing amplitude:22mm Platform Dimension(mm): 7 rolls Speed range: 0-80rpm Amplitude size: 22mm Timer: ---- Voltage: 110V 60Hz /220V ...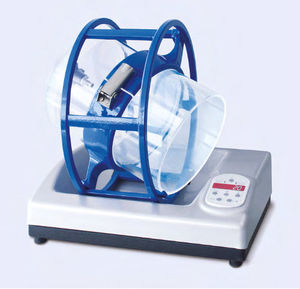 rotary laboratory mixer
RRM Mini-II
Rotational speed: 5 rpm - 40 rpm
Short Description speed: infinitely adjustable 5 - 40 rmp noise level according to DIN 45635: 70 dB(A) The drum hoop mixer is designed for a filling degree of 40% to 70% and a maximum product weight of 5 kg. 50 W ...
rotary laboratory mixer
MX-RD-Pro
Rotational speed: 10 rpm - 70 rpm
The rotators give gentle but effective mixing of biological samples to be held in 1.5ml to 50ml micro tubes, used in a variety of applications including immune precipitations, prevention of blood coagulation, latex diagnostics etc. ...
See the other products
Dragon Laboratory Instruments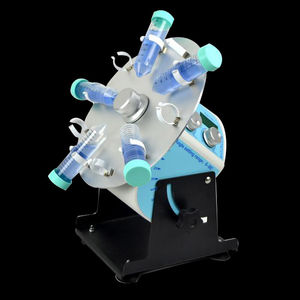 rotary laboratory mixer
BS-YC-80
Product description: The rotary mixing solution BS-YC-80 is mainly used for tissue culture, sample extraction, sedimentation rate determination. E.g. blood sample mixing, wet-chemical analysis of radio-immunity, glucose, protein, DNA, ...
rotary laboratory mixer
RM-1
Rotational speed: 30 rpm
Temperature range: 4 °C - 60 °C
Dimensions External: 210 x 250 x 200mm Packed: 30 x 30 x 25 cm Speed, mixing 30rpm Operating temperature 4°C to 60°CCan be used inside Laboratory Incubators or in cold rooms. Voltage 230V Packed Weight 4 kg
See the other products
Nickel-Electro
rotary laboratory mixer
Micro Mix
Rotational speed: 10 rpm
• The mixer used for mixing sample tubes, EDTA tubes, ESR Tubes. • The continuous speed control ensure an optimum blending of the sample material. • The sample plate can be equipped with a holding ring for further sample ...
orbital laboratory mixer
VSN-5
FEATURES Nutating Mixer provides gentle, three dimensional mixing Thorough mixing without foaming Variable speed of 5-40 RPM Operates at a 20° tilt angle Interchangeable tables of "5x9" tipped ...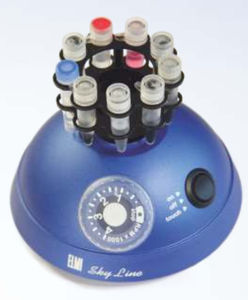 vortex laboratory mixer
V-3
Rotational speed: 50 rpm - 4,500 rpm
Vortex V-3 is a durable, easily operated, trustworthy addition to every laboratory, and accommodâtes any test tube up to 50 ml volume.
roller laboratory mixer
VS-960R / VS-960RD
Rotational speed: 40, 50 rpm
Model : VS-960R / VS-960RD Fast And Smooth Rotation and Mix Strong Roller Low Noisy, Plastic Gear Easy to maintenance
See the other products
Vision Scientific
vortex laboratory mixer
rm-2l
Rotational speed: 1 rpm - 99 rpm
Powered by V-Spin – the world's most advanced, patented mixing and liquid-handling technology – the Intelli-Mixer RM-2 is truly the latest in cutting-edge science. V-spin harnesses the energy of an unequaled stepper ...
See the other products
ELMI North America
> General Power Switch > Speed Adjustment Button > Made of aluminum sheet > Epoxy Painting > Anti-slip rubber on top > Physical measurements without platform (AxLxP) in mm: 135 x 310 x 210 > Physical measurements ...
rotary laboratory mixer
CELLMIX
rotary laboratory mixer
BM-16