The Online Medical Device Exhibition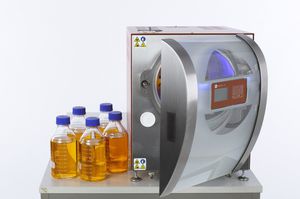 laboratory autoclave
Laboklav 25
Temperature range: 98 °C - 135 °C
Capacity: 25 l
The extremely compact and space-saving tabletop autoclaves in the LABOKLAV 25 series provide you with many options available from a large tabletop unit: Sterilization of liquids ...
See the other products
SHP Steriltechnik AG
medical autoclave
Ecoclave S, Ecoclave B
Capacity: 18 l - 23 l
The Ortoalresa ecoclaves class S & B are versatile devices easy to use. They have 12 programs set on memory for a smooth processing. Accessories included: trays holder, 4 trays, door key/clamp, 2 hoses, sponge and funnel. Include standard printer.
veterinary clinic autoclave
1018M HD
Capacity: 1 gal
... condensation Wide, front and back level-adjusting feet reduce leveling errors and won't scratch counter-tops 50% longer warranty than comparable sterilizers Service and support in the USA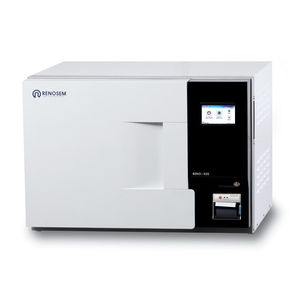 medical sterilizer
RENO-S20
Temperature range: 0 °C - 55 °C
Capacity: 18 l
Low Temperature Plasma Sterilizer For More Rapid Sterilization 1. Sterilant residual-free system 2. Ergonomic design / Single-use cassette type sterilant 3. Thermal Printer 4. Table-top design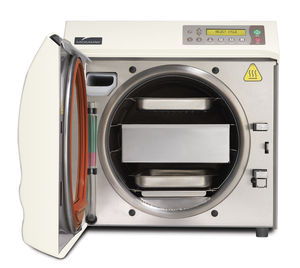 veterinary clinic autoclave
M11 UltraClave®
Capacity: 24.6 l
Overview The Midmark M11 UltraClave® Automatic Sterilizer provides an intuitive display and simple prompts that help you easily select the cycle you need whether it is for unwrapped items, pouches, packs or handpieces. ...
See the other products
Midmark Animal Health
medical autoclave
HRM series
Temperature range: 0 °C - 134 °C
Capacity: 16 l
HRM-242II : With Pulse Exhaust System HRM-242IIP : With Air Pump HRM-242Ⅱ/242ⅡP Effective capacity : 16liter Chamber size(㎜) : 240φ×360D Outer dimensions(W×H×D㎜) : 505×380×535 Max.Steril.temp : 134℃ Process mode : 3-modes Net weight : 39kg/41kg
dental autoclave
Optima B
Capacity: 16 l - 22 l
Vacuum autoclave with Flash Steam® Technology for faster cycles • Capable of sterilizing a full 6kg load in as little as 22 minutes – including drying. • Sterilizes 12 hand pieces in only 15 minutes! • Simple to use ...
See the other products
Prestige Medical Limited
dental autoclave
E9 Recorder
Temperature range: 122.5 °C - 135.5 °C
Capacity: 24, 18 l
... in the EU, the new E9 recorder features state-of-the-art sterilization technology which meets EN13060 standards. The autoclave can be fitted on any surface as long with a flush-fitted installation or that is completely ...
See the other products
EURONDA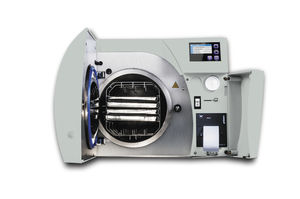 medical autoclave
Sting 11 B Class Series
Temperature range: 121 °C - 134 °C
Capacity: 25 l
The Sting 11B bench top sterilizer family is appareled with a 25 liter chamber made of stainless steel 316L. It has a built in steam generator and a powerful vacuum pump, together with ...
Capacity: 18 l
Steam Generator Autoclave from now on, even greater speed & performance The new steam integrated generator allows faster cycles and enables to adjust the sterilization parameters over the quantity of material you ...
See the other products
Medisafe International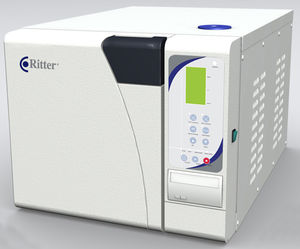 Temperature range: 0 °C - 135 °C
Capacity: 23 l
The CleanTec CB23 can optionally be connected to the tap water system and the drain. It includes an internal printer for documentation. Chamber size 23 liters. Ritter CleanTec CB23 provides additional programme cycles: 135° prions; clean ...
See the other products
Ritter Concept GmbH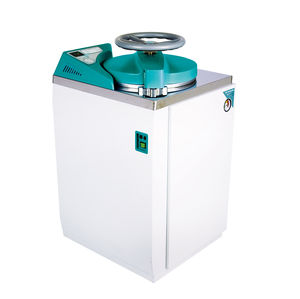 Temperature range: 60 °C - 123 °C
Capacity: 1 l
Performance Microprocessor controller and temperature calibration function allows for high precision temperature control. - Sterilization temperature at 110 to 123°C - Melting* temperature at 60 to 100°C * Liquefaction ...
Temperature range: 110 °C - 140 °C
Capacity: 12 l
The OT 012 Small Steam Sterilizer is used for the sterilization of unwrapped medical or dental instruments, plus material used in laboratories. Its simple design requires no connections to water or drain. Intelligent ...
See the other products
Nüve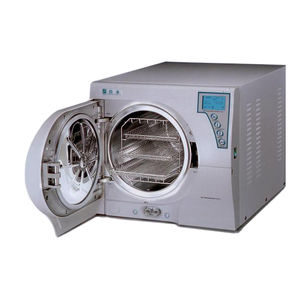 Capacity: 23 l
23 liter version, with built-in printer, CE qualification.
Capacity: 1 l
Sterilisation that always does the job right For sterilisation applications, the cold gas process – also known as the ethylene oxide process –provides clear advantages over other processes. Due to the low process temperature, the use ...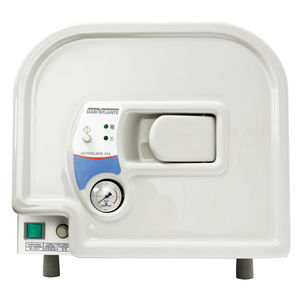 dental autoclave
AUTOCLAVE 21L
Temperature range: 134 °C
Capacity: 21 l
· Horizontal autoclave for sterilization with wet saturated steam. Sterilizes in an efficient, fast and safe manner all critical or semi-critical materials of medical and dentistry use. Its efficiency is based ...
See the other products
DABI ATLANTE
dental autoclave
AD7 Mini
Temperature range: 121, 132, 134 °C
Capacity: 2.8 l
The best choice for handpiece sterilizer and the second sterilizer AD7 Mini – the most compact and convenient autoclave for surgical instruments, high-speed and scaler handpiece. ...
See the other products
APOZA Enterprise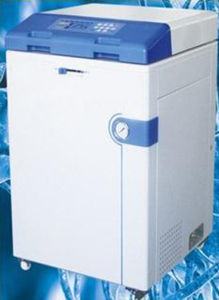 laboratory autoclave
FYR series
Temperature range: 73 °C - 104 °C
Capacity: 60, 85, 110 l
FYR 1 : Fully – automatic , whole process shown by indicator FYR 2 : Fully - automatic, whole process shown by flow chart FYR 3 : Fully - automatic, drying function based on Type 2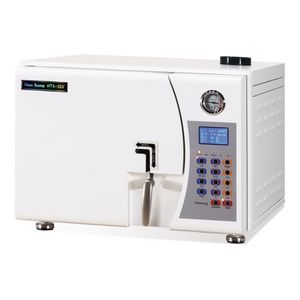 Temperature range: 132 °C
Product Description Introduction This product is a high pressure steam sterilizer used to sterilize medical tools and surgical tools in hospitals and clinics at high temperature. Features Blue Graphic LCD Marking ...
medical sterilizer
SN20141230162413464
See the other products
Jiangsu Dengguan Medical Treatment Instrument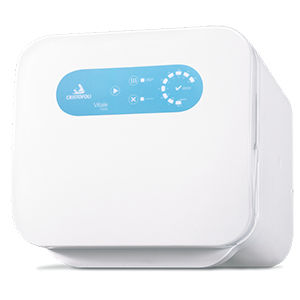 medical autoclave
Vitale Class 12
Capacity: 12 l
Autoclave for steam sterilization under pressure. Ideal for dental clinics (endodontic, pediatric dentistry, orthodontics, prosthesis, dentistry and beauty salon) and health care clinics (dermatology and ophthalmology). ...
See the other products
CRISTOFOLI EQUIPAMENTOS de SEGURANCA - LTdA
Capacity: 100 l
Vertical Autoclave Owing to our rich experience in this domain, we have been able to offer premium quality Vertical Autoclave to our prestigious customers. The offered ...
See the other products
BiolineIndia
laboratory autoclave
PTS-250A
Temperature range: 105 °C - 134 °C
Capacity: 20, 24 l
... 7. Exhaust the cool air automatically. 8. With three stainless steel sterilizing plates. 9. The chamber of the sterilizer is made of stainless steel. 10. Automatically shut off with beep reminding after sterilization.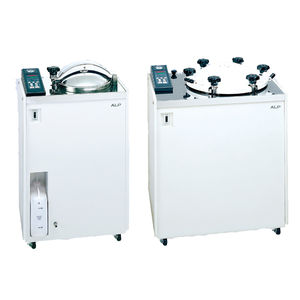 laboratory autoclave
MC series
Temperature range: 40 °C - 127 °C
Capacity: 32, 20, 82, 45, 105 l
Advanced functions compatible with cost performance * Graphic Display * Timed free steaming * Adjustable Auto. Exhaust * Warming & Dissolving of Culture Medium * Start - Timer by Calendar * Soft and Safe Lid system * Exhaust ...
See the other products
ALP Co., Ltd.
laboratory autoclave
SterilClave 18/24 BHD
Capacity: 17.2, 23.2 l
Cominox® autoclaves have been projected for facing binding tasks: SterilClaves can contain up to 5 big trays (18 lt.: 180 x 280mm - 24 lt: 180x380mm) or as an alternative up to 3 NO RM TYPE cassettes (310 x 190 x 40mm). All ...