The Online Medical Device Exhibition
video endoscope light source
EQ PEGASI™
LED COLD Light Sources High-Power light sources provides natural colors of video of an endoscopy camera. Characterized by a long life ...
See the other products
SFERAMED
endoscope light source
SL-4
SL-4 #2 03 01701 Brightness control: Available Power supply 100V, 50-60Hz 160VA Halogen lamp EFR15V-150W W235 x D245 x H190(mm) Stand W245 x D245 x H760(mm) Weight: 6.5kg
endoscope light source
CLX250
... electronic xenon light source for endoscopies. Features: The CLX250 portable electronic xenon light source is ideally suited for all endoscopies including laparoscopy. Salient ...
See the other products
CellSonic Medical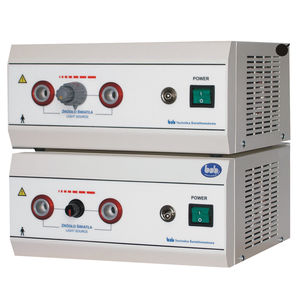 endoscope light source
150W
Cold Light Source (halogen 150 W) A. 2-track cold light source, halogen, with yellow filter (integrated). Designed for vascular fiber. B. ...
See the other products
BOB Technika Swiatlowodowa
endoscope light source
501/1
Parburch code: 501/1 Complete lighting system with 1.8meter long fibre optic cable and variable lighting control. Adapters as follows: 501/2 Naughton Morgan,Stortz,Olympus Triple Adapater 501/3 Heine adapter 501/4 Welch Alyn adapter 501/5 ...
endoscope light source
Gastro 150
... Veterinary use ·Small compact design · Mechanical diaphragm · Low heat conduction Technical Data Lamp · 150 W (1 Halogen reflector lamp), 15 V · 3600 K Light guide/ pump connection · Olympus OES Intensity ...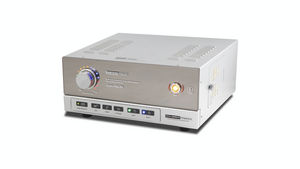 endoscope light source
CHAM VISION
Standard Set Main Body Main Cable Video Cable CCD Camera set Moving Cart Halogen Lamp(15V, 150W) Otoscope Camera adapter Light guide cable C-mount (Microscope) Options LCD Monitor 17″ otoscope 3Ø,0˚,60mm,90mm otoscope ...
See the other products
Chammed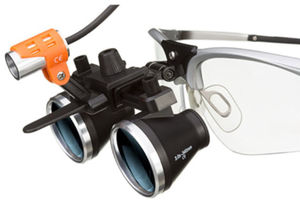 ... work - Spare battery-1400 mAh - allowsfor3.5 hours of work The lightest LED head light on the European market-only 4 grams! The kit consists of a charger, two batteries, light intensity ...
dental speculum light source
Helio
Features of Helio Lighting anywhere Make light anywhere in oral cavity. Mirror shape is most familiar and easy to use for any kinds of dental practices. Sterilization Cold & hot sterilization is available. Easy ...
endoscope light source
LD-150
LD-150 The model, LD-150, has adopted the LED, which has much brighter and longer life expectancy than halogen lamp at 150W with a single socket, so that it can stably supply lighting to the camera so as to be able to ...
See the other products
Medstar