The Online Medical Device Exhibition
video dermatoscope
DermoGenius ultra
The advanced video dermoscopy system High-Tech, Lightweight, Handy Outstanding Image Quality Modular Expansion Camera hand-piece This ergonomic design contains cutting-edge technology: An excellent optical system "Made in Germany" ...
See the other products
DermoScan
video dermatoscope
xEye DermaCare
... digital dermatoscopy kit, which includes xEye Dermatoscope, DermaCare app, and Dermatoscopy management cloud software. xEye DermaCare Cam is most advanced, digital dermatoscopy camera till date. xEye dermatoscope ...
video dermatoscope
LITESCOPE™
THE COMPACT AND SIMPLE DIGITAL DERMOSCOPE KIT To detect melanomas as soon as the first lesions appear can prove to be a real challenge. The LiteScope™ package has been developed to facilitate early detection and diagnosis. The LiteScope™ ...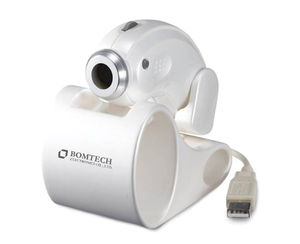 This scope can use 1.3, 3 and 5M image resolutions and is powered with a USB cable. The lens can magnify images and uses a 360 degree sight. The skin care and hair control setup are also used to make it easier for the LED setup to run right.
The Cam communicates directly with the Cube through WIFI, thus enabling your system to work fast, secure and stable. All recording functions can be controlled directly on the camera. Contact-free charging Touch-usage Micro ...
The DE300 Digital Video Dermatoscope (Dermascope) is a special purpose digital camera combined with a high magnification polarizing lens and multiple ultra-bright LEDs. This innovative device streams TRUE 2.0 megapixel ...
See the other products
Firefly Global 
white LED dermatoscope
bt-GEAR™ bt-zoom™
The bt-zoom, a hand held mag lamp, magnifies up to 5x. It comes with 8 clear LED lights which offer clear visibility of skin details. The 4 UV LED lights enable fast visibility of patient's skin. It should be utilized during consultations ...
white LED dermatoscope
06-6250
Sklar's® Orion Dermatoscope is a dermal diagnostic instrument used in the examination of skin lesions. It is an oil immersion/non-polarized instrument that utilizes 10X magnification and illumination to closely examine ...