The Online Medical Device Exhibition
- Made of aluminum and thermoplastics. - Five elbow regulations, from 19,5 to 25,5 cm. - Seven cane regulations, from 74 to 92 cm. - Available in seven different colors. - Non-anatomic handles. - Accessories: ·Braces, neoprene handles.
See the other products
Forta - Fabricaciones Ortopédicas Albacete
axillary crutch
KA342Wx series
... Specifications Junior Size (KA342WJ) Height Adjustable: 1140mm to 1345mm Maximum User Weight: 80 Kg Specifications Adult Size (KA342WA) Height Adjustable: 1240mm ...
See the other products
K Care Healthcare Equipment
Adjustable Forearm Crutch Steel coated arm cuff and vinyl coated handgrip Heavy duty reinforced rubber tip for safety and silence Both arm cuff and handgrip heights adjustable ...
See the other products
Fairminded Industries
... conform to the ground providing shock absorption with each step Antimicrobial arm pad The M+D Crutches are adjustable in both arm length and height from 4'11" to 6'8".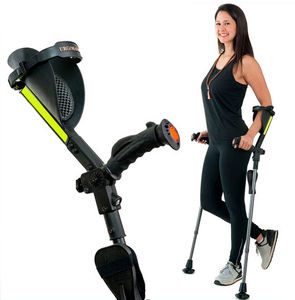 ... Retractable leg-rest platforms LED lights for enhanced Nightvision Panic buttons ("Horn Button") Fully Adjustable Grip positioning & height levels. Anatomic Ergonomic Grip Handle
See the other products
Ergoactives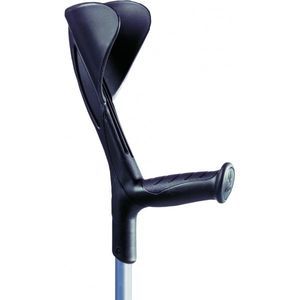 forearm crutch
Evolution Series
... leader in the production of elbow crutches. The Evolution crutch has a modern design and ergonomic handle. All our crutches are made of a sturdy aluminium pipe of high quality and height adjustable ...
See the other products
HERDEGEN
axillary crutch
НТ-02-003
... with diseases of the musculoskeletal system. In addition, you can use a crutch to facilitate of movements. Made of steel, adjustable in height.Description:SN: ОР.1.5 – 1 – 1Height, ...
See the other products
Ltd. Norma-Trade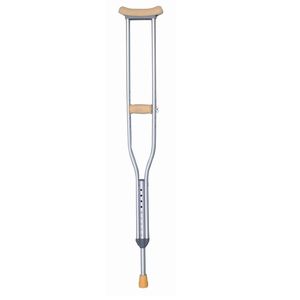 ... -Button Crutches- Canes 1. Size: L 2. Length: 52"-61" 3. Push-Button Crutches 4. Hand grip has 5 level height adjustment. 5. Foot has 9 level height adjustment 6. 7/8" Aluminum anodized tube. 7. With ...
See the other products
YCH
Our Forearm Crutches provide all the necessary support needed to facilitate standing or walking for your child. We offer three vibrant color selections for your child to choose from: Wizard Purple, Knight Blue and Castle Red.
axillary crutch
Aelite Walker
... fatigue testing for loads on the crutches exceeding 1 million repetitions. Aeltie Underarm Crutch can safely support a weight of 120kg and Aeltie Forearm crutch can support 100kg. The crutches also come ...
Height adjustable, these crutches can be used with patients of any height. Constructed of aluminum, they are hardy, strong and robust. For added comfort, the handgrip is crafted of plastic ...
A forearm crutch designed specifically for children Three forearm support adjustments: 17.5cm - 22.5cm Ten height options: 50-72cm Weight: 350g Reflector Multi-coloured Testing: TÜV and GS Germany 100kg CE marked
See the other products
Tukimet Oy
forearm crutch
MW7-01, MW7-01A
Features: New offset design aligns tip of crutched with patient's hand and shoulder for improving balance, reduces hand and wrist fatigue One-piece moulded plastic cuff and handgrip assembly Pushbutton adjustment. Circular ...
See the other products
Minwa (Aust) Pty Ltd.
Ergonomic armrest helps to intensify grasp and optimize position of the forearm.
See the other products
B.Well Swiss AG
Aluminum Quad Crutch. Height adjustable. Max. Weight: 100 Kg
See the other products
Manuel García 1880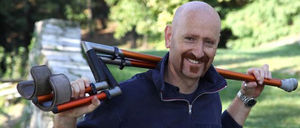 Tompoma crutches were subjected to a meticulous certification process relating to safety, reliability and functional innovation. CATAS s.p.a. has determined that Tompoma crutches withstand loads up to 150 kg, greatly increasing the standards ...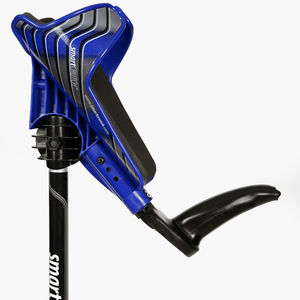 forearm crutch
smartCRUTCH™
... resulting in a six fold reduction in pressure More comfort through even distribution on hands and forearms Fully adjustable custom settings Varied foot options for multiple surfaces and varied environments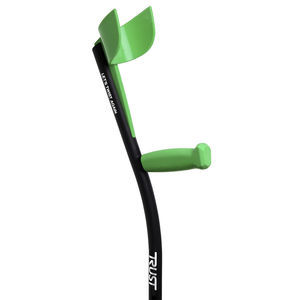 forearm crutch
Let's Twist Series
... which makes the crutch very light. The height adjustment holes are only on the lower tube, which makes the crutch more elegant. A locking ring makes the crutch even safer ...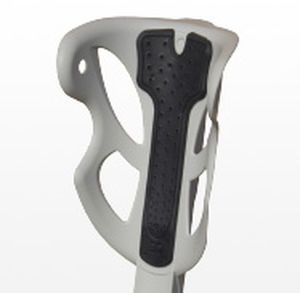 forearm crutch
ErgoDynamic
... Download section. Technical Data ERGODYNAMIC Weight per unit : 600 g Max. weight of user : 130 kg Height of handle : between 720 and 990 mm Adjustment of height :12 steps with 25 mm interval Equipped ...
See the other products
FDI France Medical
forearm crutch
K2000 / ORMIHL
... Crutches made of (patented) high-tech free-standing aluminum alloy for maximum stiffness and optimal crutch weight (600 g) Can be adapted to the height of any user, 14 dimensional settings possible at ...
See the other products
ALTEOR
axillary crutch
Airgo® Laminated Wood
... laminated, straight-grained hardwood with a weather resistant finish. Pre-formed bows retain their shape while fitting crutch to proper height. Sold without or with accessories.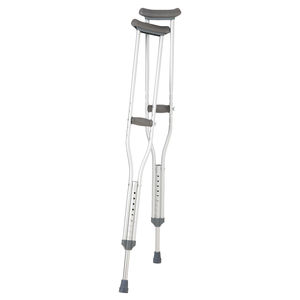 axillary crutch
100310-000
... rehabilitation. Breg's crutches are available in youth, adult and tall options. Youth height adjustments: 4'6" to 5'2" Adult height adjustments: 5'2" to 5'10" Tall height ...
Crutch is designed for disabled person who can not walk well especially those with disease or ache on leg. High strength aluminums alloy pipe, height is made adjustable, comfortable handle
axillary crutch
AB - 90051
... body of AB - 90051 Aluminium Crutches - Pair and Height Adjustable made of aluminum body. Hand pads height and height of the crutch are adjustable ...
See the other products
SANTEMOL Group Medikal