How to choose this product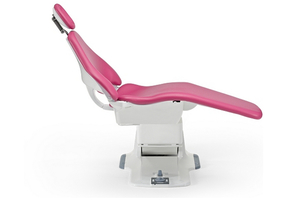 A dental chair is used to deliver care in a dentist's office. This essential element may form an integral part of an assemblage including other instruments and devices.
Applications
Such furniture allows the patient to be placed in a position which facilitates the dentist's work. It is used for many different types of care, including oral surgery.
Technologies
The chair reclines and its height can be varied to place the patient in the ideal position. Some use pneumatic controls, generally a pedal, to activate a hydraulic system. Electric and electromechanical models have an electric control mechanism. Certain chairs can be transported in the context of a mobile dental service.
How to choose
Choice will depend primarily on power source, chair movement parameters and space required for installation. Chair upholstery is also an essential factor in order to facilitate cleaning and disinfection. Padding material should be chosen with patient comfort in mind.
Advantages
- Ergonomics designed for dental care
Disadvantages
- Requires significant space