How to choose this product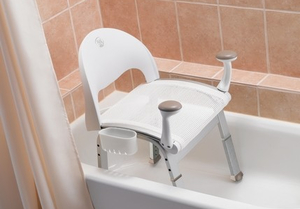 A shower chair is a waterproof seat that can be used safely in a wet environment.
Applications
These chairs permit those with mobility difficulties to shower while seated. The bottom of each leg is covered with a non-slip material for safety. There are both pediatric and bariatric models.
Technologies
Some shower chairs have casters, enabling a person to be moved easily from the bed to the shower. Certain models also have a cutout seat, with or without a receptacle, for toilet purposes. The height of some can be adjusted, and there are folding versions for easy storage.