The Online Medical Device Exhibition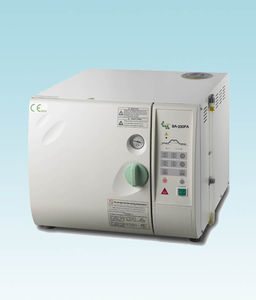 medical autoclave
SA-230FA, SA-260FA
Capacity: 16, 24 l
The autoclaves are engineered with Microprocessor Technology, providing advanced features for more sophisticated chamber sensors, user interfaces and warning and alert systems. They are designed for Wrapped, Solid and ...
See the other products
Sturdy Industrial
veterinary clinic autoclave
Vetclave®
Capacity: 18 l
18 Litre Vacuum Autoclave available with a tank or with auto-fill and auto-drain function. Fully automatic and controlled quick cycles, program parameters are adjustable. Maintains temperature for next ...
See the other products
MDS Medical
dental autoclave
B Standard
Capacity: 8 l
Feature for B Standard Autoclave B Standard win 3 time pre vaccuum preceding vacuum drying 105 C Rubber and Plastic disinfection prgoram Sterlization temperature : 121 C or 134 C Unique solution for cotton ...
medical autoclave
VARIOKLAV® 75 S, VARIOKLAV® 135 S
Temperature range: 98 °C - 134 °C
Capacity: 75, 135 l
... VARIOKLAV floor model autoclaves accommodate large loads in high-capacity sterilisation baskets Chamber capacities of 75, 100 and 135 and 175 litres Deck heights as low as 750 mm for fast, easy loading and unloading ...
See the other products
HP Medizintechnik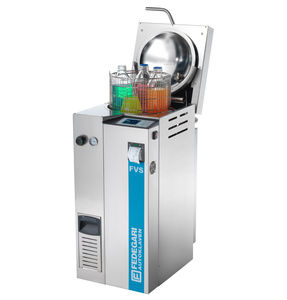 laboratory sterilizer
FVS series
Temperature range: 100 °C - 144 °C
Capacity: 35, 50 l
The FVS series is a compact, portable, vertical lab sterilizer, with very small overall dimensions for easy handling use. The FVS series sterilizers are suitable for the use in many different applications ...
See the other products
Fedegari
medical autoclave
GR Series
Temperature range: 105 °C - 138 °C
Capacity: 60, 85, 110 l
... three tiers of administrations, i.e. user,user administrator and engineer, to guarantee satisfactory use and managementof autoclave Waste sterilization Mode: dedicated waste sterilization proceduresare established ...
See the other products
Zealway Instrument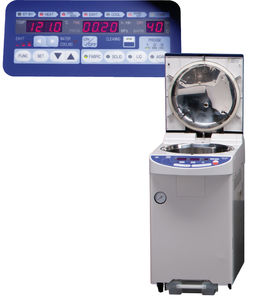 medical autoclave
HG series
Temperature range: 60 °C - 97 °C
Capacity: 50, 80, 113, 133 l
Innovative Top technology All HMC steam sterilizers are produced in modern manufacturing facilities using state of the art technology and are TÜV certified. All devices meet the EC Pressure Equipment Directive and ...
See the other products
HMC Europe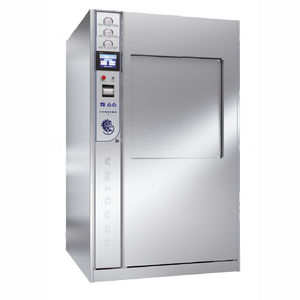 The entire sterilization process must always ensure maximum microbicide effectiveness, starting with the washing or decontamination stage. The Sordina thermo-disinfection system responds in an integrated and flexible way to the washing ...
Capacity: 12 l
... Horizontal Autoclave Recommended for: Odontological, esthetic, veterinary and ophthalmology clinics, as well as tattoo studios, hospitals, laboratories, outpatient centers, health centers and other similar organizations. ...
See the other products
Sercon
medical autoclave
STE-8-C
Temperature range: 121 °C - 134 °C
Capacity: 8 l
1.Overview: 8 Liter benchtop autoclaves with class B pre-post vacuum type, complies with the European standard EN13060. This 8 liter autoclave is light weight, easy to move and requires minimal bench ...
See the other products
ningbo ican machines co.,ltd
ophthalmology sterilizer
CL B DO 0.020
Pulse Vacuum Steam Sterilizer (Standard Type) Bench top steam sterilizers can be applied to dental clinics, dental department of hospitals, ophthalmology department, operating rooms and so on. It can ...
See the other products
VitroSteril
dental autoclave
DAC UNIVERSAL
Capacity: 1.8 l
Switch off hygiene risks: Switch on DAC UniversalComply with hygiene standards at the touch of a button and avoid cross contamination: Completely safe with DAC Universal. Your patients and employees can rely on this all-round protection ...
medical autoclave
SPEEDY B6
Capacity: 6 l
medical sterilizer
ST.NBN
Temperature range: 110 °C - 143 °C
Capacity: 1 US fl oz - 12 US fl oz
STEAM STERILIZER AUTOCLAVE The ST.NBN series is designed by applying the most advanced technologies in terms of consumption, efficiency and guarantee of results. The new generation components and construction ...
Temperature range: 121, 134 °C
Capacity: 16 l
... the cycles, and this safeguards against risks deriving from human error-Preset temperatures: the temperatures set for RT41 autoclave cycles are 134°C and 121°C. The 134°C cycles are normally used for the sterilization ...
Capacity: 18 l - 23 l
... monitor every stage of the cycle and report any irregularities. ■ Quick coupling taps for loading and draining water. ■ Automatic water tank loading by means of integrated pump and used water draining tank. ■ Limited ...
laboratory autoclave
TMQ.J series
Capacity: 23, 35 l
Manual water infusion, steam exhausting and drying, auto control of heating and sterilizing. Pressure is controlled automatically with a precision of +-0.005Mpa. The safety of the equipment is guaranteed by an over heating auto protection ...
See the other products
Vanguard Pharmaceutical Machinery