The Online Medical Device Exhibition
laboratory fume hood
SHV-2
Description Laboratory hood SHV-2 is designed for chemical and physical analysis with harmful substances giving off vapors; these cabinets are used in a structure of laboratory complexes for different ...
laboratory fume hood
Serie-GS
The GS-Series filtration fume cupboards represent the most comprehensive and advanced range of safety cabinets to protect laboratory personnel and the environment from toxic chemicals released during ...
See the other products
Gruppo Strola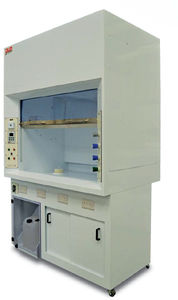 Felcon have a wealth of experience in themanufacture and design of ducted fume cupboards,providing optimum operator protection with by-passairflow characteristics.These are supplied in avariety of configurations, complete ...
See the other products
Felcon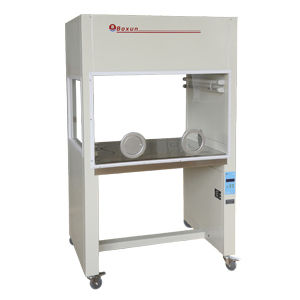 laboratory clean bench
SW-CJ-1FD
APPLICABLE SCOPE: The clean bench is a necessary basic equipment for biologic technical researches and experiments. It is widely applicable in the field of pharmaceuticals, biochemistry, environmental monitoring and electronic instruments ...
See the other products
Shanghai Boxun Indusrty & Commerce Co.,Ltd
laboratory fume hood
J-NFH series
This fume hood includes a water and gas line, along with lighting and electrical outlets. These fixtures are constructed using anti-corrosive materials and both the top plate and sink made of epoxy resin ...
See the other products
Jisico
laboratory fume hood
Chemfree series
Models: Chemfree 2000 S60,S90,S120 oder M60, M90, M120 Removal of toxic vapours and aerosols. Filter: Prefilters efficiency is equal to 75%-85% dust arrestance(ASHRAE) Prefilters: A/C-, ACR-, Form-, Sulf-, UR-, CYAN-, MER-, ...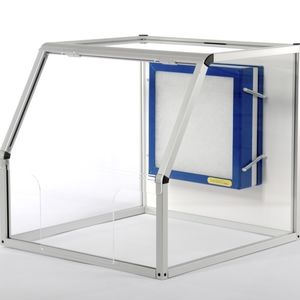 laboratory fume hood
Waysafe GP540
The GP540 (previously Waysafe® 3) is a general purpose hood which has many uses within the laboratory environment. ** Now With Variable Speed as Standard ** Our new, quieter, variable speed fan draws air through our ...
See the other products
Solotec Scientific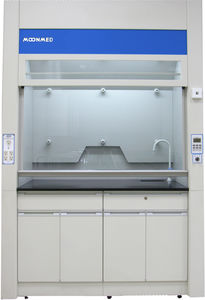 laboratory fume hood
MO-HF 900/1200/1500/1800
The fume hoods are used in a variety of life science clinical and industrial applications and the "Air Treatment" offers a safer, secure air recirculation for critical applications. The Table Top surface ...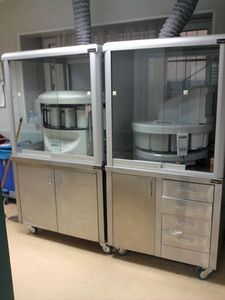 ... working hours counter for optimum user protection aganist odor and fume contamination, this unit creates a safe working environment. A special hood facilitating the exhaust of solvent fumes ...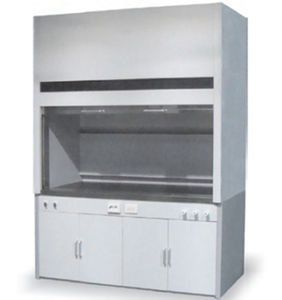 laboratory fume hood
Fume Hood
Cabinet Material SS41 / Stainless Stool Inner Material Coated Asbestos Board Coated Urethane Resin Working Material Load Shoot plate Utility Device Air Cock Gos Cock Goose neck . Cup Sink. Concent. Vapor proof Lamp Fan Motor Sirocco ...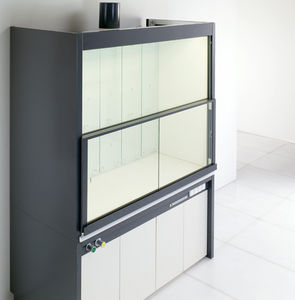 laboratory fume hood
Ahmar
... appeals to alchemy's old stories. As a vital element of any modern laboratory, where harsh, high-risk tests are conducted, the fume cupboard symbolizes the safety required for this sort of spaces, in order to carry out ...
laboratory fume hood
IE series
IE Series Instrumentation Enclosures are specifically designed to enclose instruments used for handling or analysing chemical and hazardous compounds. The IE range is designed to allow maximum access from all sides for ...
laboratory fume extractor
AeroVac
Captures fumes and particulate debris at source Multiple filter arrangement for disposable bag, Hepa cartridge and gas phase filter Ideal for applications such as: laser soldering & laser welding Quiet ...