The Online Medical Device Exhibition
laboratory air compressor
S Series
Overview Coaire is a world class manufacturer of oil-less scroll and piston compressors. Our compressors and systems are built in an ISO accredited facility. We build on our compressor ...
See the other products
Coaire
medical air compressor
A Series
Flow: 2.5 m³/h - 6.1 m³/h
Pressure: 350 psi
... built on quality, reliability and accessibility to all components. Products include air-cooled bare compressors, boosters and vacuum pumps. A-Series compressors include heavy duty cast iron construction, ...
See the other products
Champion
Series of high-quality oil-less compressors for the production of medical compressed air. Maximum efficiency and reliability combined with a series of models that can satisfy any requirement of dental ...
See the other products
NUOVA A.S.A.V. snc di Leoni Franco e Attilio
dental compressor
DENTAL1 1/24/3 1/24/37
Flow: 62, 60, 100 l/min
Power: 0.93 kW
Pressure: 5 bar
See the other products
Werther International
medical air compressor
WOP50
Flow: 124 l/min
1. It is suiting for any environment which needs quiet air supply. 2. Within adjusting pressure and filter device. 3. It needn't add oil when using
See the other products
Woson Medical
Pressure: 10 bar
... SA manufactures medical air compressor systems according to EN ISO 7396-1 and HTM 02-01.The medical compressed air plant provides a reliable and constant air supply, without the transport ...
See the other products
G. SAMARAS SA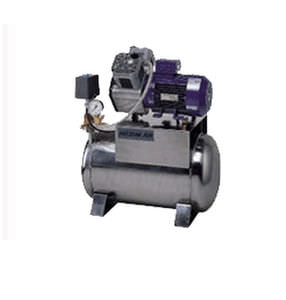 medical compressor
Maxim Air
Flow: 148 l/min
Power: 1.2 kW
Pressure: 7 bar
Specifications Max Pressure : 7 bar Air outflow without load : 148 titer / min Air outflow with load : 120 liter / min. (at 5 bar) Tank size : 40 liter Size : W780 x D485 X H78omm Power consumption : i.2kw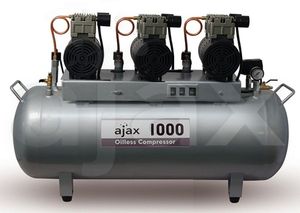 dental compressor
8 bar | AJAX1000
Power: 3,900 W
Pressure: 8 bar
AJAX1000 POWER SUPPIY AC 220±10% 50±1 Hz POWER 3900W EXHAUST VOLUME 390L@0.4MPa MAX PRESURE 0.8 MPa ON/OFF PRESURE 0.5/0.8 MPa NOISE 75dB ENVIRONMENT TEMPERATURE 5~40°C AIR TANK VOLUME 145L
See the other products
Ajax Medical Group
medical compressor
HOMEFILL2
The HomeFill2 system from Invacare combines both innovation and practicality to create a discrete portable respiratory device that's safe and easy to use, carry and refill. The lightweight cylinder makes it possible to be more active ...
Flow: 0.25 m³/min - 3 m³/min
Power: 2.2 kW - 33 kW
Pressure: 8, 10, 12.5 bar
... HTM02-01. Medical air quality deliver at 400kPa (4bar), 700kPa (7bar) or 1100Kpa (11 bar). Medical Air system shall have duplexed dryer system the medical air compressor ...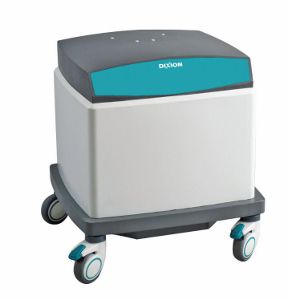 medical air compressor
Hummer
Flow: 0 l/min - 40 l/min
Pressure: 450,000 Pa
This medical air compressor is designed for anesthesia machines and ventilators. Features: Long-term operation Compact design, easy to transport Built-in cooling system and air-cleaning ...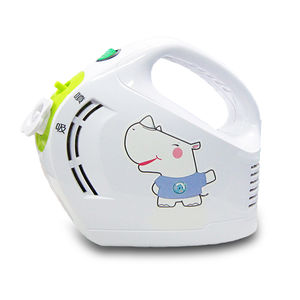 nebulizer air compressor
RHINO
... Aspirator, Nose Clean Irrigator. Hannox Multifunction Air Compressor Nebulizer System is a great treatment device for asthma, COPD and lung disease in nursing homes or your home. 3 IN 1 AIR COMPRESSOR ...
See the other products
Hannox International