The Online Medical Device Exhibition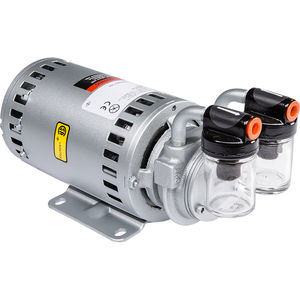 medical air compressor
1531
Flow: 2.1, 2.5 m³/h
Power: 0.07 kW
Pressure: 1 bar
... lubricants. They produce minimal noise or vibrations, which makes them well suited for noise sensitive environments like medical, dental and laboratory applications. In addition, these compact units offer high flow, ...
See the other products
GAST GROUP LTD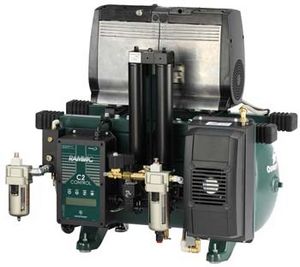 Pressure: 115 psi
... RAMVAC Compressors have the best warranty in the industry – 6 years/4200hours! Basic or Smart control platforms: Basic controls use a traditional pressure switch and contactor arrangement to control the ...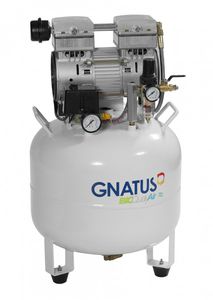 dental compressor
BioQualyAir
Flow: 212 l/min
Power: 0.83, 1.1, 1.66, 2.2 kW
Super Silent Oil free engine 2 pistons engine with 1.12 HP / 830W (127V) and 1.14 HP / 850W (220V) Tank with a capacity of 40 liters Air flow: 212 liters/min Air outlet filter Thermal protector against overheating Dimensions: 400 x 695 ...
See the other products
Gnatus
medical air compressor
ROBOX
Flow: 4,200 m³/h
Pressure: 1,000 bar
... the market. Reliable The low operating speed of the RSW core compressor and the reduced load on the bearings, combined with the lack of step-up gear, resulted in a lean design of a compressor unit that ...
dental compressor
2000-25M
Flow: 176, 212 l/min
Pressure: 8 bar
Description Seven compressor combinations and five different tank sizes are available to create the desired compressor system. The first number in the description represents the compressor ...
See the other products
JUN-AIR International A/S
medical air compressor
mAIR
Pressure: 4 bar - 11 bar
mAIR Medical Air Systems Medicinal Air The critical field of patient care requires ultra clean, purified, medical air delivered to operating theaters and hospital beds with absolute ...
Power: 1.5 kW - 22 kW
Consist of 2 or more units. It designed as 1 unit can cover the required capacity at the facility. Depends upon the required capacity, the unit can be selected 8 different sizes from 1,5kW to 22kW.
endoscope drying air compressor
182-600-10
AFD-AirFLow Dryer, Endoscope Channel Drying Device, complete with: compression and flow optimized airpump, AirFlow-Gun with conical adaptor and 200 cm tubing, Dimensions: 26 x 16 x 27 cm, weight: 2.0 kg, 230 Volts
medical air compressor
C4500
Flow: 40 l/min
Pressure: 3.5 bar
... Quality: oil-free air per EN 12021; low noise and high flow output for demanding hospital environments Standby function – when the central gas supply fails, the compressor will start ...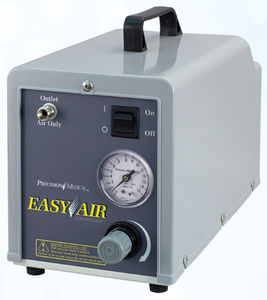 medical air compressor
PM15 EasyAir
Pressure: 60 psi
... knowledge in the industry. With his versatile unit, the user can enjoy powerful 1/5 horsepower high performance compressor. The compressor is capable of delivering up to 13 lpm at 50 psi. There is a ...
See the other products
Precision Medical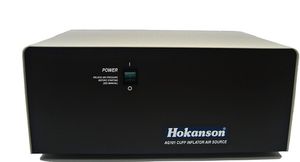 medical air compressor
AG101
... the E20; it provides compressed air sufficient to inflate a large contoured thigh cuff every 12 seconds indefinitely. This compressor is quiet, compact and dependable.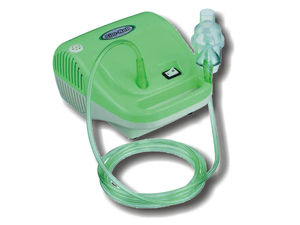 Pressure: 32 psi
Easy to operate and compact shape are the features of our nebulizer compressor. It's convenient for use either at home or while travelling. Just connect the power supply and with the push of a button, it will meet your ...
nebulizer compressor
CX-500
Flow: 37, 17 l/min
Pressure: 0 psi - 95 psi
The CX-500 is a 50 psi compressor that can be used either to feed a single nebulizer bottle or to simultaneously feed up to 4 nebulizer masks. Air flow 0 psi: ~37 l/min 50 psi: ~17 l/min Max pressure 95 psi (preset) Pressure ...
medical air compressor
MC200
Flow: 90 l/min
Compact size Portable type for easy install and move Low noise by double silencer system Absorption of vibration and dust-protection applied structure enable MC200 to perform superior vibration coefficient with extremely quiet operation User ...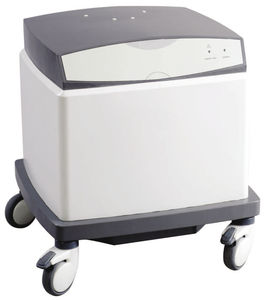 medical air compressor
MC340
Flow: 40 l/min
Pressure: 450,000 Pa
Meeting CE standards, stable performance, safe and reliable Compact design and easy to transfer Assembled with clean control module, supplying cleaner and safer air to the patients High effective sound-absorbing materials, noise reduction Equipped ...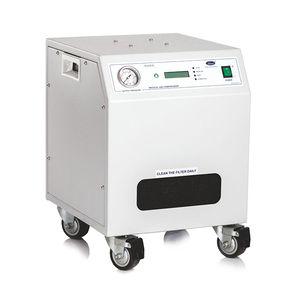 medical air compressor
5001
MARS – Medical Air Source Medical Air Compressor Compact & quiet Operation Medical grade Oil free Micro Filtered Dry air high Flow Capabilities for Greater Versatility.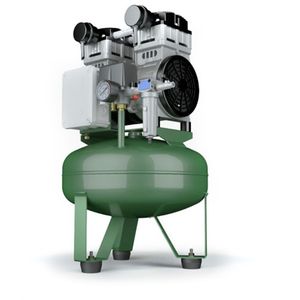 medical air compressor
D01-2
Power: 1,500 W
... dental and medical practices, D01-2 is the most reliable source of hygienic compressed air during patient's treatment. Equipped with a 20-liter tank, this oil-free, super powerful compressor is classified ...
medical air compressor
L-250-50.W10
Flow: 110, 250 l/min
Power: 1.5 kW
Pressure: 10 bar
See the other products
PLANET-AIR GmbH
Flow: 170 l/min
Power: 1,600 W
Pressure: 750,000 Pa
Item Oliless Air Compressor Article Number YH70 Certification CE Approved ISO9001:2000 Approved Purpose This unit be used for three set dental chair. Technical Data Power Supply: 220V/110V 50/60Hz Power Consumption: ...
dental compressor
Pick-Up 60
Flow: 60 l/min
Power: 0.5 kW
Pressure: 8 bar
Silenced - Single-cylinder A small back-up compressor for each dentist's office. LIGHTWEIGHT AND COMPACT 11Kg - cm 39h x 42L x 19W HIGHLY PORTABLE Comfortable moving handle CLEAN AIR Oil-free mechanics
See the other products
Gentilin
medical compressor
ZC300-3
Category: Compressor Model: ZC300-3Description: ZC300-3
See the other products
Foshan Joinchamp Medical Device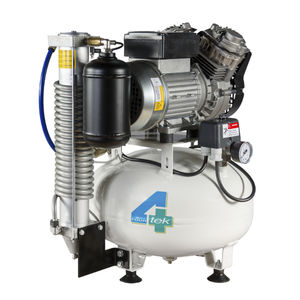 Flow: 100 l/min
Power: 1 kW
Pressure: 7 bar
Oil less compressor, with flottant pistons, with 2 cylindres, with dryer Composition Power (Kw): 1 Power (HP): 1,4 Voltage (V): 230 Frequency (Hz): 50 (on request 60) Pressure (Bar): 7 Air get ...
See the other products
4TEK SRL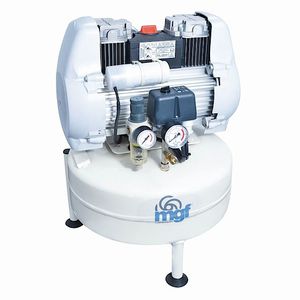 medical compressor
24/10 GENESI S
Flow: 182 l/min
Power: 1.1 kW
Pressure: 7 bar
Description: Oil free compressor, FAD at 5 bar 135 l/min, tank capacity 24 l., without air dryer.
See the other products
MGF Compressors
dental compressor
BD-101A
Flow: 130 l/min
Pressure: 8 bar
SPECIFICATION: Model: BD-101A Voltage: 110V~240V, 50Hz/60Hz Power: 3/4HP Airflow: 130L/min Noise: 52dB(A)/40" Tank: 30L (the color is optional) Pressure: 8Bar N.W.: 24Kgs G.W.: 27Kgs Dimension: 44*45*62 cm
See the other products
Best Dent Equipment Co.,Limited
medical air compressor
Schuco® S6000
Flow: 14 l/min
Pressure: 0 psi - 50 psi
Compact and quiet, the Schuco® S6000 Medical Air Compressor provides up to 14 lpm continuous air flow at 50 psi. The unit operates quietly and effectively using standard 115 VAC current, and is easy to ...
See the other products
Allied Healthcare Products