The Online Medical Device Exhibition
4-caster rollator
01217 - FIX
Multicolour, painted aluminium walker for children. Foldable and adjustable, with four wheels, two of which have brakes. Height 69 ÷ 77 cm Weight 5,2 kg Capacity 100 kg
See the other products
Chinesport
4-caster rollator
NeXus 3
... Lightweight and easy to fold even with the bag on the rollator The neXus 3 has innovated the way we think about mobility. With the first ever cross-folding frame, it set the standard for future rollator ...
See the other products
Human Care Group
See the other products
Drive DeVilbiss Healthcare France
Alevo- a new generation With Alevo you will start in a new age of modern rollators. Developed by Bischoff & Bischoff and created by "Porsche Design Studio": Modern look meets maximum comfort. Thanks ...
See the other products
Bischoff & Bischoff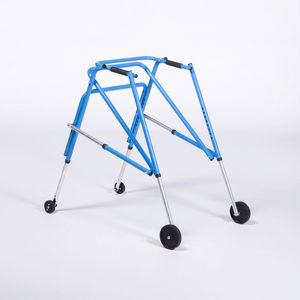 4-caster rollator
Streeter
The Streeter XL Walking Aid, from Vermeiren, was designed to ease the learning and relearning of walking. The locking system on the backwheels will prevent the Streeter from moving backwards and will encourage the user to move forward. ...
See the other products
VERMEIREN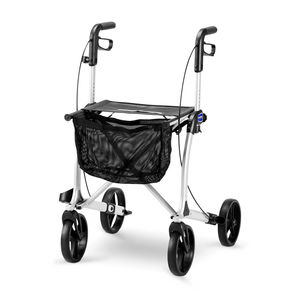 4-caster rollator
Mobilus
Product features The lightweight rollator with high-quality equipment easy to handle at a mere 7.3 kg robust construction with 150 kg weight limit (tested by the German Association for Technical Inspection ...
See the other products
Meyra
4-caster rollator
501-5012-0200
The modern, stylish design of the Gateway Rollator makes this the fashionable and functional choice in mobility. This ultra-lightweight model features a large storage tote with shoulder strap and durable, oversized wheels ...
Padded Seat with Backrest Lightweight Aluminum Frame for Easy Transport Removable Basket and Backrest for ease of Storage Swivel Front Wheels
4-caster rollator
Thera Standard
Versatile Ambulatory Aids The Thera Walking Table programme consists of a series of safe, stable ambulatory devices to support the weight of a user gaining ambulatory strength in therapy or rehabilitation. These walking tables can ...
See the other products
Ergolet
4-caster rollator
Stand Tall
The XXL-Rehab Stand Tall is an aid utilized for walking and changing positions from sitting to standing. It is safe to operate and provides independence to the user. An IV can also be hooked. The XXL-Rehab Stand Tall comes with 2 built-in ...
See the other products
XXL-Rehab
3-caster rollator
W320-2 [WT02]
Strudy: Steel frame design for stability Accessibilty: Easy to use loop locks Adjustability: Ergonomic handles which are height-adjustable Flexibility: Suitable for indoor and outdoor use Maneuverability: Swivel front caster for extra ...
See the other products
Merits Health Products
4-caster rollator
HMP-RE100
FEATURES Alum. Economy loop brake rollator w/ powder coating wire basket 6" flat castors height adj. Seat Height: 530mm Overall width: 610mm 100 kgs weight capacity 835x610x395mm/ carton dimension container ...
See the other products
Home Medical Products Inc.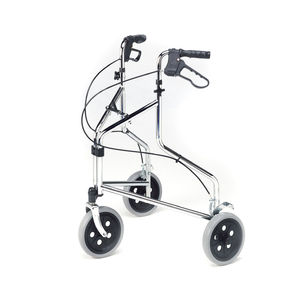 Roma Chrome Tri-Wheel Walker with Loop Brakes is a medical rehabilitation equipment commonly used in general hospitals and medical (including non-medical) facilities. It has adjustable height handles, comfortable ergonomic hand grips, ...
See the other products
Roma Medical Aids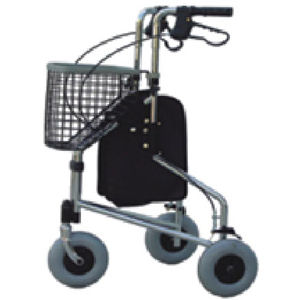 3-caster rollator
WH-C005
Features 1.The locking loop brakes is buolt for additional safety. 2.Adjustable handle height. 3.Easy folding for transporttation and storage. 4.The frame is made from steel.
... height 74-94 cm • Body height 148-188 cm • Seat & basket The Walker 9er is your perfect choice when you are looking for a rollator to use both indoors and outdoors. With its 9" wheels and extra-soft PU-tires you'll ...
See the other products
Trionic
Freedom and mobility for your child The child is the centre of attention, functionally and visually Dynamic saddle supports movement Long service life and individual adjustment Easy to use even in small spaces tGo Gait ...
Mobility is for everyone That simple idea inspired us to design the ever-growing family of Pacers. With five Pacer gait trainer sizes, we've ensured that more clients – infants as young as nine months and adults up to 275 lbs – can experience ...
See the other products
Rifton
Product Features Durable Steel Frame Snap on Pouch Removable Basket Removable Tray Adjustable Height Handles Loop Brakes with Parking Brake Easy 3 second Fold Design Lightweight 8″ Solid Casters Burgundy or Blue Color Frame Options
See the other products
Karman Healthcare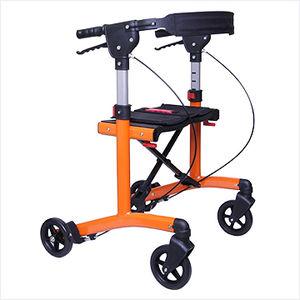 4-caster rollator
Escape Mini
Escape mini is available in 20″ seat height and has a compact folding system that is easy to fold with a simple lift of the release handle. This design makes it easier to lift into the trunk of a car but, as an added benefit, it also ...
See the other products
Triumph Mobility
4-caster rollator
186.99.10
Equipment • 3 different handles selectable (see technique) • dual action brake • foldable • airless tyres • powder coated aluminium frame • approved up to 100 kg body weight
See the other products
REBOTEC Rehabilitationsmittel GmbH
4-caster rollator
Kanguro HD
- Made of aluminum and thermoplastics. - Eight 150mm wheels. - Available with orange, pistachio, blue or grey seat covers. - Rubber height adjustable handles. - Double front rotating wheels. - Rear wheels with pressure ...
See the other products
Forta - Fabricaciones Ortopédicas Albacete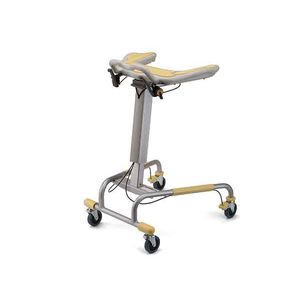 4-caster rollator
KA-390 Series
PRODUCT FEATURES Easy to Maneuver Elbow rest and armrest support user's body, the curved design is very effective because the shape fits various use, according to user's conditions. Easy to Adjust The height of walking aid is ...
USE: Walking aid which improves stability and helps to transport the luggage. PRODUCT CHARACTERISTICS: foldable frame (easy to transport), brakes with clamps, three maintenance free 20 cm diameter wheels, adjustable height, ergonomic ...
See the other products
Vitea Care
4-caster rollator
KA360AHD
Features Designed to tutor the user into an upright gait Forearm gutters rotate laterally and adjust vertically to suit individual users Sturdy frame provides stable support Removable arm pad for cleaning Buffers ...
Push Down Handle Brake Aluminum Rollator Lightweight aluminum construction Press down weight activated braking system Simple folding mechanism for easy storage and transport Frame color: Metallic ...