The Online Medical Device Exhibition
4-caster rollator
Kaye Walker™
Used as both a walking training device and a community walking aid, the Kaye WalkerTM has redefined assisted walking across the world, with its ability to improve posture and walking pattern. Quest 88 offers a number of postural and gait ...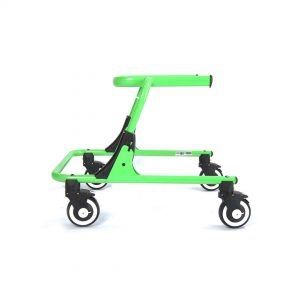 4-caster rollator
Moxie GT
The Moxie GT Gait Trainer offers a tremendous amount of versatility to aid children or adults with stability while they improve their walking ability. The Moxie GT is a height adjustable gait trainer available in 3 different sizes. The ...
4-caster rollator
312060, 312061, 312062
Impala rollator, blue metallic, with bag Impala rollator, high model, blue metallic, with bag Impala rollator, blue metallic, wide model, with bag
See the other products
Mobilex A/S
ello is a walker that provides more safety and comfort thanks to its electric drive. Obstacles which are difficult or impossible to overcome with conventional, purely mechanical walkers such as gradients, curbs or heavy purchases can ...
4-caster rollator
TMA 2000BKHF
Features : Adjustable width handles allow for easy entry through narrow doorways Loop locks * Sturdy steel construction Comes standard W/ front-mounting oversized wirebasket - 15" x 12" x 8" Soft, padded, oversized seat - ...
See the other products
Trolli Master Sdn. Bhd.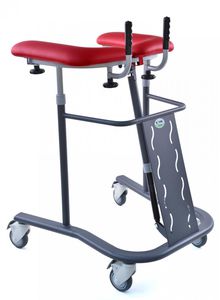 4-caster rollator
11992000
DESCRIPTION The walking trolley allows the users safe and independent movement by giving them safe support during walking. The trolley can be used for support when getting up from a chair or bed and for rehabilitation after injuries ...
See the other products
KOVAL
4-caster rollator
RS2862LT
Aluminum rollator with four 6 inches wheels, height adjustment at the handle, especially suitable for small people and children. Ergonomic handles, convenient brakes and comfortable polyurethane seat. Removable padded ...
1. Liquid coated frame 2. Height adjustable frame & handles 3. Knock down packing for easily storage and travel Whith 6''wheels 4. PVC soft seat, 5. Optional shopping bag and basket
See the other products
Better Medical Technology
Product has a steel frame with chrome-plated finishing and a supportive PVC leather pad. It has a 3"rubber tire for front and rear castors, and a rear wheel brake. Its height's adjustable.
See the other products
Guangdong Shunde Jaeyong Hardware
This frame has been constructed from steel tubing allowing for a stable and sturdy, yet lightweight support. The frame comes with padded under-arm rests that are fully height adjustable to the user and sits on rubber pirouettting wheels ...
Features: Folding mechanism made of heavy steel tubing Great for indoor and outdoor use Includes standard reflectors for added safety Standard large 8"flat-free rubber tyres and leather bag included
See the other products
Minwa (Aust) Pty Ltd.
Push down (compression) brakes rollator with plastic seat and steel basket under the seat. It has 4 rear wheels and 2 swivel front wheels, making its use very comfortable. This rollator comes with a soft ...
Demountable walker painted steel, height-adjustable and fitted with swivel wheels. Suitable for older people with moderate walking ability that need support and push to the upper limbs. It can also be used outdoors. Base features Adjustable ...
See the other products
NUOVA BLANDINO
This ultra lightweight walker is our basic economy model. Features folding seat, adjustable handle height and folds for storage. 23" wide 2" narrower than our standard models. Ideal walker for use indoors Ultra Lightweight ...
See the other products
UNISCAN LIMITED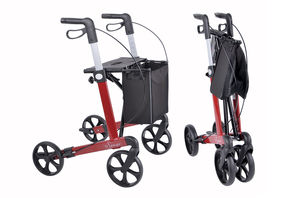 Unique design The stylish Server rollator has a unique triangle profile ensuring a steady frame design. It is among the lightest and easiest to turn rollators on the market in the 150kg user category. ...
See the other products
Rehasense Europe
Allows users to roll the walkers forward as they shift their own weight forward. Helps improve cadence, velocity, energy use, and step and stride length. Equipped with one-way ratchet rear wheels, to help prevent the walker ...
See the other products
KAYE Products
YOUPI is an flexible gait trainer, style youpala, leading to facilitate upright walking. The product is perfectly stable and very easy to use as it has four wheels. It is equipped in series with: -Transparent table -5 Sizes of cradle ...
See the other products
RUPIANI
4-caster rollator
Discover®
The pattern of movement of small children develops gradually and learning to crawl is a natural stage in this process. Children learn and perceive their surroundings through the body and its senses. The physical activity of the child ...
See the other products
Meyland-Smith A/S
4-caster rollator
Let's Go Beech
The Let's Go Indoor Rollator has been tested to ISO standards and is CE marked. When in use, the rollator is locked, and it is easy to open when folding. The rollator can be pushed with ...
See the other products
Trust Care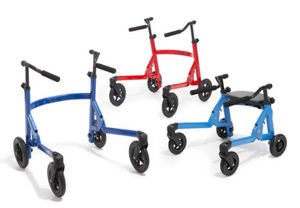 Product description: MALTE is the compact and versatile posterior-walker MALTE is a walking aid especially suitable for children from early support up to adolescence. MALTE MINI is ultra-light and extremly compact for an early ...
See the other products
Schuchmann
Promotes natural walking Stable Very reliable working reverse-roll locks Grows with your child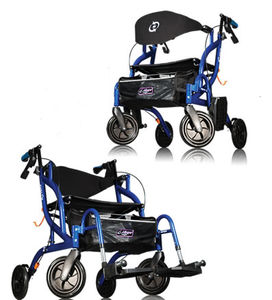 4-caster rollator
Airgo® Fusion™
Airgo® Fusion™ Side-Folding Rollator & Transport Chair 700-935: Pacific Blue 700-938: Hemi Height, Cranberry 700-932: Tall, Pearl Black ADP Listed: Cat. 3 #AA0000694. US Patent : 7,540,527 & Patents Pending. Padded ...
See the other products
AMG Medical
Rollator Technical Parameters: Seat Size: 620*690*930mm Aluminium Alloy Structure,with Basket
4-caster rollator
TROJA 2G
Its predecessor TOPRO Troja Classic revolutionised the rollator market in 2002. Since then the TOPRO product development team have developed a rollator based on research and feedback from users and therapists. ...
4-caster rollator
TROJA CLASSIC
The original rollator design and still very popular has been on the market for more then 12 years. TOPRO TROJA Classic is easy to fold, requiring little space when stored. Excellent brakes, kerb lifter and edge guard. ...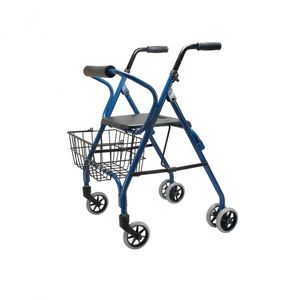 The 4200LX and 4200DX are mainly for indoor use, however, their durable construction allows the occasional outdoor adventure. Made of lightweight aluminum, these models are easy to fold and ideal for small spaces.