The Online Medical Device Exhibition
Sturdy ENT Treatment tables offer diversity in functionality, size and accessories to match and fit most clinical ENT applications. All of our products are Oil-less, maintenance free and meet strict ISO certifications for performance, ...
See the other products
Sturdy Industrial
ophtalmic workstation
US-560
This sensibly designed unit is made with a domestic style and is highly refined for all the needs a patient might have.
ophtalmic workstation
AMF 9000
A modern small-size refraction unit that joins together all the features of the highest level equipments like long-life, versatility and resilience Dimensions Height : 170 cm Table height: 84 cm Chair height: 48-68 cm Weight : 160 ...
This is an ENT Total Treatment Unit of grand type, which is designed to diagnose and treat patients more conveniently and efficiently. Particularly as it is equipped with an Endoscope Ultraviolet Sterilizer, it can store and sterilize ...
See the other products
Chammed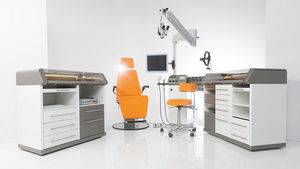 dantschke Medicenter Futura The flagship model a standard-setter in every way. No-nonsense, easy-to-use, functional and attractive, but also reasonably priced and quality-made, while being customisable and flexible. And thats only the start.
See the other products
dantschke – intelligent medical systems
ENT workstation
Futurent®
Based on a long line of ENT treatment units, the Futurent® ENT treatment unit is ergo-nomically designed to simplify ENT procedures and improve efficiency in the ENT consulting room. Metal, timber and other materials are combined to ...
See the other products
Entermed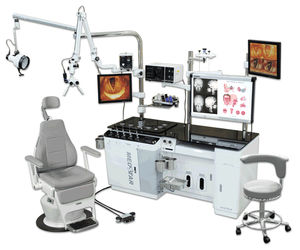 ENT workstation
New Millennium Grand
The model of New Millennium Grand is the most highly ENT workstation, which can be equipped with a full range of optional parts, in order to maximize the effect of diagnosis and treatment for the patients in ENT, while ...
See the other products
Medstar
ENT workstation
PK-3202 deluxe
Characteristics a. Powerful suction pump and low noise pump block with oil free suction motor. b. Exquisite spray tips make pulverization for liquid of medicine,rational design,convenience of detection and long life. c. Stable performance ...
See the other products
Xuzhou Pengkang Electrical Equipment co.,ltd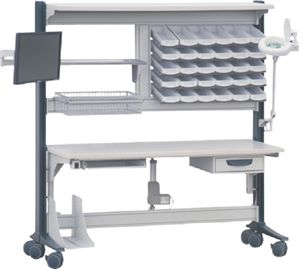 workstation on casters
FA1020
See the other products
LANCO LTDA.
ophtalmic workstation
ANDROMEDA
ANDROMEDA Refraction Unit Technical Specifications Unit - Single base - Power supply 230V 50/60 Hz (on request 110V 50/60Hz) - Overhead Lamp - Support plate for projector Chair mod. "Mira" - Single base - Electric up/down movement - ...
ophtalmic workstation
DIGITAL PRACTICE
The Gilras GCP-7000 projector and monitor digital system allows doctors to optimize the eye examination processes. The unit cuts and reduces time wasted during the refraction procedure, while increasing accuracy of readings. As a result, ...
See the other products
Gilras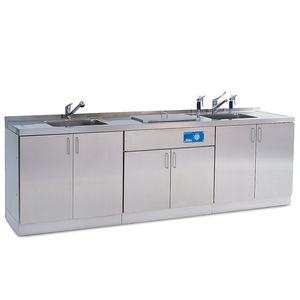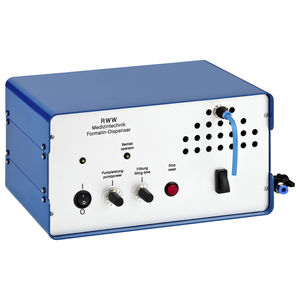 formalin dispensing workstation
Liquid-dispenser for shipment containers. The liquid-dispenser with integrated exhaust system is one of the best solutions for bottling non-flammable liquids in the modern pathology laboratory. Features: ● Protects the operator ...
veterinary workstation
E-25000
E-25000 Mobile Workstation Heavy-duty stainless steel construction with work surface that measures 42" L x 24" W. Locking cabinet doors and 360o swivel casters. Accommodates up to four 20 lb cylinders. 42″ L X 24″ ...
veterinary workstation
E-27000
E-27000 Small Mobile Workstation Ideal when a smaller footprint is needed. Heavy-duty stainless steel construction with work surface measuring 22" L x 21" W. 360o swivel locking casters and locking cabinet door. Accommodates ...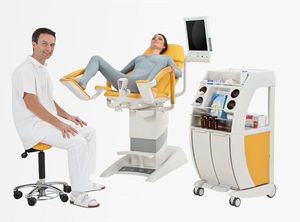 gynecological workstation
GRACIE
Gynaecological chair and other equipment for your office. GRACIE is modern, complex and friendly environment for the doctor and the patient.
intensive care workstation
NSM5
CSI/JEWETT modular Nourishment Stations enable you to meet patients' special dietary and between-meal nourishment needs anytime day or night.N.S.F. listed and built with U.L. listed components, these compact units are modular in design ...
cage changing workstation
CS5 Evo
Evolution of the animal cage changing station Ergonomic design Eco-sustainability design Increased efficiency Acoustic comfort CHOOSE CS5EVO PLUS SPECIAL EDITION to support The Breast Cancer Society (USA ONLY)
See the other products
Tecniplast
formalin dispensing workstation
Circulaire C650FDS
Circulaire C650FDS Formalin Dispensing Workstation The Circulaire 650FDS (Formalin Dispensing Station) has been specifically designed to protect the operator from hazardous Formalin fumes when they are being dispensed ...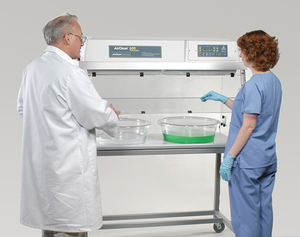 endoscope disinfection workstation
AC600 Series
The AC600 Series endoscopy workstation is an economical and space-saving solution, providing technician protection from high-level disinfectant vapors during endoscope reprocessing. The AirSafe™ automatic safety controller ...
formalin dispensing workstation
FD 8004
This ductless fume cabinet is an adaptation of Bigneat's most popular model of ductless fume cabinet, incorporating the equipment necessary to provide an accessible and safe environment, ready prepared for the dispensing of this ...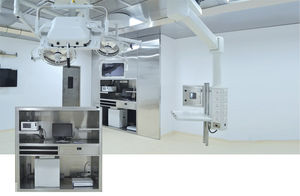 operating room workstation
... designed to ensure that the patient will be always in sight of the end user. Each Documentation Station is self-contained with double hull SS construction for routing cables, drawer with lock for safe storage and platform ...
ENT Treatment Unit ENT-3201 Specifications Frame 1pc ABS sprayer Curved 1pc Straight2pcs Copper Suction device 1pc Copper Projection lamp&Balance arm 1pc £50W illuminâtes xlO4 LUX Tray 1pc Stainless Steel Gauze container 4pcs Stainless ...