{{#pushedProductsPlacement4.length}} {{#each pushedProductsPlacement4}}

{{product.productLabel}}
{{product.model}}
{{#each product.specData:i}} {{name}}: {{value}} {{#i!=(product.specData.length-1)}}
{{/end}} {{/each}}
{{{product.idpText}}}
{{#if company.requestButtonsVisibility.requestButtonQuestion == "ACTIVE"}}
{{elseif company.requestButtonsVisibility.requestButtonWhereToBuy == "ACTIVE"}}
{{/if}}
{{#if product.innovationType}} {{else}} {{#if product.newProduct}} {{/if}} {{/if}} {{#if product.hasVideo}} {{/if}}
{{/each}} {{/pushedProductsPlacement4.length}}
{{#pushedProductsPlacement5.length}} {{#each pushedProductsPlacement5}}

{{product.productLabel}}
{{product.model}}
{{#each product.specData:i}} {{name}}: {{value}} {{#i!=(product.specData.length-1)}}
{{/end}} {{/each}}
{{{product.idpText}}}
{{#if company.requestButtonsVisibility.requestButtonQuestion == "ACTIVE"}}
{{elseif company.requestButtonsVisibility.requestButtonWhereToBuy == "ACTIVE"}}
{{/if}}
{{#if product.innovationType}} {{else}} {{#if product.newProduct}} {{/if}} {{/if}} {{#if product.hasVideo}} {{/if}}
{{/each}} {{/pushedProductsPlacement5.length}}

flow rate function tester
SECULIFE IF+
The Seculife IF+ is designed to test the flow rates of intravenous infusion pumps to ensure their correct operation. It is able to test up to two pumps simultaneously. All tests are controlled by a Microprocessor which calculates and ...

CRRT treatment hemofilter
Pecopen
Infomed Pecopen hemofilter are available in 4 sizes : - Pecopen 030 Hemofilter (DF-030-00) - Pecopen 080 Hemofilter (DF-080-00) - Pecopen 140 Hemofilter (DF-140-00) - Pecopen 190 Hemofilter (DF-190-00) This hemofilters allow to perform ...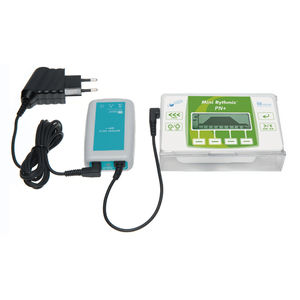 parenteral feeding pump
Mini Rythmic™ PN+
The ambulatory pump called Mini Rythmic PN is used for parenteral nutrition, IVIG, chemotherapy, antibiotherapy, an other infusion therapies. This product was designed to utilize an drug bag externally to infuse an unlimited amount of ...

infusion pump tester
Rigel Multi-Flo
The market defining Rigel Multi-Flo Infusion Pump Analyzer is a portable instrument to accurately and swiftly verify the performance of all infusion devices. The Rigel Multi-Flo infusion pump analyser offers ease of use, high accuracy ...

hemodialysis bloodline
Hemodialine
Medical grade PVC has no stimulate to body, flexible tube be guaranteed the blood circulation smoothly. Use extruder to produce, smooth wall, without damaging blood cells of patients. The blood mouth with the protective wing, it can prevent ...

surgical needle
Hemofistula
The AV fistula needle has the function to be effectively protected for operators after using. In using the protector has function of pad, better convenience for operators adjust the tubing height effectively alleviate pain for patients. The ...

bicarbonate hemodialysis concentrate
Hemocart
This is alkaline dialysis powder used for chronic renal failure patients which can prevent and suppress bacteria reproduction and infection from the use of high flux dialyzer or on-line HDF. Therefore, it can be used very effectively ...

human blood warmer
FT2800
High performance dry heater for warming of:  Infusion fluids  Blood transfusion and blood products  Blood return feeds / dialysis fluids  Enteral/parenteral nutrition and rinsing solutions Technology of control:  Microprocessor ...


human blood warmer
FT1800

enteral feeding pump
BFP-10
Applicable to patients who needs enteral feeding, both patients and non-patients can use this product for enteral feeding. This product is used to provide additional power while feeding enteral nutrition. It can control the feed, ensure ...

flow control unit
BII-1001
Introduction: BII-1001 Dripping Controller is suitable for the patients who need higher requirements for infusion rate and measurement. It can monitor infusion process and remove air bubbles to makes sure safe infusion. Technical specifications: Operating ...

transilluminator / vein finder
BVF-263
Features two kinds of imaging mode, one-click switching freely, Auto-sleep function, provide pen to mark the map of vasculature. specification Effective positive projection distance: 29cm~31cm Light projection: 300lux~1000lux Active ...

transilluminator / vein finder
BVF-266
Description BVF-266 is an portable, non-contact design product which used for venipuncture to display veins beneath the skin's surface. Features --In situ Imaging of Veins the state-of-the-art real time in situ MR vascular imaging --Sharp ...

transilluminator / vein finder
BVF-260
Red LED,light-weight handhold vein finder BVF-260 Description BVF-260 is easy to detect veins at the back of the hands through transmission of LED red light. and it can assist medical staff to observe sub-cutaneous veins of ...

dialysis hemofilter
D 150
A wide range of pediatric and neonatal Hemofilters, made of MediSulfone® proprietary membrane, has been developed to create the best treatment for low body weight patients.
See the other products
MEDICA

dialysis ultrafilter
DIAPURE®
MEDICA S.p.A has developed DiaPure® and D150/U depyrogenation ultrafilters, made up of MediSulfone, the MEDICA S.p.A polysulfone membrane for the ultrafiltration. This device is placed between the hemodialysis machine and the filter; ...
See the other products
MEDICA

dialysis ultrafilter
D150/U
The MEDICA S.p.A has designed the DiaPure® and D150/U, depirogenating ultrafilters made of MediSulfone®, the polysulfone layer of MEDICA S.p.A for maximum filtration. Can be found in the middle of the filter and the hemodialysis machine, ...
See the other products
MEDICA

dialysis hemofilter
D050, D150
For a proper CRRT management, MEDICA offers a range of 6 Hemofilters based on MediSulfone®, taillable in different surfaces for use on both children and adults. The range of Medica Hemofilters is : -D150 for paediatric treatment -D200, ...
See the other products
MEDICA

Continuous renal replacement therapy (CRRT), If your patient is critically ill with sensitive kidney injury, CRRT is one of the primary therapies. -The aim of any CRRT is to replace the lost function of kidneys. - MEDICA offers a range ...
See the other products
MEDICA

transfusion set / blood
TK-9033
Product view: 1). Designed for transfusion of blood or blood component; 2). Moulded latex flush ball injec- tion membrane for intermittent medication; 3). Approximately 20 drops/ml; 4). Clear, transparent and soft tubing manufactured ...

Product view: Features: 1) Arterial nerve fistul a needle 16G, 17G, 18G 2) The wing can circumvolve; 3) The needles are from Japan

infusion pump tester
Infutest 2000
The best solution for infusion device inspection Simultaneously inspect up to four single channel IV pumps or four independent channels of a multi-channel device in just seconds with our Infutest 2000 Series E and optional RSM. Better ...

infusion pump tester
Infutest 2000 RSM
The flexibility you need Use Infutest 2000 RSM with your Infutest 2000 when you need it and store it when you don't. Simply plug in the Infutest 2000 RSM to add two channels to Infutest 2000 E Series. Infutest 2000 RSM gives you more options.

infusion pump tester
Infutest Solo
Highly accurate and cost-effective single-channel analyzer Infutest Solo meets the needs of customers who desire a highly accurate infusion device analyzer capable of a measuring infusion device output flow patterns, including pulsatile ...

enteral feeding pump
JYB-500
Designed for enternal feeding, this pump is both efficient and easy to use. For convenience, it includes both sound and visible alarms to inform you when the pump is empty, or when there are IV line occlusions. These alarms will also ...

insulin needle
100-PEN series
Disposable standard insulin pen needles;Class: Iia Features Needle caps in colour code Hermetic blister coloured according to the Gauge Triple bevelling needle Product code: 100-PEN29G12, 100-PEN30G8, ...

insulin syringe
S-SU1-29G13, S-SU1-30G08
INSU/SAFE INSU/SAFE is the disposable sterile insulin syringe, with fixed needle,irreversible safety mechanism and double graduated scale in Units and ml, suitable for using it both as Tubercoline syringe and as Insulin syringe, for ...

insulin syringe
INSU/LIGHT series
Rays presents the insulin syringes line INSU/LIGHT, which excellently satisfies all the needs that may occur during insulin injection therapies. They are available in the assembled needle and fixed needle version, both with no dead space. ...

transfusion set / blood
TRASFY series
Transfusion sets Disposable transfusion set for the administration of blood or blood products;composed of ABS spike;PVC chamber;latex-free injection point;150cm PVC tube;terminal luer or luer lock;packaged in blister or polybag.

transilluminator / vein finder
EMS PRO®
The newest Veinlite EMS PRO® is the most practical vein finder for general vein access in adults and children. This new device is modeled after the Veinlite EMS®, but includes a built-in white exam light mode that can be used in initial ...

venipuncture transilluminator
Veinlite LED+®
The newest adult model with optimum viewing area and highest contrast for vein imaging. The rechargeable Veinlite LED+ features 28 bright light emitting diodes (LEDs). The 22 bright orange and 6 deep red LEDs can be operated together ...

venipuncture transilluminator
Veinlite LED®
The Veinlite LED unit is rechargeable and versatile. It features 24 light emitting diodes, which include for 12 deep red and 12 high-contrast orange LEDs. The versatility of the devices allow for them to be used together or separately. ...

venipuncture transilluminator
Veinlite EMS®
Veinlite EMS is the most economical portable vein finder for general vein approach in person and children. The product battery powered by two AA batteries and with 16 dual colored LEDs operated by a single switch. It is robust but easy-to-use ...

transilluminator / vein finder
Veinlite PEDI®
Veinlite PEDI has a veinlite pedi is specifically leading for infants and neonates. It is ideal for the NICU or newborn nursery. The battery of the product powered by one CR2 battery. It is a smallest and most solid version of the Veinlite ...

hemodialysis bloodline
AV-03-B
Information AV-03-B Beta electron beam-sterilized. NO DOP, DEHP free
See the other products
NIKKISO Europe

hemodialysis bloodline
AV06JA-P
Information The new developed steam-sterilized blood tubing system with open pressure transducers. Suitable for: hemodialysis, hemofiltration and hemodiafiltration Connectors for post and pre-dilution integrated AV06JA - P with pre arterial ...
See the other products
NIKKISO Europe

operational analyzer
IDA-5
Equip your facility with the best. Ensure infusion pumps are tested accurately and quickly with the IDA-5 Infusion Device Analyzer. The IDA-5 infusion device tester is a multi-channel infusion pump analyzer based on sophisticated measurement ...

operational analyzer
IDA-1S
Ensure infusion pumps are tested accurately and quickly with real time results using the IDA-1S One-Channel Infusion Device Analyzer, the newest member of the Fluke Biomedical IDA family. The IDA-1S infusion device analyzer is a portable, ...

Hemotrans is a blood perfusion system with a filter for the separation of macroaggregates. Flexible, sterile and non-pyrogenic device for the intravenous administration of blood or blood component. High efficiency and reliability ...

hypodermic syringe
BD Integra™
What sets the BD Integra™ Syringe with Retracting Needle apart? Its design. Retracting needle housed inside the syringe after activation, eliminating the potential for needlestick injury Detachable Needle Low Waste Space ...

insulin syringe
BD SafetyGlide™
Offers single-handed activation with minimal change in technique. Does not contain natural rubber latex.

insulin pump with continuous blood glucose meter
MiniMed Paradigm®
The MiniMed Paradigm Revel System has an insulin pump with built-in CGM technology to deliver precise amounts of rapid-acting insulin determined for a patients by the healthcare professionals. The settings of the insulin delivery system ...

infusion pump control unit
myPTM®
The MEdtronic myPTM therapy manager works with the SynchroMed infusion system for patients who have occasional pain and need varying amounts of particular drugs in order to keep their bodies under control. This is a handheld device that ...

Excellent filtration capacity and optimum sieving coefficient, composed of new polyethersulfone fibre and tailored for different patient sizes. Does not need to be rinsed before use, enabling easy integration in the ECC after priming ...

hemoconcentrator / pediatric
Improved hematocrit levels through hemoconcentrator sets tailored for the smallest patients Low hematocrit levels during cardiopulmonary bypass are associated with increased major morbidity.4,5 Sorin Group provides a full range of pediatric ...

insulin pump with continuous blood glucose meter
OneTouch® Ping®
The OneTouch Ping full-function insulin pump and its full-function meter-remote work together to provide the best possible results. The pump's features include a self-illuminating flat-panel, high-contrast color screen that can bis viewable ...