Medical washers disinfectors
How to choose this product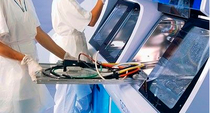 A washer-disinfector, as its name suggests, is a machine for the disinfection of medical material.
Applications
These devices disinfect non-invasive items in preparation for subsequent reuse. In addition, they are frequently employed for the preparation of surgical instruments and other material for autoclave sterilization. This is because autoclaving requires thorough preliminary cleaning to be effective. Some machines are designed to disinfect certain types of instruments, such as endoscopes.
Technologies
Today, such machines use either steam or ultrasound disinfection. There are both compact models requiring little storage space and high-capacity types suitable for large hospitals.
How to choose
Choice will depend primarily on the degree of disinfection desired, maximum load size and the amount of storage space the machine requires.
14 companies | 81 medical products
1 products MELAG
Compact automatic
EN 15883 - MELATHERM

MELAG
The product has a active drying and the operating time is short. The MELAtherm10 is a washer disinfector which fulfills the requirements of the EN 15883 European Standard.It is...
2 products A. J. Costa
With automatic door
LAVAPOR LD 21

A. J. Costa
Feature * Fully automatic door opening and closing * Automatic bedpan content disposal * Easy operator-interface * Cold and hot water washing, followed by steam thermal disinfection * Large...
Filter by :
› New products

(3)

› Products with video

(3)
Refine the search
Medical washers disinfectors
Extend the search
Search by manufacturer
Search by catalog
Associated Terms
reprocessors, flushers-disinfectors, medical washers disinfectors