Thermal cyclers
How to choose this product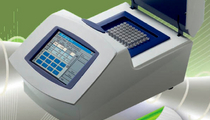 Polymerase chain reactions (PCR) can be used to duplicate genome sequences in great number, whether DNA or RNA. The thermal cycler, or PCR machine automates this process.
Applications
These devices allow HIV and hepatitis B, C and D viruses to be detected. They are also capable of revealing the presence of GMOs and the diagnosis of leukemias, lymphomas and other diseases.
Technologies
Most such machines rely on the Peltier effect to cool sample tubes. Some can perform PCR in real time.
How to choose
Principal selection factors are the amount of space required for the cycler and the maximum number of specimens it can handle.
14 companies | 47 medical products
2 products Biomérieux
DIVERSILAB ™

Biomérieux
BiMerieux makes the DiversiLab System that features a setup for microbial genotyping bacteria and fungi. This is all packaged carefully...
Realtime
NUCLISENS EASYQ®

Biomérieux
The NucliSENS EasyQ® Basic Kitis a complete CE marked kit for setting up real-time NASBA amplification assays Making Assay Development Easy Nucleic Acid (NA) amplification testing has become increasingly...
1 products BD
BD PROBETEC™

BD
Available since 1999, the BD ProbeTec™ ET System is the first real-time DNA amplification assay for the detection of Chlamydia trachomatis (CT) and Neisseria gonorrhoeae (GC). Based on proprietary...
2 products Labnet International
Compact
MultiGene™ Mini

Labnet International
Labnet's MultiGene Mini is a compact and lightweight thermal cycler, but do not let its small size fool you. This cycler is packed with features typically found only on larger thermal cyclers. Fast...
2 products Daan Diagnostics
Peltiereffect
SLAN

Daan Diagnostics
Features Quantitative, Qualitative and Melting Curve Analysis 3 Channel Detection with up to 48 Samples Highly optimized filter combination to eliminate influence of crosstalk Precise...
2 products BIORON Diagnostics GmbH
Peltiereffect
BIORON Diagnostics GmbH
The thermocycler has a processor controlled block with separately controlled peltier elements for extraordinary temperature homogeneity at high heating and cooling...
Compact with gradient function
BIORON Diagnostics GmbH
The first small format thermocycler with TFT touchscreen. 4 versions are available: Thermocycler compact, Thermocycler compact Gradient, Thermocycler compact Gradient with silver block. The Intersystem-Copy-Function...
2 products Spartan Bioscience
Spartan RX

Spartan Bioscience
Background 1 in 3 people carry CYP2C19 mutations that can impair drug metabolism.1 15% of all prescribed drugs are metabolized by CYP2C19 enzymes2, including Plavix® (clopidogrel), Inderal®...
Spartan DX-12

Spartan Bioscience
Sample Capacity 12 wells PCR Modes 2-temperature or standard 3-temperature programs Detection Modes End-point Real-time (with appropriate license) Qualitative / Quantitative 2-channel...
1 products ALL-DIAG
Realtime
AMPLIX NG®

ALL-DIAG
The AmpliX® Amplification genetic Real Time enables the performance of Real-Time PCR with rapid cycling of up to 48 samples. Peltier technology is used by the system for the PCR...
Filter by :
› New products

(2)

› Products with video

(2)
Refine the search
Thermal cyclers
Extend the search
Search by catalog
Associated Terms
thermocyclers, pcr machines, pcr thermocyclers, pcr cyclers, dna amplifiers