The Online Medical Device Exhibition

transport stretcher trolley
TRF-60LX
... 8mm ABS mattress platform • Anti-static castor • Easy transfer • Lockable and tuck away side rails • Bumpers • Flexible Wall protect tapes • S.S. Serum holder with height adjustable • Locking transfer system
See the other products
ISIK KARDESLER MEDIKAL

transfer stretcher trolley
P-SD-012
Stainless steel two trolleys for sterilized area and general purpose Sliding top platform Trendelenburg adjustment 200 mm, 360° sqivel castors with central locking system Plastic protection rails Oxygen bottle holder and storage tray
See the other products
PROMEK

transfer stretcher trolley
31209 T
Product Specification Construction : made of steel pipes. Mattress : made of foam and imitation leather and the platform is made of electro galvanized steel sheet, perforated with emboss style. Sideguard : made of ABS plastic with ...

transfer stretcher trolley
DT-1342
... consists of 1 steril area, 1general purpose stretcher and 1 unit sliding upper platform. At transfer point, two stretcher becomes together, locked to one another and patient is transferred. ...

transfer stretcher trolley
7001
Heavy duty stainless steel frame. Rotating connecting lever for secure transition. Receptions for IV pole - 8 elastic bumpers. Sleeping surface made of perforated steel sheet /radio translucent H.P.L. Stainless steel telescopic side rails. Castors ...

transport stretcher trolley
ATS-100
• Consists of two lower and one upper trolleys • Folding metal side handrails • 125 mm diameter central locking castors • Electrostatic powder coat

transport stretcher trolley
030-2000, 030-2020
Trolley for transfer of stretchers Chromium-plated tubular steel support with chromium-plated wire basket. Castors Four easy-roll castors, two with brakes and one fixed. Dimensions ...

transport stretcher trolley
MOBI Pro X-Frame
... Pro X-Frame Stretcher is designed to meet the demands of EMS professionals and healthccare professionals alike. The reliable, x-frame construction is designed for extra stability and safety for patient transport and inner ...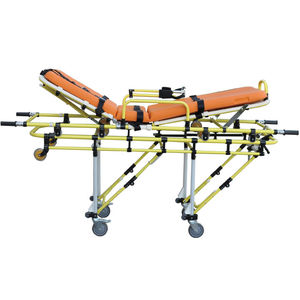 transfer stretcher trolley
ES-100
... official carrying capacity. Only one person can load and unload the stretcher with patient in the ambulance. Upper part is detachable so that it can also be used as a hospital stretcher. Head ...

emergency stretcher trolley
SS-HS-B02
... of Stainless steel is 1.0mm. To show the Robustness of the design. 2. Aluminum Wheels, same as Motor. More Loading. 3. Stretcher is made of excellent stainless steel. Flat, Breathable. 4. The spring of guardrail for ...

transfer stretcher trolley
Ática
... It has protections in the 4 corners of the stretcher that absorb shock. Facilitates the patient transfer system thanks to its height adjustment and the folded railings are below the bed of the stretcher. Trend ...

transfer stretcher trolley
BSK1222
... H 53-90 cm RELIABLE COMPLETE ERGONOMIC Specialized stretcher proyected and realized for specif needs of hospital emergency room. The adjustable height makes easier and faster patient's transfer from ...
See the other products
Givas

transport stretcher trolley
SM 9041 A
Transfer trolleys with and without a side guard. Come with a mattress and the possibility to adjust the overall height and the head part.
See the other products
Shima Prima Utama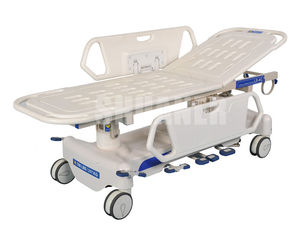 transport stretcher trolley
SAE-TC01-1
• The main frame isautomaticalty pressed and casted by high quality cold rolled profile steel,strong and nice in appearance: • The surface and side rails are shaped by imported ABS materials,strong and beautiful: • The bed surface is ...
See the other products
Ningbo Shuaner Medical Equipment

emergency stretcher trolley
PSI Durus
... smooth movement of the patient. Fully Stainless Steel sturdy construction. Ensures fast & safe shifting & transfer of patients. Radio lucent stretcher surface enables X Ray imaging. Offers Multipurpose ...

transfer stretcher trolley
DS1010
Aydın's stretchers are designed for quick and effective patient transport. They offer cost-effective solution for hospitals. Ergonomic push handles enable the caregivers' to manoeuvre easly. They offer optimum safety ...