How to choose this product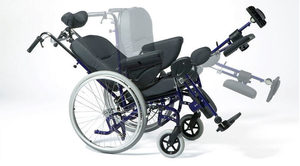 A wheelchair is a manual or electric mobility aid which facilitates the transport of persons in a seated position.
Applications
These devices are found in hospitals, retirement homes, rehabilitation centers and similar settings to facilitate the movement of patients who are weak or with limited mobility. Those with long-term mobility loss also use them to move about.
Technologies
Manual models are the most common type for the simple transport of patients. Both manual and electric versions are used by those who need assistance moving around independently.

Chairs designed for specific situations include bariatric, amphibious and non-magnetic models, the last compatible with MRI systems. Headrests, footrests and other accessories may be added to improve user comfort. Folding versions require less storage space.
How to choose
Choice will depend on whether the chair will be used indoors, outdoors or over rough terrain. Patient height, weight and degree of mobility are also important factors, as well as the length of time the user will need the chair. Verify that there is enough space available for storage.