The Online Medical Device Exhibition

Scan, reconstruction, evaluation, visualization, back up, quality control, and archiving SCANCO Medical microCT systems provide a software suite that offers a comprehensive solution for scanning, 3D ...

interpretation software
CubeVue
CubeVue Software provides powerful treatment tools to enhance patient care. Scroll through the complete volume data and build various 3D renderings in minutes. The pedCAT system comes complete with CubeVue software ...

3D viewing software
CAT3D
CAT3D has a dosimetry for teletherapy is a image processing. This image processing module permit the generation of sagittal, coronal or arbitrary space orientated reconstruction and the dosimetry module generates the dose distribution ...
See the other products
MEVIS Informática Médica

3D viewing software
Xineos
Traditional single plane reconstruction results in compromises Traditional dental panoramic imaging has always struggled with image clarity. Because the process superimposes projections of a 3D structure onto a 2D plane, ...

image analysis software
BioCUT™
... digital workflow. It is a powerful software tool that allows scientists, biomedical designers and healthcare providers to create complex tissue structures while leading the user through the digital workflow: from medical ...

reporting software
Quantra
... leverage a formidable and growing database of clinical cases to effectively identify masses, architectural distortions and microcalcifications in a diverse screening population. Quantra breast density software, ...

management software
QuantorMed+
... options Supports various screen resolution for notebook or tablet PC QuantorMed+ Imaging Software is available in a variety of languages Unlimited software upgrades

... disparate silos, and aim to present medical information in a contextually relevant format to provide objective diagnostic recommendations in a probability-driven manner. IBM Watson Clinical ...
See the other products
MERGE Healthcare

visualization software
X-FRAME CCD
X-FRAME CCD (and X-FRAME CCD@ model) is the state of the art digital radio/fluoro system providing very high resolution and sensitivity, and powerful processing tools. X-FRAME CCD is ideal for sophisticated dynamic studies, and allows ...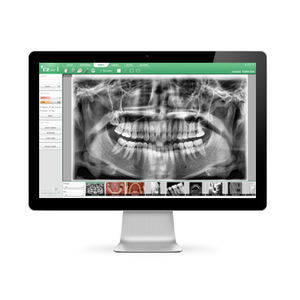 dental imaging software
EzDent-i
... consultation tool, EzDent-i will greatly help your consultation combining and integrating all resources into a one simple software. If a powerful consultation tool such as EzDent-i is combined with your explanation, it ...
See the other products
VATECH

management software
MacPractice DDS
... Clinicians Report.Practice ManagementPatients, Scheduling, Billing, Inventory, Reports and so much more. Our Practice Management software is the foundation for the modern practice and was designed to be user-centric to ...

3D simulation software
SICAT Function
TRACK REAL MOTION IN MOTION. SICAT Function is the first integrated digital 3D solution to visualize real patient-individual movement of the lower jaw within the 3D volume. The anatomic traces of the temporomandibular joint can be displayed ...

image analysis software
3Diagnosys®
3Diagnosys is the diagnostic medical imaging, diagnosis and 3D simulation software, perfecly suited to the Specialist needs.
Thanks to the powerful tools available to ...

visualization software
Ecoestres
Compatible with any ultrasound scanner Software * Compatible with any model of ultrasound scanner. * Continuous acquisition up to 2 minutes per protocol stage. * Study ...
See the other products
eccosur

visualization software
Ocean 2014
Get Into a Professional Flow Ocean 2014 is the diagnostic software to use with your RTI instrument. It displays all your measurements and waveforms gathered on an easy-to-read screen. Ocean suits everybody's ...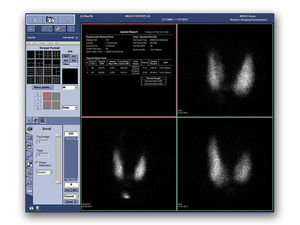 ... optional DICOM software program integrates the Atomlab 960 Thyroid Uptake System with your hospital management system, streamlining workflows and improving communication. Upon installation, the program ...

EHR software
Patient Chart Manager
... Manager EHR by Prime Clinical Three decades of experience and proven results. Prime Clinical has provided leading patient data management solutions to physicians for more than 30 years. ...

Breast cancer MeVis software analyses and presents images from mammography screening and further imaging methods - supporting an early, fast and reliable diagnosis. Lung diseases MeVis software ...
See the other products
MeVis Medical Solutions AG

visualization software
byzz nxt
... control of all digital devices on one software platform - that simplifies operation and minimizes training expenses Central image database with direct allocation to the patients data from the accounting software ...
See the other products
orangedental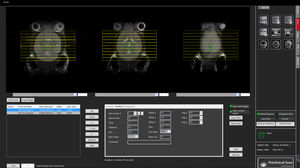 validation software
Preclinical Scan™
Preclinical Scan is the preclinical equivalent of a fully featured clinical user interface. The user is able to vary many imaging parameters within each MRI pulse sequence. To permit this, a key feature ...
See the other products
MR Solutions

Power Analysis Station( version 2) is an analysis software for confocal and widefield fluorescence imaging. Features including: Broadens the range of experiments, and of images you can analyze ...

visualization software
AuroraCAD™
The AuroraCAD is designed for ease of use through every stage of the imaging. The 3-D registration aids in the compensation of movement by the patient motion between image acquisition, which includes offset, rotation ...

printing software
Imaging4
... which they place radiology exam orders, receive radiology reports and view PACS images – all online, 24x7. When integrated with 4medica's lab outreach solution, Labs4, Imaging4 enables ...

dental imaging software
CLINIVIEW™
CLINIVIEW™ Intuitive dental imaging software for optimized workflow CLINIVIEW™ software is designed for your workflow. Image storage and processing, as well as diagnostic ...

visualization software
Myrian® Pro
... Myrian™ Pro is extremely versatile and also incredibly user-friendly, having been carefully designed to combine eff ective diagnostic results and sheer pleasure of use. Simplifi ed reading of patient CDs, instantaneous ...
See the other products
Intrasense