The Online Medical Device Exhibition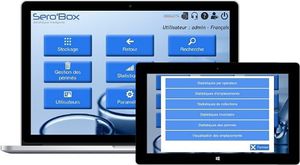 management software
Sero'Box
Simple and intuitive software Fully customizable to suit your needs Advanced search system Alert for outdated tubes in the serum bank Traceability of all actions performed Identification and geolocation of each tube Options: ...
control software
SiriusSlate®
SiriusSlate® Primary Development Application Software Suite SiriusSlate®PDA represents the largest leap forward in Robotic Control & Method Development Software for 'Pick & Place' Laboratory ...
analysis software
Klimacom
... trials • Server Client architecture, with Industry standard database • No obligation for paid third party licenses to use software • Intelligent chamber identification and auto configuration • See through capability for ...
communication software
1MEDiX
... team can build on-the-go access for any device. Complying with HIPAA regulations is absolutely mandatory when dealing with software, mobile and web development in the healthcare industry. We're experienced in cloud application ...
control software
TECAM SMART
Laboratory data management software with ASTM interface for Coatron® M1 / M2 / M4 , TEChrom IV®, Dimex® Jr.
See the other products
TECO Medical Instruments, Production + Trading
analysis software
ScopeImage
Advanced automatic identification particles, particle-paste features automatic segmentation. Automatic analysis of steps to deal with editing, automatic analysis to complete the process of setting. Geometric, optical density, morphology, ...
See the other products
Nanjing Jiangnan Novel Optics Co.,Ltd.
data management software
WPTox®
... current WindoPath installations and can be used as a stand-alone toxicology information system or part of a complete pathology laboratory solution.
analysis software
Labimage 1D Basic
LabImage" Basic is an entry level version for fast and reliable 1d gel analysis. It provides a user friendly and guided workflow and an easy to use interface. It does not require time consuming trainings. Based on the same strong imaging ...
See the other products
BIOTEC-FISCHER
image capture software
IS-2 BioWiz
... generation image analysis software meant for scientist to do analysis in the simplest way. This is a single screen window based system. The system is flexible, independent to adopt any capture card, camera and Microscopes. ...
See the other products
The Western Electric & Scientific Works
data management software
DataStream
DataStream is a very fast, easy to load onto a suitable PC, and very easy to use software. All of the functions which the Cecil spectrophotometer or Cecil scanning UV/Visible HPLC detector performs on a stand-alone ...
tracking software
NEO 3S14-550
Specification : The importance of adequate data management cannot be overstated. The NEO Manager software processes user work lists in order to sort and scan tubes. The software guides the rack loading, ...
See the other products
BioSampling Systems S.A.S.
patient data management software
PodPractice
... 2020 imaging products. Functionality is provided for electronic prescriptions, appointment scheduling, radiology results, laboratory orders, and so forth. The PodPractice has obtained certification for ONC-ATCB Complete ...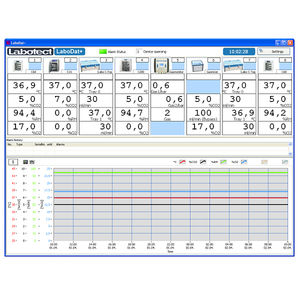 recording software
LaboDat+
Software for documentation of incubation processes Advantages: Documented record of incubation conditions Connection for up to 16 devices USB interface Report generation Data storage on server possible ...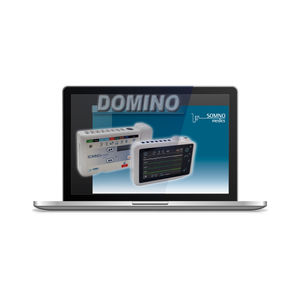 visualization software
DOMINO SLEEP DIAGNOSTIC
... proud of our Domino Sleep Diagnostic software. Not only does it pack all the standard sleep related functions but a staggering array of features and benefits that will suit even the most discerning sleep laboratory. HERE ...
management software
SAFE®
SAFE Track - Sample Management Software for automated sample storage: Samples integrate the Samplosopher Barcode Scanner Samples can be organised, categorised and archived individually as racks and tubes ...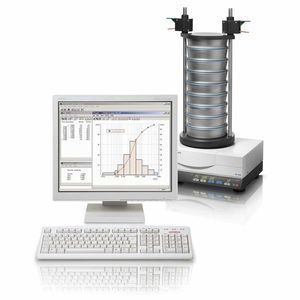 particle size analysis software
EasySieve
EasySieve, the software for particle size analyses, exceeds manual evaluation in many aspects, due to the fact that the software is able to automatically control the necessary measurement and weighing ...
monitoring software
Voyager
... SoftwareEsco Voyager® is a PC-based software package developed for the remote monitoring, datalogging, and programming / device configuration of Esco controlled environment laboratory equipment. Compatible ...
See the other products
ESCO
laboratory software
WinLissy®
Our base software solution consists of ZALayouter for creating layouts with all the labware and testing of all devices, ZADesigner for designing workflows and processes, ZARunner for running your processes in real or ...