The Online Medical Device Exhibition
universal operating table
C600
The C600 surgical table provides a cover that makes for added safety and security. This cover is environmentally friendly and resistant to dents, scratches and other damage. Both the mattress and wheels ...
See the other products
Mediland Enterprise
universal operating table
Coburg Exaflex 6115
Operating table for universal use, particularly suited, through its various position options, to outpatient departments, general surgery, and special disciplines. Also suited to military use due to its ...
universal operating table
MOT - 6702X
... MOT-6702X is the perfect platform for bariatric surgery. The 210° Table Top Rotation feature allows for lower or upper body surgery to be performed without interference from the table ...
universal operating table
Practico
For general surgical procedures, the modular choice is Practico, an electro-mechanical and mobile operating table that embodies convenience and maximum flexibility. It's constructed to ...
See the other products
Merivaara
universal operating table
OP-2P
... slideability within 300 mm on horizontal plane. Optimal Clearance In Surgical Area • Maximum surgical area visibilty and operational success with kidney surgical elevator integrated ...
See the other products
ÜZÜMCÜ
universal operating table
HFease-100
HFease100 surgical operating table is a hand control operating table that has a load capacity of 200 kg. It can be easily set up ...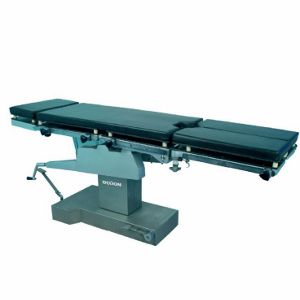 universal operating table
Surgery 8500
Mechanical operating table Surgery 8500 is designed for a wide range of surgeries. It's equipped with a safe and reliable hydraulic system for height and section position adjustment. ...
neurosurgery operating table
ORT100, ORT200, ORT300
ORT100 Operating Room Table MR-conditional, radiolucent table for neurosurgery VISIUS Surgical Theatre features the only OR tables ...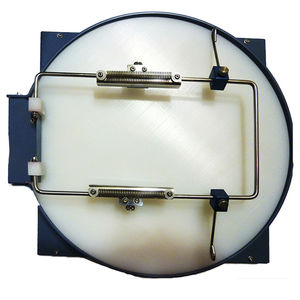 animal research surgical platform
HRT
... Heated Rotary Table A heated surgical platform that will rotate to any position. It is also provided with a clamp to secure a surgical drape. It is shown with ...
universal operating table
Power Lift4
See the other products
A.A.MEDICAL
universal operating table
ST-A
1,The lifting of the table is drived by oil pump. 2,The tenderlenburg,lateral tilt left/right,backplate upwa by air cylinder. 3,The shell of the base is stainless steel. 4,The mattress are made of PU material,it ...
See the other products
PANALEX MEDICAL LIMITED
universal operating table
OK-Beta
... polyurethane foam mattresses made with antibacterial ASP technology; Two modifications of the table panel - 5 sections or 6 sections; X-ray translucent table top; C-Arm compatible ...
See the other products
Medin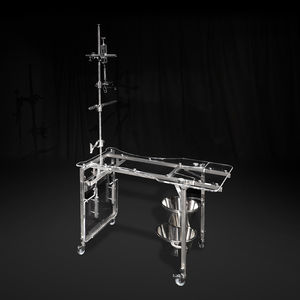 hand surgery surgery table
The universal hand table is the new indispensable tool for hand surgery. This is a table for surgeons designed by surgeons. The universal hand table ...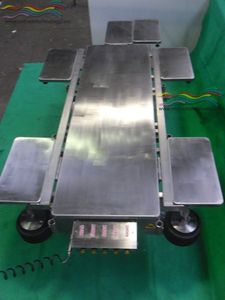 universal operating table
orthopedic operating table
... Pediatric Spica Table is specifically tailored for child-care specialists working within a professional medical setting. Whether in clinics, children's hospitals, emergency rooms, general hospitals, the use of the Pediatric ...
gynecological operating table
HE-609A-02
... be carried out manually by mechanical transmission, and no electric power is needed. Up/Down of this obstetric bed employs the pedal oil pump transmission method.It can be operated simply and flexibly.Due to its mechanical ...
ENT operating table
CRANICARE 2000
... the mobile operating chair CRANICARE 2000 is extremely smooth-running and manoeuvrable. It can be pushed and adjusted easily without efforts and at the same time requires only little space in the operating ...
universal operating table
BF683-ST
This table is projected with mechanical, hydraulic and pneumatic movements, combination that provide that the surgical team movement the table lightly, quickly and with practicality. All ...
See the other products
BARRFAB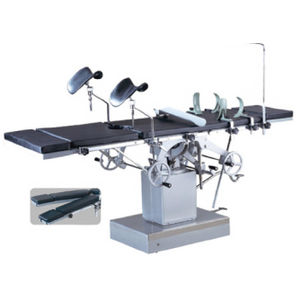 universal operating table
AK-3001
The operating table is supplies for thoracic surgery, abdominal surgery, ophthalmology, otorhinolayyngology, obstertrics and gynecology, urinary surgery and orthopaedics. Lifting of this operating ...
See the other products
Jiangsu Aokai Medical Equipment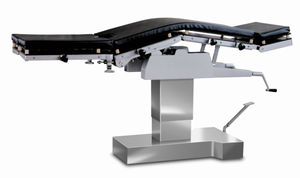 universal surgical table
Andra A10
manual hydraulic surgical table with divided leg section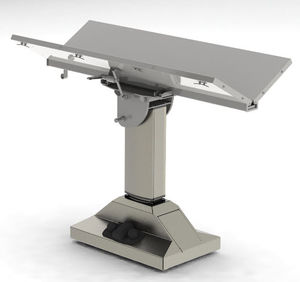 universal operating table
939/001001
... height adjustment Rechargable battery powered foot operation Moveable side panels for patient positioning Manual tilt Tie down cleats Available as manual or static
universal operating table
1526
... Electro-Mechanical Adjustments Height From 760 mm to 960 mm - 30" x 37" Trendelenburg / Rev. Trendelenburg '+/- 250 Lateral Tilt '+/- 150 Manual Adjustments Back rest adjustment on gas spring mechanism From 650 Up / 250 ...
universal operating table
DARSS
The DARSS operating table is manual mechanic operating table. It is suitable for the safe and comfortable positioning of the patient in all surgical ...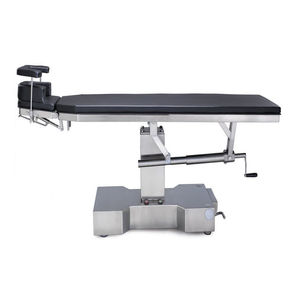 ophthalmic operating table
Legend Eye
Dedicated Eye Surgery Table Sleek and aesthetic construction Up/Down movements controlled Electrically by foot switch. Trendlenberg and Reverse Trendlenberg positioning by manual ...
universal operating table
... body Low-profile weighted base prevents table from tipping - base height of 1 3/4" allows the surgeon to stand or sit close to the working surface - adjustable feet compensate for uneven floors Table ...
See the other products
VSSI